One of Georgia Magazine's 50 must-see places in Georgia, the Tate House opens to the public for two weeks every holiday season. During this most wonderful time of the year, visitors can tour the estate to enjoy lavish decorations on a grand scale. It's just 45 minutes north of Atlanta in Tate, Georgia. This year, the mansion is open through Dec. 16. Here are eight reasons you don't want to miss it.
1. It gives a new meaning to "Deck the Halls."
They do it up big at the Tate House. Throughout the two-story mansion there are themed rooms, elaborate hallways and festive corners filled with bows, bulbs, poinsettias and manger scenes. If decorating for the holidays isn't your thing because of all the work that goes into stringing lights and hanging stockings, this is the perfect place to visit. You can enjoy dazzling holiday décor to get into the yuletide spirit without lifting a finger.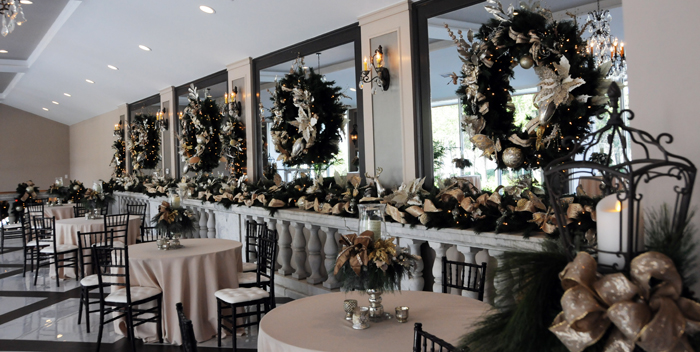 2. It looks a palace.
It's even called the "Pink Palace." The Great Gatsby-era mansion is 19,000 square feet with two stories and sprawling grounds overlooking the Georgia foothills. Each facade has a different architectural tone — from Georgian to Italian to Mediterranean — and at this time of year there are wreaths on every window and garlands on the fountains. Inside you'll find chandeliers, marble floors, a grand piano and elegant framed artwork. Basically, the place has class.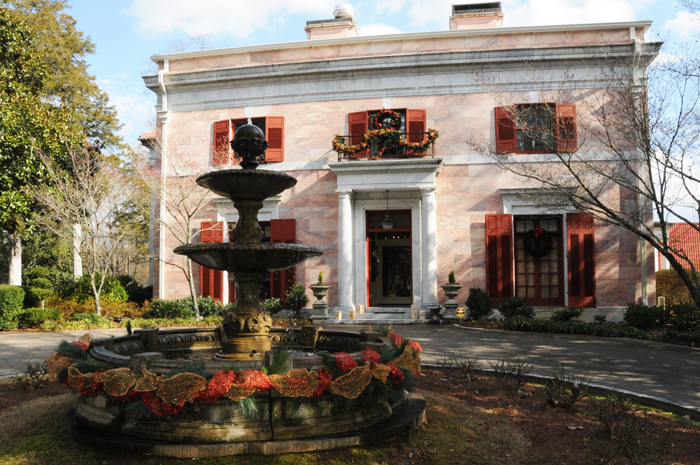 3. There's a tree for you.
Maybe you like classic — or bright colors — or subdued silver? There will be a Christmas tree you'll fall in love with. Each room is different with details that make the tour a little bit of a treasure hunt. The main tree in the grand hallway stands 14 feet tall and is festooned with flowers, globes, ribbons and more. Meanwhile the trees upstairs have a little more personality, but no two are exactly alike. Find your favorite.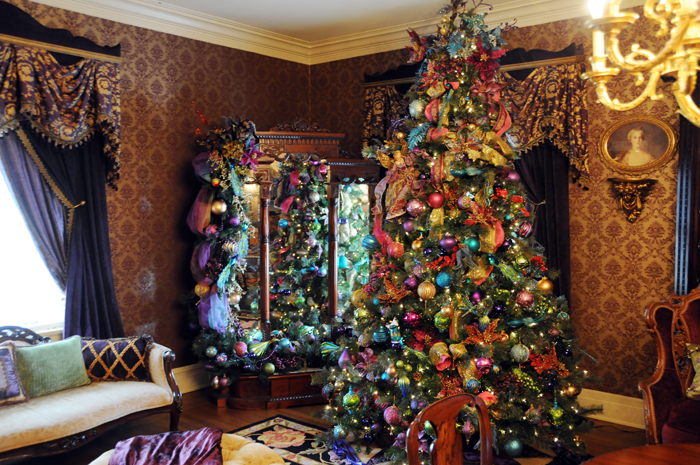 4. There's no Elf on the Shelf.
But there are a few of Santa's helpers and various renditions of Saint Nick himself perched about the mansion, all with a subtle look of Christmas Past. Stepping into the Tate House is like stepping back in time. There's no commercial toys with spinning lights, no Mariah Carey belting out All I Want for Christmas, no glimpses of Frozen. The Tate House was built in the 1920s and the decorations evoke a sense of nostalgia. During the beginning of your tour, your guide will share a little of the unique history of the home before you continue on to explore the estate at your own pace.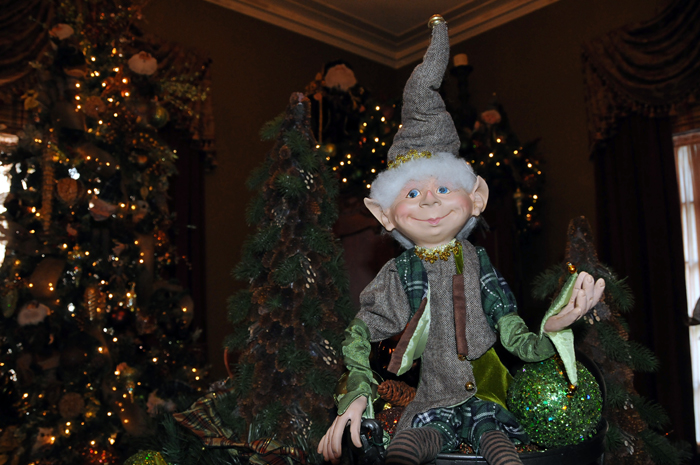 5. Eating in the ballroom is an experience in Southern hospitality.
During the week, the Tate House offers a Bistro Lunch Tour. It's a little pricier ($35 per person), but it includes a catered lunch covering everything from soup to dessert as you dine in a sumptuous 4,000-foot ballroom. Take photos and take note if you're hosting your own holiday party this year. The Pinterest-worthy place settings and centerpieces are flawless. If you prefer to nosh at night, they also have a Candlelight Music Tour with hors d'oeuvres and a live band.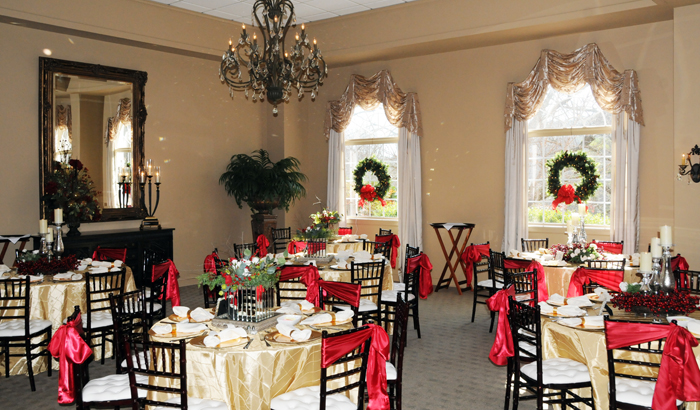 6. Do you like pink?
The mansion is built from a pale pink marble known as "Etowah" marble. This type of marble is relatively rare, but lucky for Colonel Sam Tate, the business tycoon who built the mansion, there was a quarry right in their backyard. For the holidays, the Tate House dresses up the sunroom completely in pink. It's a different take on the traditional red-and-green Christmas duo, done in show-stopping style.