The city of Atlanta has recently gained recognition for its culinary excellence, as the inaugural Atlanta MICHELIN Guide was unveiled. In this guide, 45 restaurants throughout the city have earned recognition for their outstanding quality.
Among the honored establishments, five Atlanta restaurants were bestowed with a prestigious MICHELIN Star, while two were granted a MICHELIN Green Star for their commendable commitment to sustainability in their culinary practices. Additionally, ten restaurants have been awarded the Bib Gourmand status, which recognizes skilled cooking at an affordable price point.
The highly coveted MICHELIN Star is a symbol of "outstanding cooking" and is awarded based on several factors, including the quality of ingredients, the harmony of flavors, mastery of culinary techniques, the chef's unique expression through their cuisine, and, equally importantly, consistency across the entire menu and over time. It's worth noting that all of the Atlanta restaurants that received a MICHELIN Star in this debut edition received one star, signifying their dedication to using top-quality ingredients and consistently delivering dishes with distinctive flavors at a high standard.
The esteemed Atlanta restaurants that received a MICHELIN Star include:
Atlas
Bacchanalia
Hayakawa
Lazy Betty
Mujō
Additionally, Bacchanalia and The Chastain were both honored with the MICHELIN Green Star, recognizing their environmentally sustainable culinary practices.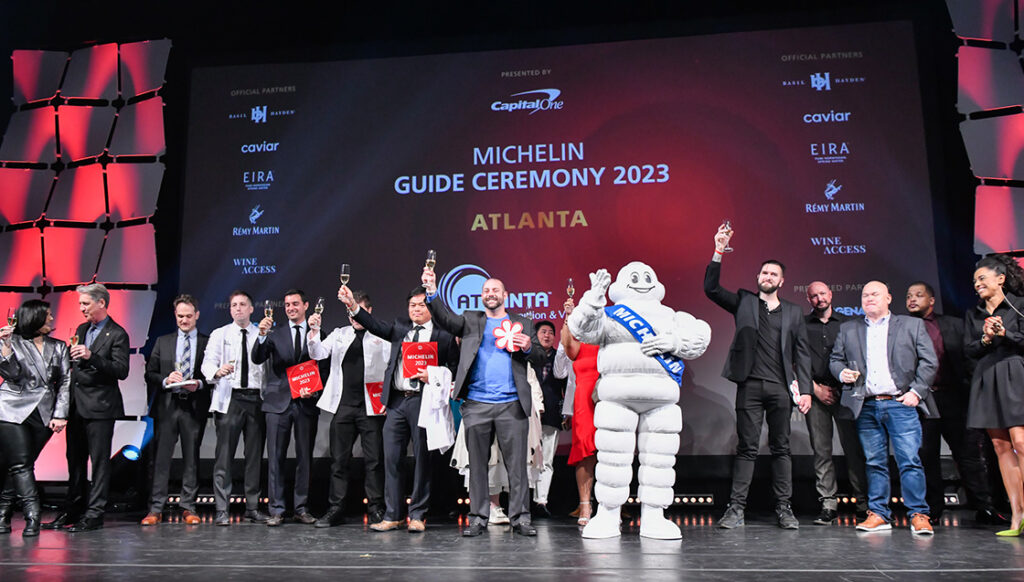 The Bib Gourmand status was granted to ten restaurants that offer skillful cooking at a more budget-friendly price point. These restaurants include:
Antico Pizza Napoletana
Arepa Mia
Banshee
Bomb Biscuit Co.
The Busy Bee
Estrellita
Fishmonger
Fred's Meat & Bread
Heirloom Market BBQ
Little Bear
This recognition reflects the growing culinary diversity and excellence in Atlanta, showcasing the city's vibrant dining scene and the dedication of its chefs and restaurateurs to delivering top-notch culinary experiences.