Going to great depths to ensure that this is the most immersive Imagine Festival yet, Iris Presents has announced that Imagine will be expanding to four days, which will be accompanied by full music programming on the Disco Inferno stage, early arrival camping, and an extra day of fun.
Taking place at Atlanta Motor Speedway this September 19-22, 2019, the added day will be free to everyone who purchases a 3-day ticket and available for a limited time until August 15th.
Imagine has also unveiled the full lineup, in addition to several other big announcements, including a brand new stage- TechYes / Guerrilla 360 and a Saturday pool party.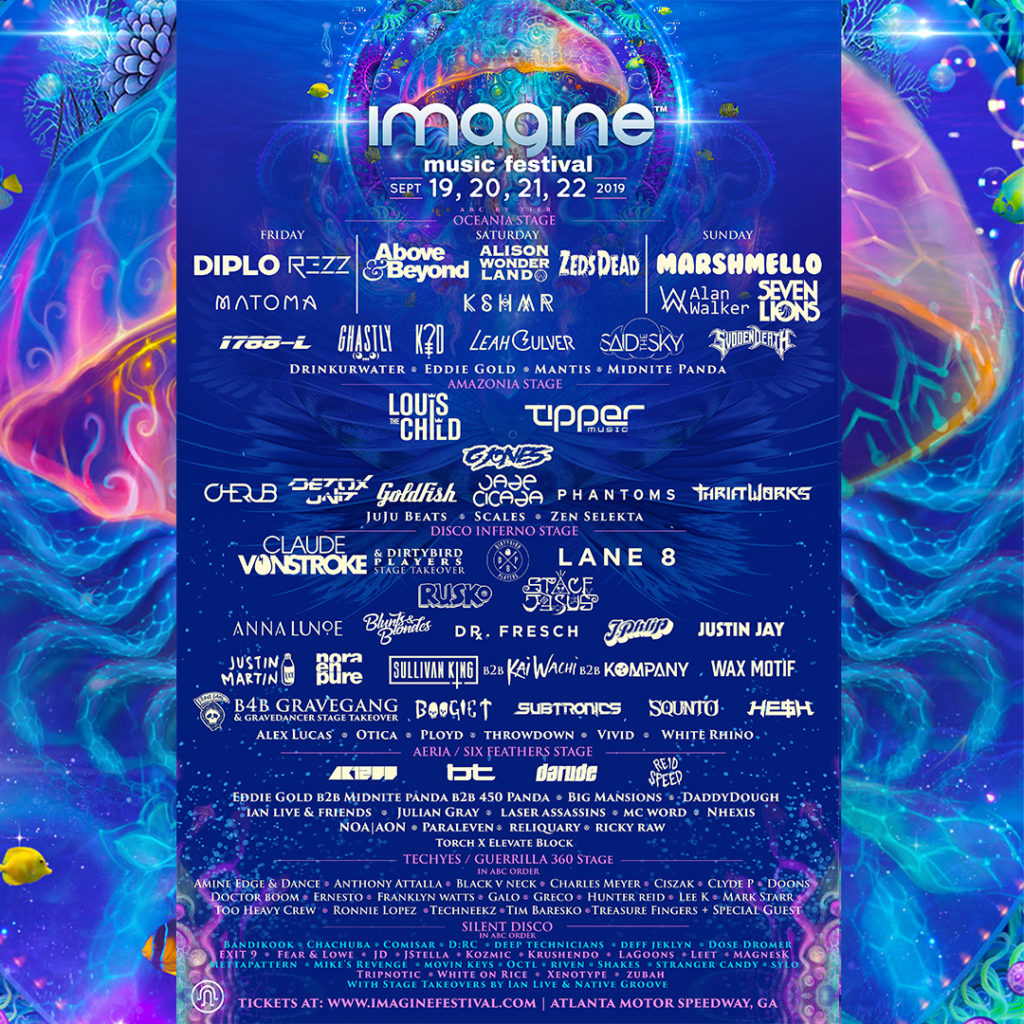 The full lineup by stage, listing artists additions first includes:
OCEANIA STAGE:  Drinkurwater; Eddie Gold; Mantis and Midnite Panda.  Previously announced artists for Oceania include: Diplo; REZZ; Above & Beyond; Alison Wonderland; Zeds Dead; Marshmello; Alan Walker; KSHMR; Matoma; 1788-L; Ghastly; K?D; Leah Culver; Said the Sky and Svdden Death. 
AMAZONIA STAGE:  G Jones; Jade Cicada; JuJu Beats; Scales and Zen Selekta.  Previously announced artists for Amazonia include:  Louis the Child; Tipper; Cherub; Detox Unit; Goldfish Phantoms and Thriftworks.
DISCO INFERNO STAGE: Lane 8; Space Jesus; Blunts & Blondes; Sullivan King b2b Kai Wachi b2b Kompany; Boogie T; Squnto; Alex Lucas; Otica; Ployd; Throwdown; Vivid and White Rhino. Previously announced artists for Disco Inferno include:  laude Vonstroke & Dirtybird Players Stage Takeover; Anna Lunoe; Dr. Fresch; J.Philip; Justin Jay; Justin Martin; Nora En Pure; Rusko; Wax Motif; Grave Gang b4b set with Subtronics, HE$H, joined now by Boogie T and Squnto.
TECHYES 360: Amine Edge & Dance; Anthony Attalla; Black v Neck; Charles Meyer; Ciszak; Clyde P; Doons; Dr Boom; Ernesto; Franklyn Watts; Galo; Greco; Hunter Reid; Lee K; Mark Starr; Ronnie Lopez; Techneekz; Tim Baresko and Treasure Fingers.
AERIA / SIX FEATHERS STAGE: Eddie Gold b2b Midnite Panda; Big Mansions; DaddyDough; Ian Live & Friends; Julian Gray; Laser Assassins; MC Word; Nhexis; NOA|AON; Paraleven; Reliquary; Ricky Raw; Torch x Elevate Block; Previously announced artists for Aeria include: >BT; Darude; AK1200 and Reid Speed.
SILENT DISCO STAGE: Bandikook; Chachuba; Comisar; D:RC; Deep Technicians; Deff Jeklyn; Dose Dromer; Exit 9; Fear & Lowe; JD; JStella; Kozmic; Krushendo; LaGoons; Leet; Magnesk; Mettapattern; Mike's Revenge; Movin Keys; Octl; Riven; Shakes; Stranger Candy; Sylo; Tripnotic; White on Rice; Xenotype and Zubah. Stage takeovers by Ian Live & Native Groove.