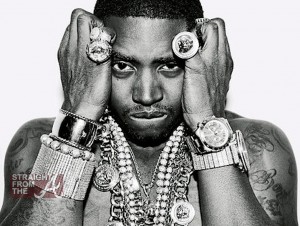 Atlanta rapper and VH1 reality TV star Lil' Scrappy plans to check himself into a drug rehabilitation center on Wednesday.
In an interview with V103 FM morning personality Ryan Cameron, the "Love & Hip-Hop: Atlanta" cast member also known as Darryl Richardson admitted to an addiction to marijuana.
"Some people that work hard, when they get on marijuana they don't work so hard," Richardson said. "They get lazy."
He said he didn't want that for himself or for his family.
"I want to do better," Richardson said. "I want to be a better person."
Richardson will undergo a 30-day rehab program at an unnamed private facility somewhere in the metro area, his attorney, Mawuli Mel Davis said.
Richardson faces possible revocation of his probation for failing a court-ordered drug screening last week.
Prosecutors accused him of changing his urine sample in a previous drug test.
He is on probation for pleading first-time offender in 2008 to felony gun and drug possession.
Richardson is most well-known from his song "Money in The Bank." Born and raised in Atlanta, his rap career began when was discovered by Lil Jon and signed to Black Market Entertainment Recordings.