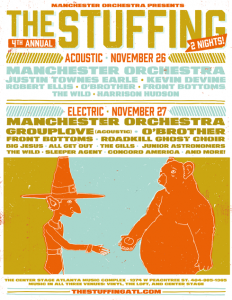 Y'all. Thanksgiving is the one time where you are completely justified in stuffing your face with good food, surrounding yourself with good people…but you can also engorge your ears with good music. This Thanksgiving week/weekend is chock full of concerts throughout Atlanta that can wake you out of your food coma, or get to to dance off your food baby. Here's a look at three shows that would make your Turkey Day better:
The Stuffing, Center Stage: Started by Manchester Orchestra, this will be a 2 day acoustic bonanza including an acoustic Grouplove set and Front Bottoms. It'll surely be a fun time for all.
Wowser Bowser Comebacktacular, The Earl: For the 21 and up crowd, Wowser Bowser is having a full out dance party at the Earl, which will include guests Del Venicci (and members of Carnivores) and WhiteGold. They're determined to make your booty shake so much that you'll want to get a third or fourth helping of Thanksgiving dinner after the show (leftover sandwiches are the best).
Porter Robinson, Opera: Influenced by video games, the young hot shot Porter Robinson will be bringing a Black Friday rage bash at Opera on Nov. 29. Early bird tickets have already sold out, so that only means that VIP and General tickets will sell out soon. If you want a discount, go to wanttickets.com (in the link) and type in the promo code 'katie' (that's me!) and you'll get $5 off your ticket.
Hopefully this gives you your fill of delicious music to go alongside your stuffing and sweet potatoes.