(Above) Photo: MARK MAKELA/Reuters./ Published: 09/14/2015 12:19:25
It's a great day to be from Georgia! Betty Cantrell of Warner Robins, GA took home the Miss America Crown last night, and every home in the state  jumped in excitement knowing that the former Miss Georgia will now be representing the United States at large. There are lots of things that we had learned about Betty through the Miss America competition last night, but here are a few things that you may not have known about the pageant queen.
1) She LOVES the Andy Griffith Show.
As said on the Miss Georgia Facebook page, she "loves all of the lessons learned from the show and the simplicity of the lives they lived in the small town of Mayberry." It's a nostalgic show for her, and it makes her heart whole.
2) One of her Broadway idols is Sutton Foster
In her Miss America intro, she mentioned Sutton Foster being an inspiration for Cantrell's journey through Miss America and Broadway. Foster being a Georgia native as well, the shout out was definitely appropriate! As Cantrell mentioned Foster on TV, someone brought it to Foster's attention on Twitter. As a result, this wonderful interaction on social media happened: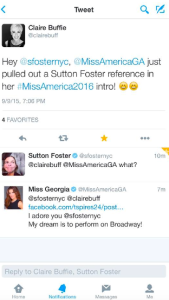 3) She grew up without cable television.
Miss America didn't watch television as a kid! Personally, I don't know what I would be without Saturday morning cartoons, but if I had turned out like Miss America I would be alright without it. It also shows a great representation that we don't need television/technology as much as we think we need it.
Betty Cantrell has now officially transitioned onto the Miss America Twitter, Instagram and Facebook. Follow her journey as Miss America, and how she represents the true Georgia charm and hospitatlity for the rest of the country. We at GAFollowers are so proud of her, and can't wait to see the great things she will do!