Christmas is right around the corner and sometimes driving through a town and feeling the festivity is all you need to kick you into the holiday spirit. Georgia's southern charm makes Christmas so much better and many towns bring their A-game when decorating. Take a trip and visit some of the most enchanting Christmas towns Georgia has to offer.
1. Santa Claus, Georgia
Yes, there's a place in Georgia called, Santa Claus with street names like 25 December Drive and Rudolph Rd. It's a town with about 250 people and many drive hours here just to send mail from their post office.




2. Helen, Georgia
Helen, Georgia is the go-to spot for most holidays in Georgia. The Bavarian styled town brings out big decorations around the holidays and has been named by many sites as one of the TOP towns to visit in the USA.
3. Dahlonega, Georgia
"Dahlonega always goes all out each year for the holidays. Lights are hung in every direction, and both houses and storefronts put their best foot forward with festivity. If you're looking for a little bit of yuletide cheer, this is the town to visit." – Marissa Roman
4. Savannah, Georgia
Savannah is another city that goes all out for the holidays! In fact, people visit Savannah during the holidays just because they turn the city into a magical wonderland. Wreaths and bows galore, nearly at every turn around this fascinating city.




5. Pine Mountain, Georgia (Callaway Gardens)
People flock from all over the state to visit Pine Mountain, Georgia during the holidays. Especially because they are home to Callaway Gardens, which puts on an incredibly festive show each and every year.
6. Gainesville, Georgia
Gainesville, Georgia has the subtle holiday spirit that only small, charming towns can pull off. You won't be overwhelmed with decoration, but it'll be just enough to get those sugar plums dancing in your head.




7. Austell, Georgia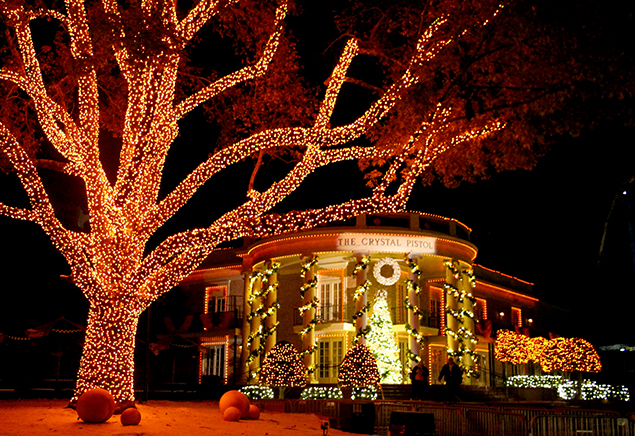 Austell, Georgia takes decorating to a whole other level. But a beautiful level at that. Make sure you spend some time driving through the residential streets, as the community in Austell proudly shows off their spirit in a variety of different ways.
Any other cities that you know of? Leave a comment below!