Fennis "Peaches" Bailey heard a knock at her door late Friday night. She and her husband answered it to find a little girl on the porch, arms and hands blackened with soot. They could smell the smoke and see the fierce blaze behind her. They listened to what she said: Her house was burning down, her three siblings were safe, but her parents weren't home.
Officials said the actions of the 9-year-old were nothing short of heroic as she rescued her younger siblings from their burning singlewide mobile home where they lived off Athens Highway in Gainesville.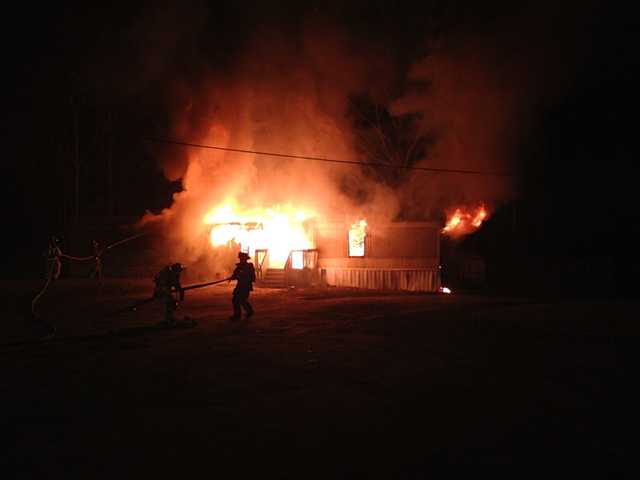 The fire Friday night destroyed the residence, leaving melted tricycles, baby toys and unrecognizable chunks of colorful plastic scattered beneath it. A charred framework of metal still held the trailer together Monday as Bailey, the next-door neighbor, described what she'd witnessed.
The scene looks grim now, she explained, "but it could have been so much worse."
Hall County Fire Services Capt. Zachary Brackett said it all began when the 9-year-old "awoke to a smoke-filled home and realized that she needed to get herself and her siblings out. Making multiple trips, she took them all to a neighbor's home across the street and asked them to call 911."
Bailey further described the encounter with the child: "I said, 'Where are your parents at?' And, she said, 'They ain't there.'"
All four children were evaluated for smoke inhalation and later released from Northeast Georgia Medical Center in Gainesville.
The children — ages 1, 3, 5 and the 9-year-old — were alone at their home in Highland Mobile Home Park when firefighters responded to the call in the 2300 block of Athens Highway around 11 p.m, according to authorities.
Gregorio Garcia-Gomez, 38, is charged with leaving the children home alone, according to the Hall County Sheriff's Office.