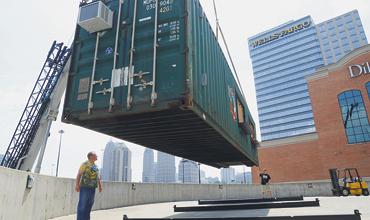 This Halloween, Atlantic Station is planning intown Atlanta's largest haunted house.
Called "Containment," Atlantic Station officials said the 25,000-square-foot maze will use 20 large shipping containers like those used on trains for the attraction. Containment will combine live actors with cutting-edge technology to deliver 19 chilling rooms and outdoor spaces and is set to run starting tomorrow Oct. 4 through Nov. 3.
The attraction is based on a story line involving demonic artifacts being transported by train through Atlanta as part of a convoy of cargo containers. The train derails, causing the containers to crash onto the Atlantic Station property. Unexplained incidents, disturbing behavior and mysterious disappearances follow.
The attraction is billed on Atlantic Station's website as "Atlanta's newest, most terrifying haunted attraction." Visit the website & learn more info here