RINCON, GA (WTOC) –
One Effingham County High School student is dead and another was seriously injured after a wreck Wednesday night in Rincon.
"I am shock, there is nothing really to say. It really does not feel real to me," said Madie Davis, a friend of both of the teens involved in the crash.
It happened shortly before 7:30 p.m. on Rincon-Stillwell Road between Georgia Pacific and Ebenezer Road. An off-duty Effingham County sheriff's investigator came onto the crash scene and located an injured teen on the side of the roadway.
Deputies say Christian Cowan, 18, was pronounced dead at the scene and Travis Williams, 18, was airlifted to Memorial University Medical Center in Savannah with serious injuries.
"The investigator and another deputy located the vehicle in a wooded area and found another teen, Christian Cowan, 18, of Rincon, lying in ditch in standing water. Deputies pulled him out but he was pronounced dead on the scene. Both teens were seniors at Effingham County High School, "said Effingham County Sheriff's Office spokesman David Ehsanipoor in a statement.
Now, friends of Christian have to deal with the tragic loss.
"I remember we were in culinary class together. He was such a funny person, always had a smile on his face. He was so funny and would always make me laugh. He was just a great guy," said Devyn Jaudon, close friends with Christian.
At least eight Effingham High students have died in the last couple of years and Effingham County High School does everything they can to help.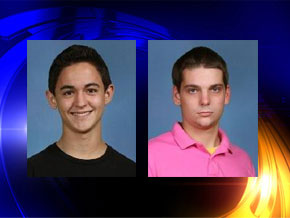 "We try and make school as normal as possible for the kids, and we made an announcement this morning. We told the kids to talk about it, lean on one another, talk to a counselor. If that means a child needs to take a break from the classroom to spend time with friends or spend time with a counselor then that is what we are going to do," said Yancy Ford, the Principal of Effingham County High School
Rincon-Stillwell Road between Georgia Pacific and Ebenezer Rd. was closed for four hours while authorities investigated the wreck. It reopened at about 11:30 p.m. Wednesday.
The Georgia State Patrol's Specialized Collision Reconstruction Team continues to investigate.
"That is how I really got through tonight. You just think about the good times. We were all at the hospital and we were just laughing about the great memories we have of Christian."