Atlanta's fest-filled Labor Day Weekend has come and gone but not before Dragon Con's massive turn out set a new record for attendance.
As any Atlanta native will tell you, the city's Labor Day Weekend lineup of festivals and conventions is pretty impressive. For those who love hip hop culture, a more mainstream source of entertainment, active ways to connect with friends and family and getting drunk for cheap, LudaDay Weekend delivered on every front. For those who didn't get their chance to participated in Pride festivities but have been crossing their fingers for a second chance, Atlanta Black Gay Pride weekend also kicked off over the Labor Day Weekend.
But for those who want nothing more than to be a part of the biggest bash of nerdom — a bash so massive that even five of Atlanta's largest hotels in the metro area can't contain all the action — Dragon Con 2017 was nothing short of a dream destination.
This year's roster of guests was filled with big names from even bigger fandoms but the real headliner of the weekend was easily the appearance made by Stan Lee. Once fans realized that this year's Dragon Con was going to bring out all the stops in terms of guests, offer a gaming room even more impressive than last years that would host paid eSports tournaments and bring back all the themed after-hour festivities that the crowd could handle, it's no surprise that registration for the event soared through the roof.
For Dragon Con's 30th Anniversary in 2016, the convention topped its previous records by bringing out 77,000 attendees. Their crowd for 2017 soared past the 80,000 mark over the four-day celebration.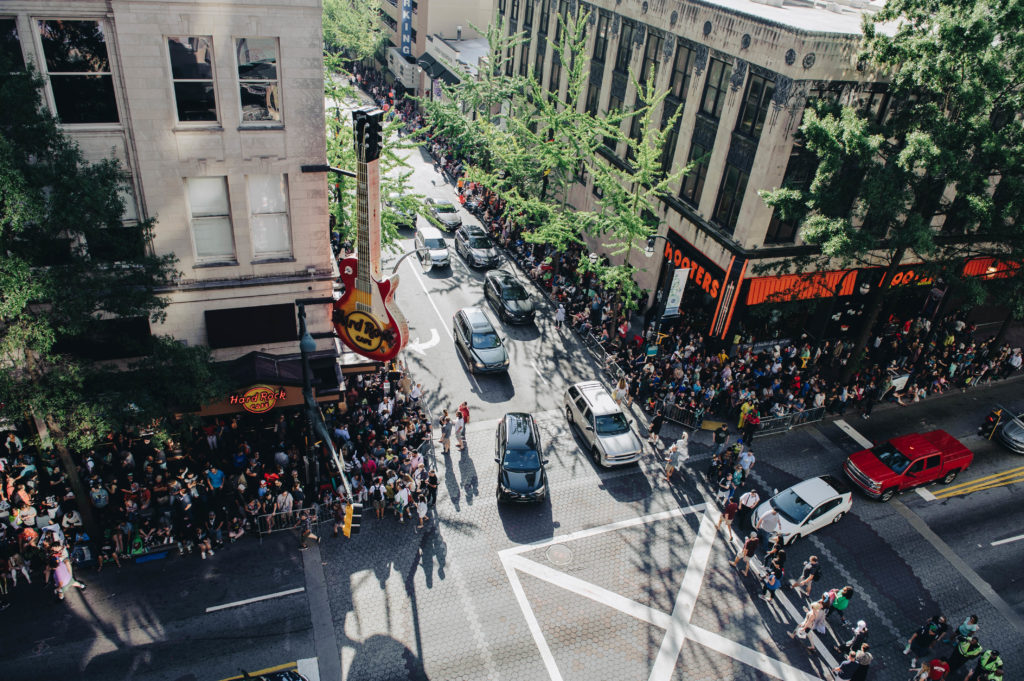 "Every year, Dragon Con seems to get bigger and better and 2017 was no different," Rachel Reeves, Dragon Con Convention Co-Chair said in a press release. "Pop culture fans came from every corner of the planet to join in the fun. This year, we gave them a show worth travelling for."
Reeves is absolutely right. Yet again, Dragon Con consumed multiple blocks of downtown Atlanta and covered the city streets with pop culture fans, gamers, cosplayers and everyone's favorite group of Star Wars-themed hip hop lovers. Every year, Dragon Con proves to be the type of function that only Atlanta's culture can foster. Other conventions that compete with Dragon Con in size hardly come close to the convention in terms of it sheer spirit, personality, freedom and overall entertainment value. This isn't a clean-cut corporate event filled with booths and creative advertising. Sure, the booths and ads are all there too but they aren't the star of the show. Dragon Con is the ultimate fan experience that goes beyond demos, screenings and panels to get fans engaged in the culture. This is the only convention where walking down the street genuinely might become one of your favorite moments of the entire weekend and you can run into some of the world's most popular cosplayers without roped off lines and 35 seconds to take a picture and scram. Dragon Con is accessible, engaging and downright entertaining in a way that is truly unique to this beloved Atlanta staple.
Let the preparations for Dragon Con 2018 begin.