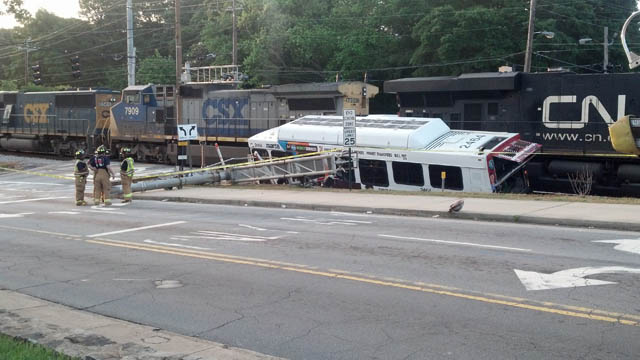 No one was injured when a train struck a MARTA bus in downtown Decatur early this morning. thanks in part to a quick-acting bus driver all 4 passengers & the driver came away unscathed.
The bus was hit by the train about 6:30 a.m. at the McDonough Street crossing near East College Avenue, just south of Decatur High School.
According to MARTA officials, there were four passengers on board, but the driver was able to get everyone off the bus and to safety before the bus was hit by the train.
The bus came to rest off the roadway, wedged between the train's engine and the crossing arms, which were toppled in the collision.
A woman riding the bus said the bus broke down on the tracks.
She said when she heard the train and saw the lights, she and others got off the bus and ran.
The crossing will be closed while crews repair the crossing arms.
Decatur police have not released any additional details. MARTA spokesman Lyle Harris said the accident remains under investigation.