Only 2 weeks left before the Orchid Daze exhibit closes and we're recommending everyone to take time and visit! Atlanta's Botanical Garden's is already an amazing place to visit but between February 11th – April 9th they host a special annual orchid extravaganza that you don't want to miss.
Staged among thousands of beautiful orchids in the Fuqua Orchid Center – one of the country's largest collections of species orchids – the popular exhibition features three paradisiacal settings that allow visitors to leave behind their urban surroundings.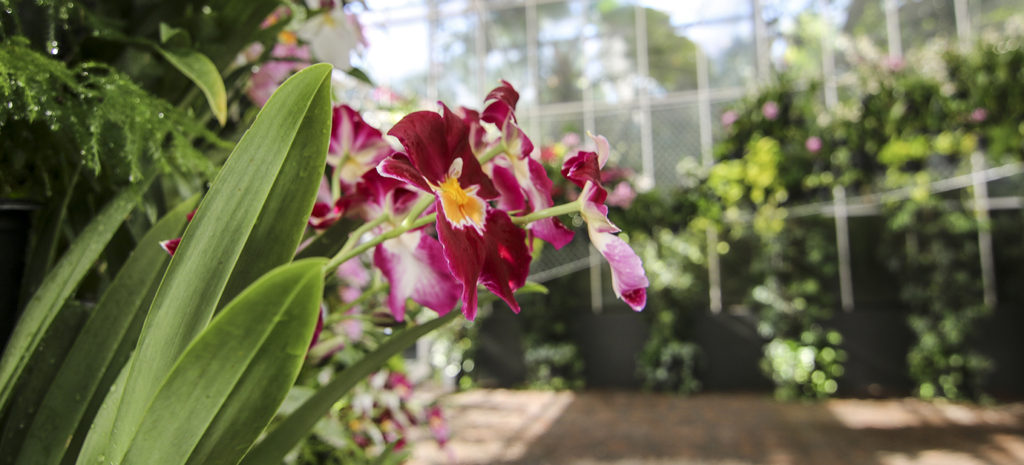 In the Fuqua Conservatory lobby, guests stroll under a canopy of stately Caribbean palms while tropical orchids in mango, pineapple and coral colors burst like sparklers overhead. Below is a diverse carpet of exquisite slipper orchids of varying sizes.
Beneath its 22-foot ceiling, the Orchid Atrium features a soaring vertical tapestry woven with fragrant orchids. Visitors see up close and at eye level the astonishing variety of intricate patterns and colors that bewitch orchid pollinators.  Pansy Orchids with big bold flowers of vibrant magenta, gold and pink contrast with delicate miniature Dancing Lady Orchids.  A surrounding backdrop of Moth Orchids lends the feeling of complete immersion in an orchid paradise.
Finally, the Orchid Display House welcomes guests to an idyllic escape. Colorful hammocks billowing with Cattleya Orchids are laced between russet-colored Manzanita trees, creating the ultimate warm haven on a chilly day.
In addition, Orchid Daze includes Orchid Market Weekends Feb. 18 – 19, March 18 – 19 and  April 8 – 9, when visitors may shop for a wide variety of orchids and potting supplies as well as arts and crafts by local artisans. Also, on Saturdays of those weekends, they may take advantage of  Orchid Care Clinics for advice on caring for their plants.
Take the family out and enjoy life!
See past exhibits at Atlanta Botanical Garden.