Pokemon GO may have seen a decline in active players but don't underestimate the massive number of players who are still eagerly chasing down Pokemon on the wildly successful mobile game.
Pokemon GO has been so successful that the Atlanta Streetcar is hoping to cash in on its Poke-friendly route.
Every Friday, Saturday and Sunday the Atlanta Streetcar kicks off #ATLStreetcarGO where it welcomes Pokemon GO players on board for just $2.




"Enjoy four hours of custom #PokemonGO gaming each day for just $2," a tweet from the Atlanta Streetcar's official page reads. "We're inviting everyone to come out and enjoy a relaxing ride on the Atlanta Streetcar while catching all your favorite Pokemon."
One trip on the streetcar will take riders past tons of Pokestops and gyms and even give them the opportunity to catch a variety of awesome Pokemon… or at least it used to.
Pokemon GO's latest update may have just ruined this entire promotion.
In an attempt to keep Pokemon GO players from using the app while driving, Niantic released an update that causes Pokemon to stop appearing if the user is traveling at 30 mph or faster.
The update caused frustration for many mass-transit commuters who used to catch Pokemon while on the train or on the bus.
Other users who don't live in walk-friendly neighborhoods were upset that they now have no convenient way to search for new Pokemon.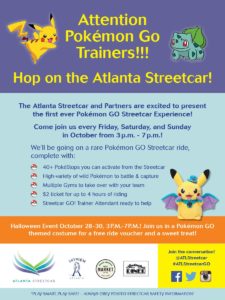 Yet again, Pokemon GO seems to be the perfect game for the big city resident and a Pidgey-filled nightmare for those who live in rural areas.
Only time will tell if the street car's traveling speeds will clock in slow enough to allow its riders to still catch Pokemon while on board. If not, the Atlanta Streetcar may have to turn their hopes to their other promotion that offers free rides on the last Tuesday of every month.
Have you tried catching Pokemon on the Atlanta streetcar since Niantic's latest update? If so, tweet us and tell us if you were still able to capture Pokemon while the streetcar was in motion.