It's been more than three days since Roswell teen Olivia Hudson was reported missing by her mother and, unfortunately, there are still no signs of the missing 17-year-old.
The Roswell Police Department is urging anyone with any information about the teen's whereabouts to come forward and help bring Hudson home.
The grueling wait and lack of information pushed Hudson's mother to release a heartfelt, tearful message, begging for her daughter's safe return.
She shared the emotional plea with WSB-TV, revealing that she has barely slept since her daughter's disappearance.
"I just honestly… really, really, really just want my baby home. That's it," Andre Hudson says in the heartbreaking video. "I can't sleep. I cannot eat. I can't do anything and I just really want her home."
She goes on to say that she's been sleeping on the couch for days hoping that her daughter would walk in the door.
WSB-TV reports that Olivia and her mother got in an argument about her grades in school before she went missing.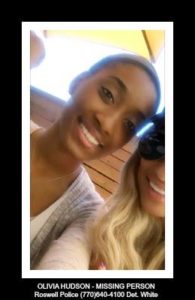 Olivia was last seen walking home from the Kroger shopping center at 900 Marietta Highway around 12:30 am on Tuesday, according to Roswell police.
She was wearing an Atlanta Hawks T-shirt, black pants and a gray headband with black and white Nike shoes at the time of that sighting.
Roswell police note that the search is especially difficult because Olivia does not have a cell phone, but without a vehicle or money it is hard to say where the teen might be after more than three days away from home.
If anyone has any information about Olivia's whereabouts, please contact 911 or the Roswell Police Department at 770-640-4100.
We urge everyone to share the news of Olivia's disappearance in hopes that with enough eyes looking out for this Roswell teen, she can make a safe return home.