We're teaming up with Monday Night Brewing to present Slap Fight Comedy Night on April 7th. We hope you will join us and here are seven reasons why:
1. Six Complimentary Beer Samples
Ask me my favorite kind of beer? The kind I don't pay for. You purchase a tour and because we're nice, we'll include complimentary beer samples. Enjoy the many brews on draft straight from the source. If that doesn't sell you, you probably weren't a fan to begin with.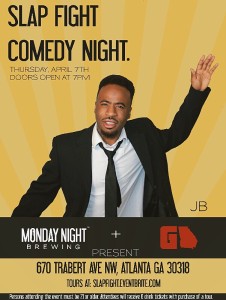 2. Inaugural Comedy Show
Watch Atlanta's finest young and talented comics break in the stage at Monday Night Brewing's first ever comedy show. Will these comics be the next legends of comedy? Not sure but we can guarantee them making your Drunk History. Purchase your tour here.
3. Try Newest Beer, Slap Fight
"Monday Night Brewing's newest year around beer "Slap Fight" is the very first beer from Monday Night to be consumed through a can. We think the "Slap" comes not from wanting to hit someone else, but how the beer can slap you right in the face!"
Monday Night Brewing Releases "Slap Fight" Beer
4. Find an Excuse to Slap Someone
Slap comedy, slap beer, might as well enjoy the spirit of slapping and slap someone. (Slap at your own risk) Purchase your tour here.
5. Leave the 9-5 behind
Monday Night Brewing "started as a hobby to escape the grind of the everyday white collar business life.There is a wall of ties, where guests can pin their reminders of the 9-5 life and leave the day's spreadsheets where they belong- in the past."
6. What else are you gonna do on a Thursday?
It's the Braves opening week, but there's not a game on Thursday! The suns setting later and the weather's nicer out. Come chill on the patio, play cornhole and catchup with friends before an awesome show.
7. Keep Your Glass
Upon arrival, you'll be given an authentic Monday Night Beer glass. You may not fall in love with it, but you're going to want to keep it. Just walk out with it. Don't ask for permission, just leave and keep it as a souvenir.