ATLANTA, GA – Church's Chicken® is introducing an Atlanta Hawks inspired meal deal to ring in the new year. The $5 Hawks Big Box will be sold at more than 40 Metro Atlanta area restaurants from now through June.
The initial offering of the specially-priced meal comes with two pieces of hand-breaded chicken or three pieces of Honey-Butter Biscuit Tenders, along with two small sides, a biscuit and a small drink. The second offer, beginning Feb. 27, features Church's lemon-seasoned seafood and comes with a choice of two pieces of fish or eight pieces of shrimp, both served with a hush puppy, fries, cole slaw and a drink.
"The $5 Hawks Big Box promotion in our Metro Atlanta restaurants provides a great opportunity to highlight our strategic partnership with the Atlanta Hawks," said Robert Jacks, Field Marketing Manager, Church's Chicken. "We are excited to embrace Hawks fans this season with our delicious meal offerings and great value to show how Church's Chicken remains 'True to Atlanta.'"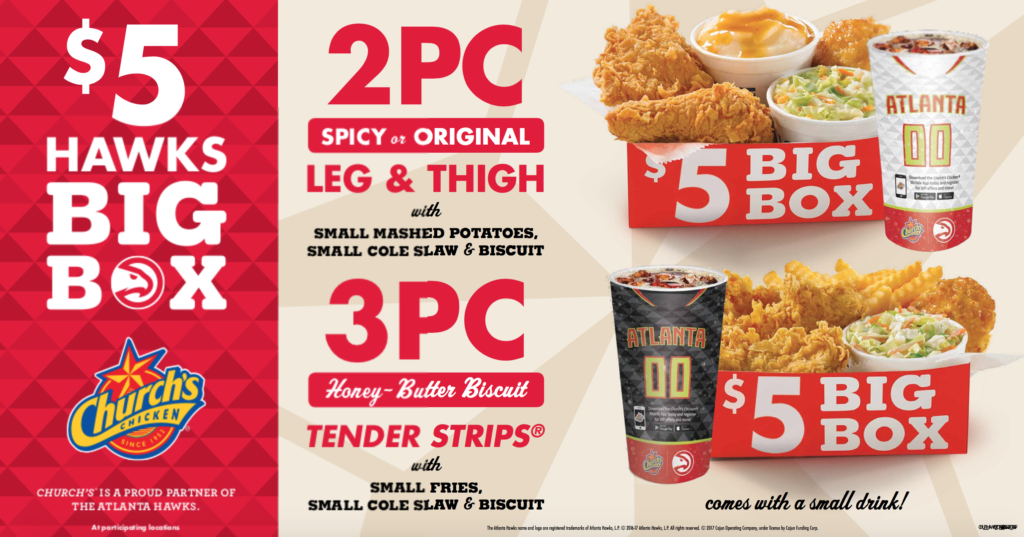 Each small beverage with the Big Box deal comes in a custom co-branded Hawks jersey cup.  There will be two versions, one each to represent the team's White and Georgia Granite Gray uniforms with the distinctive "feather pattern" design.
"Church's Chicken is one of our amazing Atlanta-based partners and a staple in the community," said Pete Thuresson, Senior Vice President of Corporate Partnerships for the Hawks and Philips Arena. "The $5 Hawks Big Box will continue to drive the Hawks brand in the market and keep us top of mind with our fans and the city even outside of the arena."
Press release provided by Atlanta Hawks & Philips Arena Corporate Communications