Donald Glover's Atlanta took the world by storm in 2016. When the show was first announced, it was met with a palpable mixture of excitement and skepticism. This was a somewhat warranted skepticism, especially from native ATLiens, about FINALLY having an accurate portrayal of Atlanta on the silver screen. In all honesty, that is something has escaped the Atlanta-based reality tv shows and most movies thus far.
After the first episode aired, ALL doubts were removed. While it is a hyper realistic take of Atlanta, the invisible car was an instant classic, it still managed captured the spirit of the city and mixed in Glover's sharp humor. Both critics and viewers heaped well deserved awards and praise on the FX show.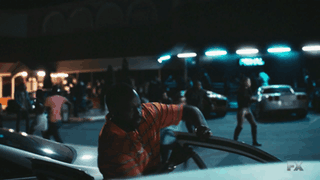 Flash forward to 2017 and viewers nationwide are starving for a season 2. However, an exponential burst in success and popularity for Stone Mountain's Glover had the future of Atlanta Season 2 looking murky. Donald is playing Lando in the Han Solo movie, starring in the live-action Lion King remake, and executive-producing FXX's Deadpool animated series. All fans had to hang on was that it MIGHT release 2018.
Fear no longer ladies and gentlemen. For I bring to you good tidings from the Paper Boi himself. While at the Peabody Awards last night, actor Brian Tyree Henry spoke with Entertainment Weekly about the upcoming season 2 of Atlanta.




"We're gonna start in September, actually, and we're going to crank it out," Henry revealed. "We have no idea what's going to happen, but that's the excitement of it…. That was the best part about the best season: just showing up and seeing like, what the hell is going to happen to these characters on a given day. So, I have no idea and I like it that way, actually."
Now I know that's not a concrete release date, BUT at least it's letting the fans know that it won't be buried too far in Gambino's schedule. No word on the episode count, but here's to hoping it's more that 10 episodes. Production is scheduled for 4 months, so I will post any and every casting call that comes our way. Let the hype train begin!