Many people believe that the true beauty of Georgia comes from the fact that you can find everything you'd ever hope to find all within the borders of the Peach State. Whether you're searching for city life, a quiet beach, majestic mountains, secret waterfalls, winding rivers, legal graffiti zones, historic hip hop landmarks or a foodie paradise, if you find yourself in the middle of Georgia then you're in the right place.
And if you are looking for a place so drenched in beauty and drunk in history that just visiting there will make you feel like you've been whisked away into your own fairytale, then Georgia is still your dream destination—Braselton, GA, to be exact.
Less than an hour away from the heart of Atlanta lies Chateau Elan.
Upon arrival it may seem as if you have teleported into your own personal Disney film, but what you have truly discovered is north Atlanta's most stunning winery and resort.
With an appearance as luxurious as this one, it's no surprise that it's a popular spot for weddings and corporate gatherings, but it also fits the bill for another type of occasion — a staycation.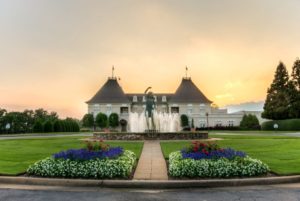 Let's face it. Not every college student has the funds to travel the globe during the summer but everyone craves a change of scenery once in a while. Besides, a staycation at Chateau Elan may still leave you feeling as if you've traveled all the way across the Atlantic to reach Europe (minus the exhausting flight and airport security lines).
Chateau Elan guests have access to all sorts of luxurious amenities including their European health spa and more than 40 holes of championship golf.
If you aren't looking to spend the night at this modern day castle, however, you're still in luck. A wine tasting and tour at this gorgeous venue is still a unique experience for wine connoisseurs and newbies alike.
Tours of the winery start as low as $5 a person and can go as high as $150 a person depending on which package you opt for. You can view all the different package options here.
Chateau Elan offers a wonderful variety of wines that is sure to offer something for every palette but if you're looking for something that was plucked from the vines just outside the resort, you'll want to try the muscadine wines.
Muscadine grapes grow well in Georgia, unlike many of its other grape counterparts, which caused Chateau Elan to focus on growing that particular grape and importing others from across the U.S.
While not all the grapes used for the wines are grown just outside Chateau Elan's doors, however, all of the wines are actually created there. It's an absolutely fascinating process that you'll be able to learn more about during any of the private tours (and ask for Julie if you really want to have a fun time. She's the type of person that has passion and happiness just pouring out of her.)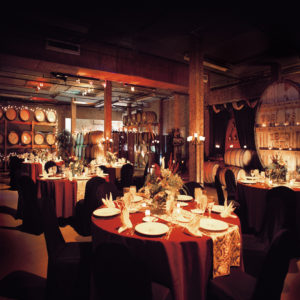 That brings me to what may be the best part about Chateau Elan.
Yes, fine wine and great golf is a great way to spend any staycation but Chateau Elan's staff is what truly makes a difference.
From the tour guides to the servers, the smiling faces that bring Chateau Elan to life are this resorts very best resource.
The entire resort is filled with extraordinary staff members who don't make you feel like just another guest. They make you feel like the guest of the evening. For anyone who knows little to nothing about fine wine, walking into a place like this can be an intimidating experience.
You sit down, knock over a fork (like I did), frantically stare at a list of wines that you can't confidently pronounce and wish you had labels of what cheeses were placed in front of you and which ones taste the best with which wine. How awkward, right?
Wrong.
The servers that will walk you through your wine tasting are friendly faces that take the time to educate you on what you don't know, recommend new options based on your flavor preferences and converse with you like you are just another friend stopping by to dish tea and sip wine.
And if you have already been to Chateau Elan before, you should strongly consider taking a second visit this summer as the winery will be undergoing renovations. The renovation process will start on July 5 and is scheduled to be completed by July 31.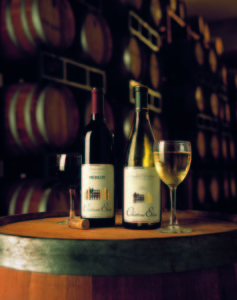 Also at the end of July you can expect to finally have a fresh new supply of Chateau Elan's award winning cabernet.
If you are anxious to stop by before the end of summer, however, you can always order your favorite wines online and have them shipped to you when they are ready.
It's been more than three decades since Chateau Elan first came to fruition and with beautiful golf courses, eight luxurious restaurants, a newly renovated European spa, extremely courteous and welcoming staff and what may be the loveliest vineyard and winery Georgia has to offer, it's safe to say that Chateau Elan will still be around for years to come.