Duck Dynasty Scarecrow Controversy in Ball Ground, Georgia
A teen was charged with theft after a scarecrow styled as Si Robertson was stolen and burned at the stake. It also appears that a good samaritan noticed the missing Si scarecrow and crafted another one to take it's place. The new scarecrow portrays Si by wearing a camouflage tee shirt, jeans, boots, a hat, and holding a sign that says, "I'm back, Jack!"
Original Story: Fresno Bee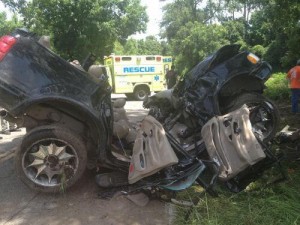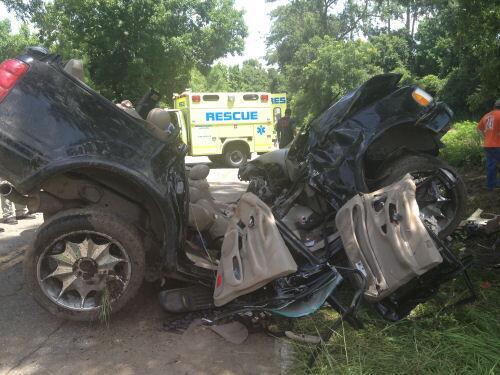 Exhausted ATL Driver Causes Crash – Flees Scene
Cameras from WSB-TV were rolling on October 18, 2013 when a reporter discovered a drooling, sleeping man in an idling vehicle that was blocking traffic on the Buford Connector. A Georgia Department of Transportation worker attempted to wake the man, and was thanked by almost being struck by the drowsy driver when he sped off. The sleepy man instead caused an accident involving five cars. The drooling driver was then caught on tape attempting to flee the scene.
Original story: News Observer
Lee Fletcher of Tifton Kills Huge Rattler
Lee Fletcher, part owner of Chula Peanut & Grain Co., was out working with his tractor when he spotted a five-foot diamondback rattle snake. So he did what any hillbilly would do: He killed it. Using the bucket of his tractor, he pinned the snake down and killed it. A sign now hangs in the community that says, "Welcome to Chula! Home of the 'rattlesnake wrangler' Lee Fletcher." He also stated that he skinned the snake and is planning to make a belt.
Original Story: Access North Georgia
Georgia Teen Flips Out Over Record
Mikayla Clark is a 16 year-old high school cheerleader at Westlake High School in Atlanta, Georgia. She recently attempted to break a Guinness Book of World Records record of back handsprings at her school's homecoming game. When she looked up the record, it was published at 36. Mikayla was able to complete 44. However, since the last publishing, a young woman in Texas also broke the record, setting it at 53, not 36. It was not yet publicized, as it was filmed for a UK television show. Mikayla plans to blow the second record of 53 out of the water during her senior year.
Original Story: HuffPost