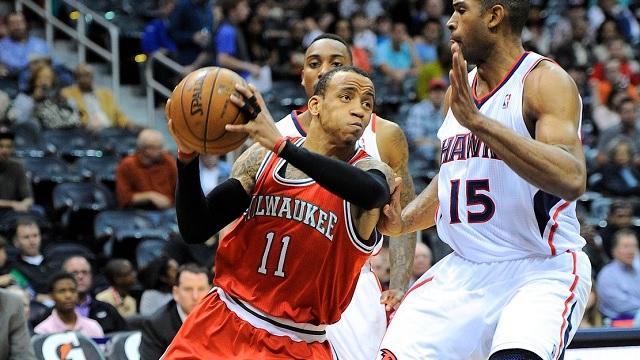 The Atlanta Hawks wanted to trade for Monta Ellis on deadline day in February.
They haven't lost interest, either.
The Hawks, according to NBA front-office sources, have emerged as a serious suitor for Ellis in free agency on top of the deals Atlanta has already struck with former Utah Jazz forward Paul Millsap and returning sharpshooter Kyle Korver.
With the future of restricted free agent point guard Jeff Teague still uncertain, Atlanta has roughly $10 million in available salary-cap space to potentially use on Ellis. Sources say that the Hawks have also given center Andrew Bynum some thought, but all the latest signals suggest that Ellis is the Hawks' top current target.
In the event Atlanta proposes another short-term deal — as seen with Millsap's two-year, $19 million pact — its available cap space allows the Hawks to at least offer a healthy annual salary that other teams interested in Ellis would struggle to match. The Denver Nuggets are another team known to covet Ellis, for example, but Denver is said to be shopping veteran guard Andre Miller to try to create enough financial flexibility to make Ellis a competitive offer.
The Dallas Mavericks were another prime suitor for Ellis, but Dallas' decision to bring Hawks free agent Devin Harris back to Big D on a three-year deal worth in excess of $9 million realistically takes the Mavs out of the Ellis hunt. Bynum continues to the Mavs' focus after their deals with Harris and Jose Calderon.
The Milwaukee Bucks will actually have to renounce their rights to Ellis on Wednesday if he hasn't found a new home by the first day teams are officially allowed to execute signings and trades after the lifting of the league's annual moratorium on player business. If Ellis doesn't have a new team by then, Milwaukee would not have the salary-cap space necessary to formally sign O.J. Mayo ($24 million over three years) and Zaza Pachulia ($16 million over three years) without surrendering its rights to Ellis, who opted out of next season's $11 million to become an unrestricted free agent.
The Hawks' trade talks with Milwaukee on deadline day headlined by Josh Smith broke down when the Bucks refused to part with Ellis in the proposed deal.