ATLANTA – They're Major League Soccer's two highest MVP vote-getters and stars entering the primes of their careers, but they could be walking very different paths this offseason.
With the full range of Atlanta United brass in attendance at the ceremony honoring 2018 Landon Donovan MLS MVP Josef Martinez, there were plenty of questions to be asked about the futures of Martinez and his high-performing teammates, including playmaker Miguel Almiron, who finished second in voting for the award.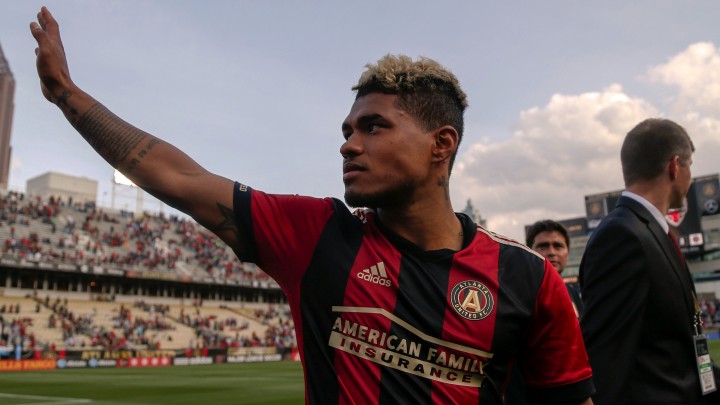 The 25-year-old Martinez, having shattered MLS scoring records left and right, and now with an MVP trophy to show for it, would certainly seem to fit the profile of a player that would draw interest from teams around the world. Thankfully for Atlanta fans, he doesn't sound like a man with any interest in abandoning his current situation.
"I've said it before that I am going to be here as long as they want me," Martinez told reporters after he was presented with the MVP award. "I am happy here, I feel like I'm at home.
"I just want to say thank you to all the people at the club – the president, all the directors, everyone who works at the club from the security staff to the cooks in the kitchen, to even [club PR rep Justin Veldhuis], who I yell at when he asks me to do an interview, and everyone else at the club."
The affection Martinez has gotten from Five Stripes fans all across the city has not gone unnoticed either.
"In my speech, I couldn't find enough words to thank the fans for the support they've given not only me, and also my family and people close to me in these two years on the field and also off the field, seeing people in the street," said Martinez. "The support has been incredible. All these triumphs that we're having as a team, a lot of it is in great part due to the amazing support of our fans."
Almiron, on the other hand, has been the most-focused upon Atlanta player when it comes to transfer speculation, reportedly drawing interest from a number of Premier League teams, most notably Newcastle United. While the Paraguayan international wasn't specifically mentioned by name during Darren Eales' media session on Wednesday, the Atlanta United president reiterated that it would still take something special for the club to consider an offer for any of the team's stars.
"We want to have a competitive team, we want to have a winning team," said Eales. "…If there's an amazing offer that's great for the club, that's great for a player, that's great for the league, then we'll consider it. But it has to be amazing. Otherwise, we'd be stupid to consider it."
via MLS Soccer
---
Check out our Atlanta United gear