Bourbon and BBQ are an appetizing duo to begin with, but Coopers' Craft Bourbon and Sweet Auburn BBQ make a delicious combination. A Bourbon + BBQ tasting was held at Sweet Auburn BBQ with delectable demonstrations.
The night began with a tasting and cocktail demonstration from Coopers' Craft Brand Champion, Cindy Sepulveda. The group was lead through the tasting notes of Coopers' Craft, commencing with the aroma of a light toasted and fresh oak character mingled with baked apple pie and a creamy citrus custard tang. The finish being rich and smooth with lingering hints of fruit. We also had the opportunity to create our own cocktails using the Coopers' Craft Cup, which is made up of 2 parts Coopers' Craft, 1 part fresh lime juice and topped with a ginger beer (6 parts).
After the cocktail creations we transitioned into the dinner portion of the night and were presented with a cooking demo from Cam Floyd, the Executive Chef of Sweet Auburn BBQ. The appetizer that started the night was the crostini with candied bourbon bacon and blackberry mustardia. The mains of the night included the Smoked Pulled Pork with Bourbon BBQ Sauce, Fried Spare Ribs with Sweet Tea Bourbon Glaze and my personal favorite the Bourbon Georgia Peach BBQ Wings. Side dishes included mac & cheese, bourbon baked beans, sweet potato casserole and so much more. Even more cocktails were enjoyed alongside the meal, all three being made using Coopers' Craft Bourbon.
If you have the opportunity visit Sweet Auburn BBQ for mouth-watering food paired alongside a delicious  cocktail. It is located at 656 North Highland Avenue Northeast, Atlanta, GA 30306. Call to make a reservation between 10am-6pm, Monday to Friday.If you'd like to see more cocktail creations from Coopers' Craft Bourbon, follow them on social media; Facebook, Instagram and Twitter.
Coopers' Craft Bourbon: Coopers' Craft is a celebration of Brown-Forman's more than 70 years of expertise raising its own barrels at Brown-Forman Cooperage. Drawing inspiration from the craft of raising barrels and the importance of wood in bourbon-making, Coopers' Craft uses a unique charcoal finishing process. Coopers' Craft is a product of Brown-Forman Corporation, a premier producer and marketer of fine quality beverage alcohol brands including Jack Daniel's, Woodford Reserve, Tequila Herradura, Korbel, Finlandia, Chambord and Sonoma-Cutrer.
Sweet Auburn BBQ: Sweet Auburn Barbecue, where classic southern barbecue goes hand in hand with modern eclectic influences. We specialize in classic slow smoked meats, award winning barbecue, as well as our inspired signature sides. We are available for catering events of all types and sizes, accommodating pick up orders, traditional buffet style, or in one of our fully functional food trucks.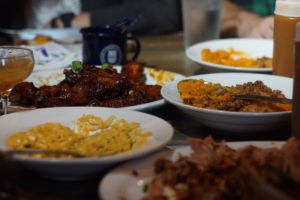 Axel Martinez contributed to this piece.