Atlanta's first cat cafe opens its doors today (March 27), and for some, this is a pretty big deal. Java Cats Cafe will serve the metro area a unique combination of two of life's luxuries: freshly brewed coffee and cuddles from furry, adorable cats.
"I'm super excited," said Sophia Nyman, during her visit this week. "It's about time. I think it's great for Atlanta. Hanging out with the cats, that to me is the coolest part."
Java Cats Cafe is tucked away in Grant Park at 415 Memorial Drive SE, Suite C, next to Tin Lizzy's Cantina, with cat-themed murals by local artists and whimsical feline touches throughout. It's welcoming confirmed cat lovers, the inquisitive and even the skeptical starting at 10 a.m. March 27. Just see if you don't leave with a smile on your face.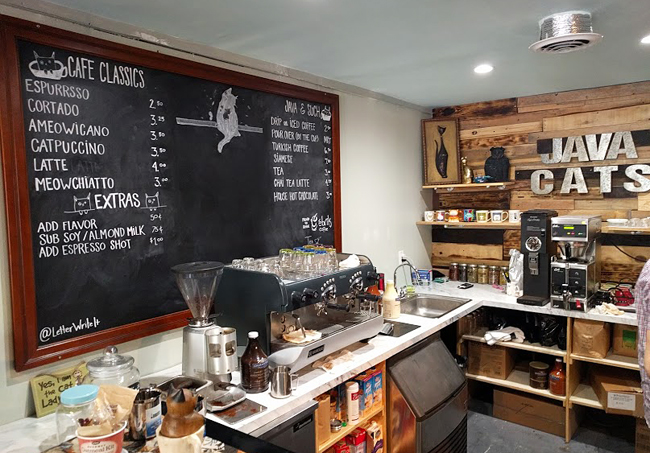 How it works
Guests can book a reservation online for one hour in the cat lounge. It's $10 and includes complimentary drip coffee or tea during your visit. You don't have to book in advance, but it helps so you can guarantee they'll have a spot for you when you arrive. The lounge is partitioned off from the cafe by large glass windows, so if you're just popping in for a drink or bite to eat, you can dine at your leisure while watching all-you-can-enjoy cat TV.
The lounge can hold up to 20 cats, but for now, there are 13, including a calico named Thursday, a pair of 6-month-old kittens, and a white-slippered fellow who looks like he's posing for a chat noir art print.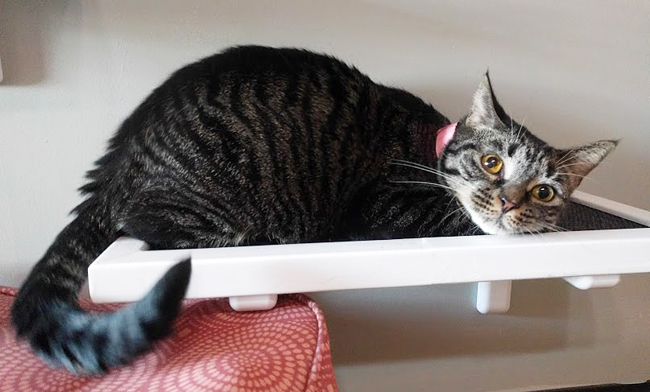 So what do the cats do? They climb (really high sometimes) and fit themselves into weird places and impossible positions. They sleep, play, stretch, slink by for a head scratch or pet. They're affectionate, aloof, fickle, friendly and overall seem pretty much like they own the place, even though they've been there for less than a week.
Well worth the wait
While the cats are just now enjoying their new digs, this has been a dream in the making for owner Hadyn Hilton since December 2015 when Hilton, then a Georgia State University film student, had the idea to bring a cat cafe to Atlanta.
"I love cats. This is how this all started," Hilton told fans in her first Facebook Live video last month. "I'm in it for the cats."
The process started officially almost a year ago with a Kickstarter campaign to help fund the project. Atlantans and cat lovers even outside the city responded with enthusiasm, raising over $21,000 to make the cafe a reality. The new venture just opened to reservations Sunday and already has over a hundred slots booked. Currently, you can book 10 spots at a time with two open for walk-ins.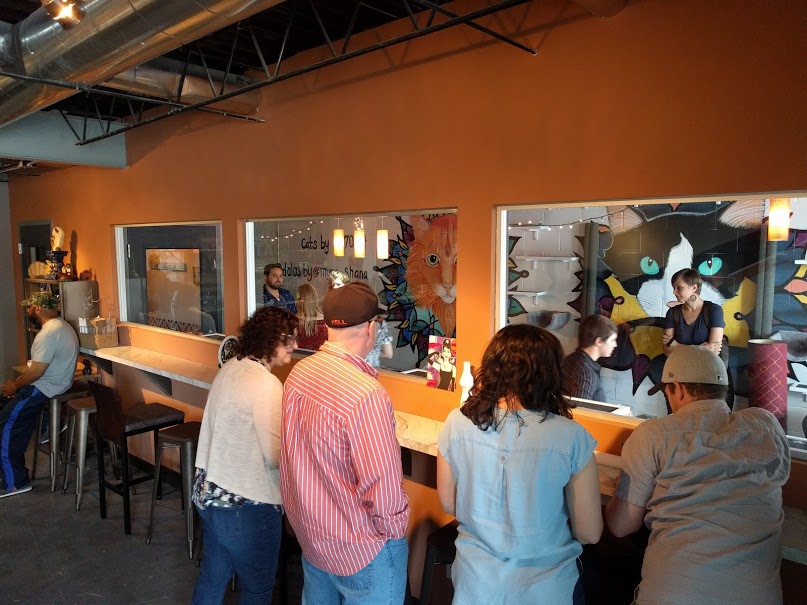 Giving back to the community
All the cats in the cafe are adoptable. Java Cats Cafe partners with PAWS Atlanta to foster the felines in hopes of finding them a forever home. If you fall in love with a furry friend while visiting the cafe, it doesn't have to be goodbye. Let someone on staff know that you've found the one (or two) and they'll help you get started on adoption. All of the adoption fee supports PAWS Atlanta.
Java Cats doesn't just love cats — though they really love cats — they're all about helping people, too. They sell tasty sandwiches and sweets from Gathering Industries, a nonprofit that helps Atlanta homeless get back on their feet through careers in the culinary arts. A portion of the proceeds from each food purchase goes back to the charity where it helps more people.
That coffee though
Sure, the cafe is serious about their cats, but they don't stint on the coffee. They're a full service java shop brewing Ebrik Coffee, a Decatur favorite. You can order cappuccino, espresso, smoothies and more. Turkish coffee arrives next week.
Java Cats Cafe opens at 7 a.m. weekdays and 8 a.m. Saturday and Sunday so you can get your coffee fix early in the morning. It's also the best time to find parking. Closing time is 9 p.m. with an extra hour Friday and Saturday night. (If you think your friends like to party at night, meet these cats who really know how to get wild after dark.)
Guests sign a waiver before entering the lounge. Also, kids under 12 must have an adult with them. Frequent visitor incentives, cat yoga and other ideas are in the works, but meanwhile you can get a 10% off coupon by signing up for their e-newsletter.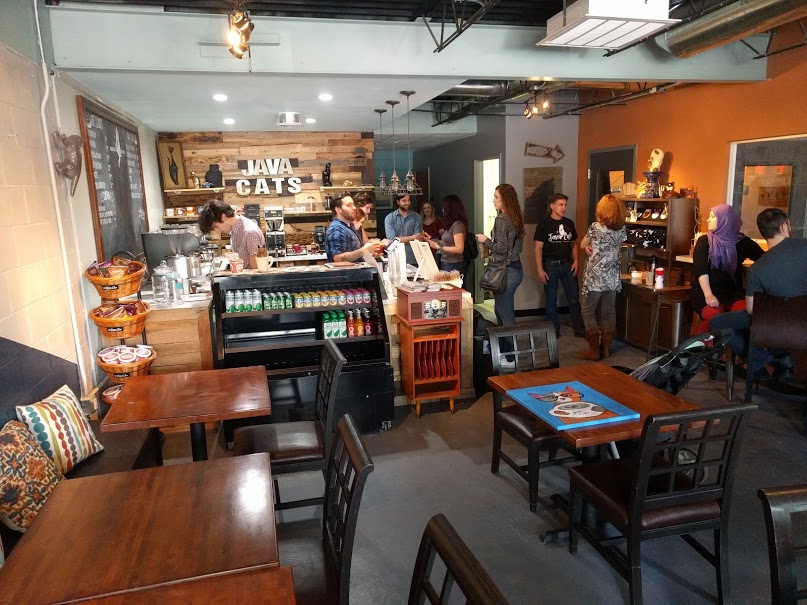 My take? I have to say, visiting a cat cafe is a bucket list item everyone should try once. Go early, order your favorite drink, and find a spot to curl up and cuddle. This is every cat and coffee lover's dream.