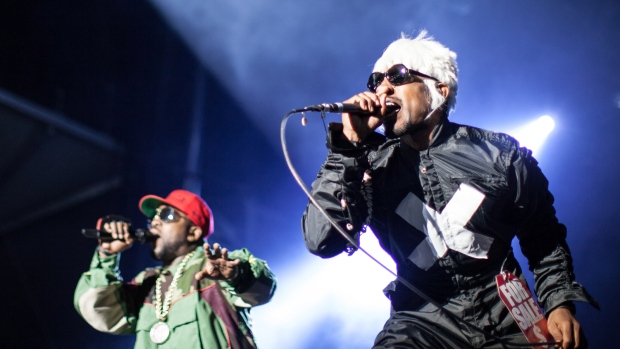 It has been months of anticipation, sold out shows, and wondering who open for them on their 2 added ATLast dates (check out a preview of ATLast here). Ladies and gentlemen, wonder no longer.
Tonight, Outkast took to Twitter to announce their opening acts for each night this weekend. KiD Cudi, Childish Gambino, and Raury we're already known to be opening acts, because they were attached to the original concert dates. Take a look below at who will join the legendary duo, on what are sure to be glorious ATL nights.
FRIDAY
2 Chainz
Janelle Monae
Solange Knowles
Bun B

SATURDAY
Kid Cudi
Childish Gambino
Raury

SUNDAY
Killer Mike
B.o.B
Gipp Goodie
Bun B
8-Ball & MJG
Devin The Dude
K. Camp
DJ Unk
Each day has pretty solid line up and all the artists included compliment Outkast's trademark sound. Who were you looking forward to joining them on stage? Which line up are you anticipating the most?
Official Friday line-up for #ATLast: @2chainz @JanelleMonae @solangeknowles @BunBTrillOG #countdowntoATLast

— Outkast (@Outkast) September 24, 2014
Official Saturday line-up for #ATLast: @KidCudi @donaldglover @raury #countdowntoATLast

— Outkast (@Outkast) September 24, 2014
Official Sunday line-up for #ATLast (1/2): @bobatl @KillerMikeGTO @DAREAL_8ball & @pimptypemjg @BunBTrillOG #countdowntoATLast

— Outkast (@Outkast) September 24, 2014
Official Sunday line-up for #ATLast (2/2): @KCamp427 @GippGoodie @devindude420 @DJUNK #Kilo #countdowntoATLast

— Outkast (@Outkast) September 24, 2014