2014 is almost over and it's almost time to make plans for New Years Eve! Planning what to do and where to go is some of the most frustrating things to do. Some will stay in the privacy of their own home, go to church, or go to the bars and celebrate the New Year. We, at GAFollowers, care for your safety and enjoyment in Georgia. When in Atlanta, there are so many options for your New Year celebration. There is a small list of events to get tickets for in Atlanta. There are also tips for going out in Atlanta as well!
New Year's Guide
Celebrating the New Year is one of the most exciting times to go out in Atlanta, but it is one of the more dangerous times as well. People who have been in the Atlanta area for a while will go on a list of "Don't's" than "Do's."
Some people would say that New Years will fill up the bars and streets with "amateurs" who don't go out much throughout the year. One of the better options than going out is to be with some of your closest friends and acquaintances in the comfort of your and someone else's home. Everyone one could stay in and cut down on possible DUIs and other unfortunate events.
If you must go out and celebrate, first and foremost, make sure you have a responsible designated driver or other plans of transportation to get home safely. Make sure that you and your party have arrangements to ride home in a cab, Uber, MARTA etc. and to get home without a possible accident or arrest because the cops will be out to keep the streets as safe as possible.
Going out in Atlanta during New Year's Eve means that EVERY bar will be packed. Whether its Buckhead, Midtown, Virginia Highlands,  or Edgewood, it will be packed. My recommendation would be to check and see if your favorite bars will be doing any specials that night (which they should be). Go to a bar that not only you are familiar with, but the bartender may be familiar with you as well so they can possibly make you a priority.
Please party responsibly and to not drink and drive. Fun for one night is not worth a DUI or even worse.
Here are some of the best events to go in Atlanta!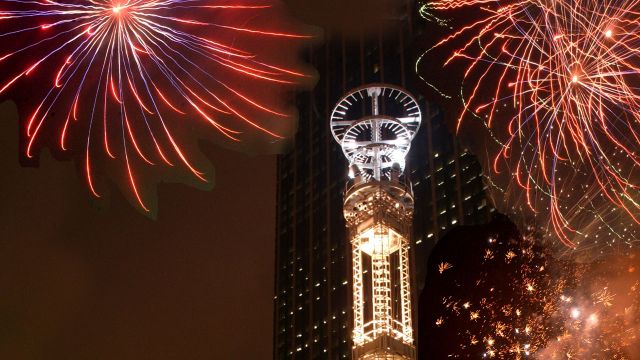 If you haven't made it to the Peach drop in Atlanta yet, then you will definitely have to go! Music artists, family activities and most importantly, it's free!
Downtown Countdown is one of the most upscale events in Atlanta. This is the 10th year that the Hyatt Regency has hosted this event and it is a joy to go to. You must dress semi-formal and be 21 to enter.
One of the newest events in Atlanta. Located right at the heart of Buckhead in Moondogs and Southern Club, this is going to be a bang for your buck.
Celebrate like the Egytians in the Egytian Ballroom at the Fox Theatre. With great live music from the DJ spinning on the 1's and 2's with the best hits, be prepared for a great n
Atlanta Beer Festivals is hosting their 3rd annual New Beers Eve. With over 40 beer choices, well liquor, house wine and an appetizer buffet, this will keep you entertained along with the live music. Be sure to get your tickets as soon as possible because it sold out the last two years.
Get your tickets: http://bit.ly/18RNiLA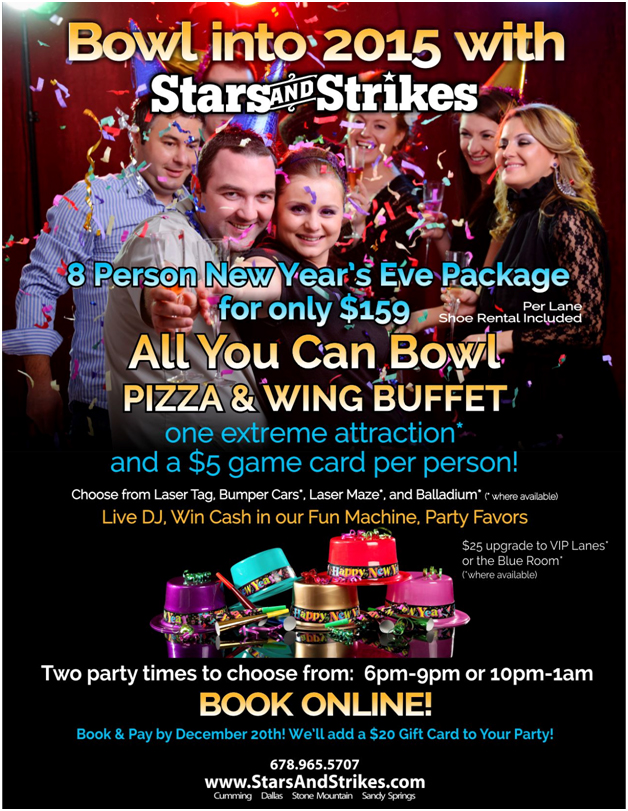 One of Georgia's chief franchises for bowling is offering an inexpensive and fun way to bring in the New Year! Unlimited Bowling (on one lane), shoe rental, a pizza & wing buffet, unlimited sodas, coffee and water, a live DJ spinning all the hits and a $5 game card per person for a party of up to 8. The package price is $159 for up to 8 guests. $20 per for a good time.