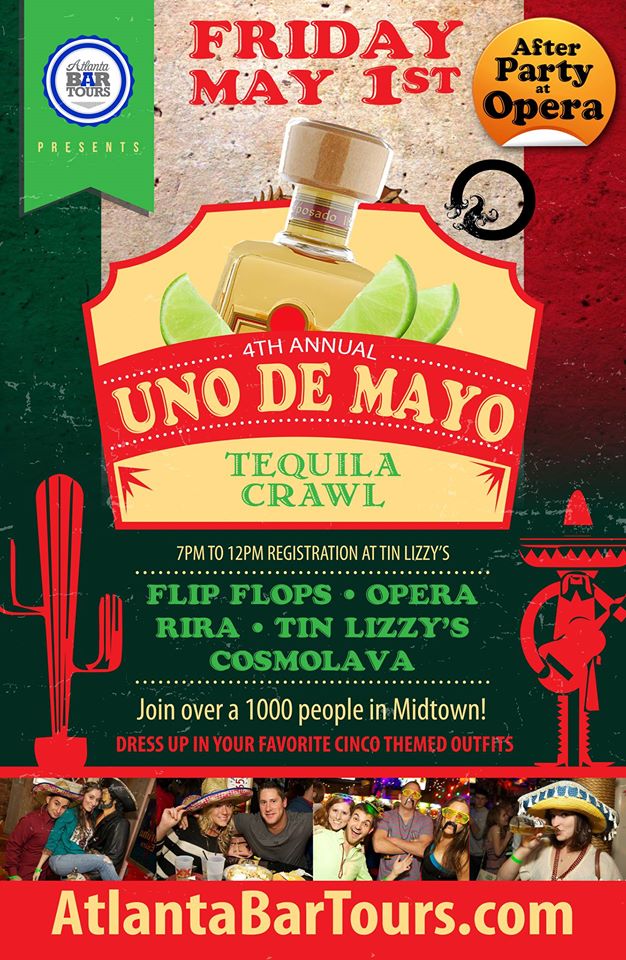 Fiesta! Fiesta! Fiesta! What better way to prepare your minds and your livers for arguable one of the top drinking holidays than to begin celebration before it arrives. Cinco de Mayo is one of those unofficial, yet official days that is widely acknowledged and widely anticipated that we would do it a disservice had we not jump the gun a day or two [or four]. AtlantaBarTours.com definitely agrees with us in that respect as they kicked off their Pre-Cinco celebration with its 4th annual "Uno De Mayo" bar crawl. The crawl took place Crescent Avenue included 4 of Atlanta favorite bars and ended the night at a local favorite, Opera Night Club. Although, I may slightly biased. But then again, I'm biased towards any venue or event that offers free alcohol, so score!
The crawl began at 7 PM for registration at Tin Lizzys Cantina. If you've never been I suggest you add it to your list of stops during your weekend of debauchery. Tin Lizzy's offered complimentary Margarita Shooters and discounted Margaritas at $4 and special Cinco-Ritas for $6. Both of which were fantastic. You were able to redeem your comp drinks at the outside, or inside bar (yes, they had two bars), using one of the tear off tickets on your wristband. They are numbered and depending on which bar you had crawled to next, depended on the comp or discounted beverage you would receive. Tin Lizzy's offered great food, drinks, atmosphere and that produced a great crowd.
Right next door was stop #2 on the bar crawl, Flip Flops. I immediately went headed straight for the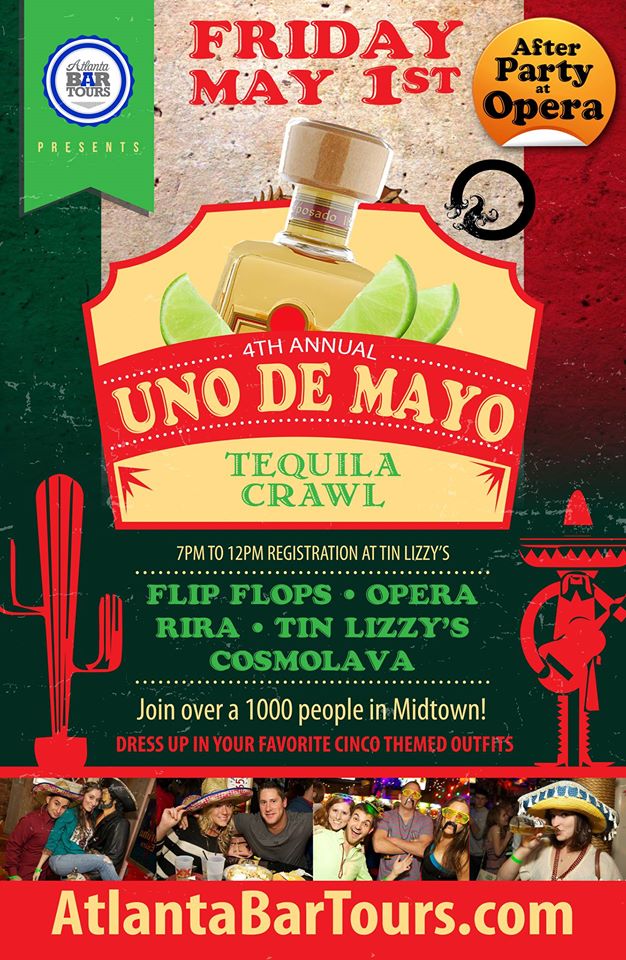 bar to partake in my second comp drink of the evening, the Tequila Sunrise. I was greeted at the bar by courteous and knowledgeable bartenders who made my bar crawl experience quite entertaining. Flip Flop's special of $4 Coronas was a great and inexpensive way to pace yourself as you move to stop #3. But not before tipping the wonderful, and beautiful bartenders. Stop #3 was none other than the Irish pub, Ri Ra. In the spirit of the pre-holiday and the crawl, Ri Ra's offered comp Tequila Shooters and Sam Adams for four bucks. You can't beat that. By this time I was simply reveling in the greatness of the evening and having chinwags with fellow bar crawlers that I hadn't noticed Ri Ra's was playing the Hawks game on the television. I just knew that as a native, I should join in as they cheered the Hawks into a victory over the Brooklyn Nets. Go HAWKS!
At this point in the crawl I was just happy to be there. My group and I pulled ourselves together as we entered stop #4, the upscale and sophisticated, CosmoLava. CosmoLava followed suit with discounted drinks, offering $2 wells drinks with a tab and $3 Bud and Bud Light. The layout of the interior was much too nice for the likes of myself at the time of the crawl. I was basking in a sea or intoxication and refused to dock any time soon. However I did promise myself that I would definitely visit on a more chill evening.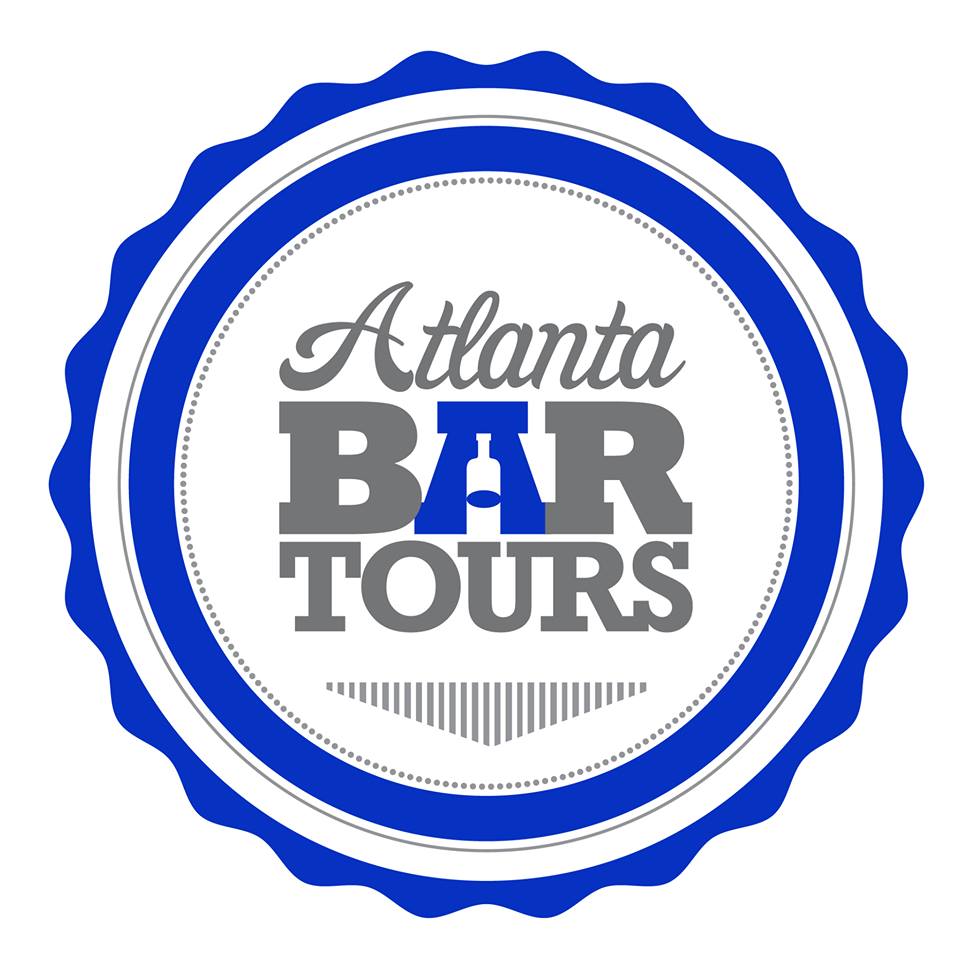 Stop 5 and the final place we had to crawl was to the after party hosted by Opera Nightclub. The doors opened a little after 10 PM and the dance floor was calling our names. We were pleasantly greeted by tyDi; #48 on the list of the world's top DJ's and rightfully so. From the moment we took our drunken stumbles into Opera Nightclub the fist pumping only ceased for a few moments as we collected our final bar crawl sponsored comp shot of the evening.
This was an epic event from beginning to end and was the best way for my friends and I to begin the pre celebration for Cinco de Mayo. Uno de Mayo, brought to us by, AtlantaBarTours was a complete success.
AtlantaBarTours hosts several crawls throughout the year. Head on over to their site or Facebook page to sign up for their newsletter to be informed of all of the upcoming events and see photos from past events. What better way to experience all the lovely city of Atlanta has to offer than with a drink in your hand.