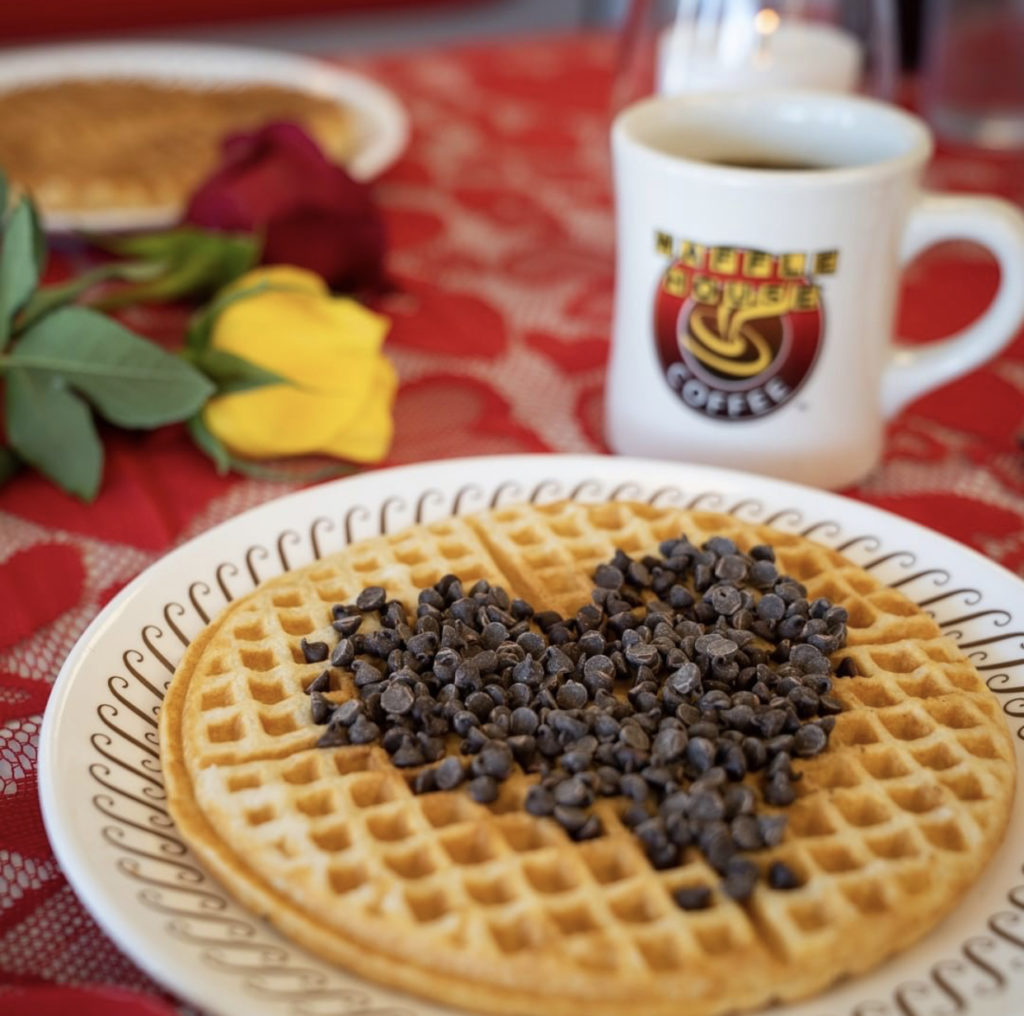 What says "I love you" more than a candlelit setting and an All-Star Special? Not many things in this world. For the twelfth year in a row, Waffle House is continuing their "It's a Waffle House Love Story" Valentines Day candlelight dinner.
Now you may shrug this off as a joke, but this tradition has picked up a lot of steam over the years. It's officially a thing ladies and gentlemen. The Georgia-based company is offering their romantic dinner offering in 21 states for 2019. As you can probably guess, Georgia has the most WaHo's participating with 31.
A reservation is required at all locations. A list of each participating Georgia location is below. Would you eat your Valentines Day dinner at Waffle House? Let us know in the comments below or on Twitter!
"Do something original this Valentine's Day and give that special person something priceless: a memory… at Waffle House!" – Waffle House

Georgia
| Unit | Address | City, State Zip | Phone | Ask For |
| --- | --- | --- | --- | --- |
| 136 | 286 NORTH LEE STREET | FORSYTH, GA 31029 | 470-587-7085 | Amanda |
| 226 | 3042 WASHINGTON RD | AUGUSTA, GA 30907 | 803-624-0249 | Latreal |
| 412 | 2264 CHESHIRE BRIDGE RD NE | ATLANTA, GA 30324 | 470-318-7895 | Alina Glass |
| 605 | 3487 MADISON HWY | VALDOSTA, GA 31601 | 229-247-8600 | Associates |
| 624 | 3134 PEACH ORCHARD RD | AUGUSTA, GA 30906 | 706-755-7891 | Leigh Jennisom |
| 636 | 1540 LAFAYETTE PKY | LAGRANGE, GA 30241 | 706-882-3983 | Deborah Hale |
| 777 | 143 HWY 74 S. | PEACHTREE CITY, GA 30269 | 305-316-4920 | Shaniqua Riggins |
| 786 | 5071 PEACHTREE IND BLVD | CHAMBLEE, GA 30341 | 470-228-8600 | Ashley King |
| 874 | 310 BRANNON RD | CUMMING, GA 30041 | 770-814-1665 | Associates |
| 935 | 476 NORTHSIDE DRIVE | STATESBORO, GA 30458 | 912-489-3020 | Associates |
| 993 | 8239 HWY. 278 | COVINGTON, GA 30014 | 770-787-1456 | Associates |
| 1029 | 3907 ARKWRIGHT ROAD | MACON, GA 31210 | 478-471-1051 | Associates |
| 1177 | 965 LANIER AVE | FAYETTEVILLE, GA 30214 | 770-719-5226 | Associates |
| 1194 | 1205 LAKES PKWY | LAWRENCEVILLE, GA 30043 | 678-886-8117 | Janice |
| 1196 | 3871 STONE MTN HWY | SNELLVILLE, GA 30039 | 770-572-2384 | Nene Gilbert |
| 1485 | 1586 INDIAN TRAIL RD | NORCROSS, GA 30093 | 404-901-1949 | Carla |
| 1490 | 1009 W 2ND ST | TIFTON, GA 31794 | 229-387-9643 | Associates |
| 1509 | 296 WEST CLINTON ST | GRAY, GA 31032 | 478-986-5898 | Associates |
| 1519 | 1063 HWY 19 NORTH | THOMASTON, GA 30286 | 706-646-5128 | Kristie |
| 1612 | 531 CANTON HWY | CUMMING, GA 30040 | 770-781-4225 | Associates |
| 1731 | 229 TEMPLE AVE | NEWNAN, GA 30263 | 770-251-8033 | Associates |
| 1764 | 7415 SPOUT SPRINGS RD | FLOWERY BRANCH, GA 30542 | 770-310-0972 | Shelley Sidders |
| 1772 | 1408 HWY 16 WEST | GRIFFIN, GA 30223 | 770-229-8918 | Associates |
| 1776 | 9159 ROOSEVELT HWY | PALMETTO, GA 30268 | 770-463-9722 | Associates |
| 1786 | 20 AUBURN PARK DR | AUBURN, GA 30011 | 404-272-9605 | Inge Werts |
| 1801 | 2045 HWY 155 NORTH | MCDONOUGH, GA 30252 | 678-583-1936 | Associates |
| 1915 | 4115 BUFORD DR | BUFORD, GA 30518 | 404-680-7747 | Rita Lynch |
| 2055 | 4510 ALTAMA AVENUE | BRUNSWICK, GA 31520 | 770-729-5700 | Associates |
| 2098 | 442 ELMA G. MILES PKWY | HINESVILLE, GA 31313 | 770-729-5700 | Associates |
| 2121 | 644 VETERANS PKWY. | BARNESVILLE, GA 30204 | 770-358-8229 | Brandon |
| 2308 | 5010 HIGHWAY 34 E | SHARPSBURG, GA 30277 | 678-675-8834 | Associates |