The NFL is a completely different ballgame from College Football. Some players who really stood out in college, such as Tim Tebow and Johnny Manziel, can't do anything in the pros and they both won the Heisman.
While there will be someone in the comments or sending me a tweet to argue this, we all know it's true. The University of Georgia has more fans than Georgia Tech. It's common knowledge if you've lived around Georgia long enough. The problem is that people might love UGA a little too much.
Every year around draft time I get to hear UGA fans talk about who the Atlanta Falcons should draft. And every year one of their top three choices just happens to be whatever star is leaving UGA to enter into the NFL Draft that season. This year, it's Todd Gurley. Now don't get me wrong when I say that Todd Gurley is an outstanding athlete. But Gurley is exactly the OPPOSITE of what the Atlanta Falcons need.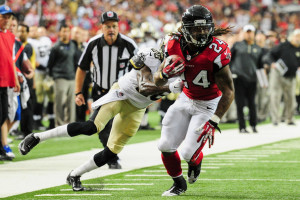 Last year the Falcons carried four running backs. The first is Steven Jackson. Jackson actually was a major disappointment even though he shouldn't have been. Upon signing him we knew that we were getting a fairly old running back who was nearing the end of his career. Once he started playing with us he started facing health issues and couldn't complete a season. Our next running back was Jacquizz Rodgers, the short, shifty, running back who made his way onto the field every time it was a pass play. Honestly, if you payed attention, we never threw the ball unless 'Quizz was in the backfield. The third running back we had was Antone Smith, who at one point in the season last year was averaging around 20 yards a carry/catch! Our last, and most promising back is Devonta Freeman. Now into his sophomore year, this Florida State running back has a lot of potential. I was able to watch this guy over the summer practice and he gave it his all every drill while the other running backs messed around.
Todd Gurley suffered a torn ACL in his first game back from his suspension last year. The Falcons already have a bad taste in their mouth from multiple athletes who were on and off the disabled list. Middle linebacker Sean Weatherspoon hasn't touched the field in two seasons because of injuries he kept getting before the season even started. Steven Jackson missed half the season last year and a couple of games this year from injuries as well. Last but not least, the defense had to go without William Moore for a bit because he was injured for a while, then was re-injured upon his first game back.
The Falcons need to fill the trenches, which is our offensive and defensive line. The line held the Saints (and thank god they did, We Dat!) but fell apart after the season opener. I don't need to go into detail about our defensive line besides the fact that it does not exist. Even Richard Sherman would look awful if the quarterback was allowed five minutes to decide who to throw to! Luckily we have the mastermind behind arguably the best defense in the NFL and he can turn some things around for us this season.
UGA and Falcon fans need to part ways with their favorite players and look for what is best for Atlanta. Of course, everyone can have their opinion on who we should get in the draft, but I felt like I needed to shed some light on the situation. Cross your fingers and hope Thomas Dimitroff doesn't sell everything we have to move up in the draft again. We already lost a pick next year due to our cheating scandal (which didn't even work, at least the Patriots got a Super Bowl out of their cheating tactics). Comment who you think the Falcons should pick in the draft!