There are plenty of great views at new Mercedes-Benz Stadium, but there is only one "Perch." But it's more than just a great view. Any fan can access this area and see the latest technology on display, courtesy of AT&T. There is also some great food in this part of the stadium.
Fans have taken notice, but so have the players. Atlanta Falcons player, Desmond Trufant, penned this blog recently on the AT&T Perch.
With just one game in the books at Mercedes-Benz Stadium, I already love the place. I intercepted a pass. I scored a touchdown, and most importantly, we got a big win against a great team in our new home Sunday night. We put in the work all week, every week, as a brotherhood and leave it all out on the field on Sundays for you, the fans. Nothing gets me more juiced than hearing fans like you go crazy after the defense makes a big play. We made a lot of big plays Sunday, and the atmosphere was electric. I can't wait to share even more excitement with you as the year goes on. 
As a proud sponsor of Mercedes Benz Stadium, and the Atlanta Falcons, my friends at AT&T are dedicated to making sure you have the best possible game day experience in our new home. For starters, they're making the Wi-Fi fast….really fast, almost as fast as me chasing down a receiver.  They're also hooking up fans with The AT&T Perch, a special gathering place above the southwest end zone with one of the best views in the house, and it's open to everyone.  There's a media-column filled with huge TVs, drink rails with chargers for your devices, and a cool lounge area with additional screens to make sure you never miss a moment of action.
So get ready to get loud – come visit us in our new home, and check out the action from The AT&T Perch, as the brotherhood rises up for another great season!
Make sure you catch this funny video from the Perch: https://www.youtube.com/watch?v=oxGNpHx4jvA
Here's a rundown of everything AT&T and the Falcons are doing to enhance your MBS game day experience:
The AT&T Perch

70 feet of "unity" seating – no special tickets needed, no reserved seats – featuring embedded pop-up computer screens with game day action and exclusive DIRECTV programming.
A digital media column with multiple screens, allowing you to watch all the football action, exclusive AT&T content and more.
A quiet lounge equipped with charging rails, comfortable seating, game day coverage and DIRECTV programming
"Gamechanger" a high-end concession operated by James Beard award-winning chef, Kevin Gillespie.

Top technology

Fully redundant/diverse 40-gigabit internet connections to help support the fan Wi-Fi.  Translation: this may be the fastest dedicated internet connection delivered in any stadium environment.
Reliable Wi-Fi, monitored and maintained by AT&T.
Rich 1080p video content from AT&T's DIRECTV to the over 2,000 displays in the stadium.
AT&T will join the neutral-host, third-party owned Distributed Antenna System (DAS) at Mercedes Benz Stadium. The DAS features 725 antennas and 1,450 remote amplifiers installed throughout the stadium to evenly distribute strong cellular coverage throughout the stadium.
The DAS at Mercedes Benz Stadium is "future ready," utilizing the most LTE capacity available on any AT&T DAS in the state of Georgia at this time. Since we expect that fans will continue to use an increasing amount of mobile data at the stadium every year, we've accounted for that future data demand now. By installing the most LTE capacity available on the DAS at the get-go, it reduces the need for our engineers to go back in and upgrade the DAS every couple of years.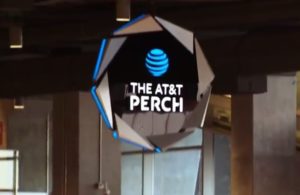 Save