When the official Chinese New Year was celebrated on February 8, it not only ushered in the Year of the Monkey, it also kicked off an exciting limited time only menu at Tin Drum AsiaCafe.
All of Tin Drum's dishes focus on bold, fresh flavors, but their Peking Short Rib line-up, which is available until April 3, definitely kicks things up a notch, serving as a delicious centerpiece to three very different preparations.
The Peking Short Rib Noodles feature the Chinese "Peking" style short ribs on a bed of soba noodles with bok choy, glazed carrot and red onion, chopped green onion and roasted garlic. The short rib itself is prepared with a sweet and savory glaze that balances well with the fresh produce and stands up to a roasted pepper sauce that the final dish is tossed in.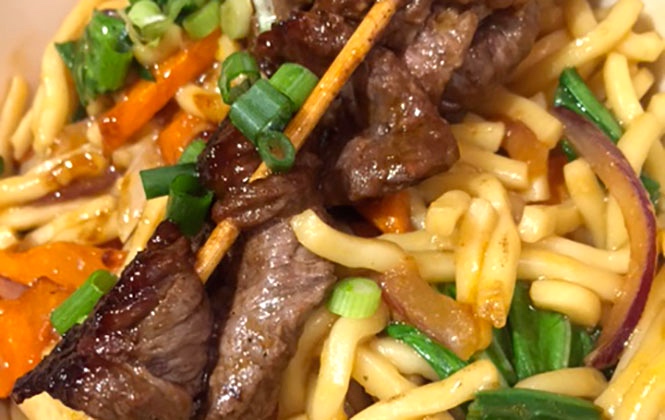 For a street style flair, the Chinatown Short Rib Tacos are fusion cuisine done right. Two grilled flour tortillas are topped with the featured short ribs, fresh vegetables and Chines cabbage slaw that lends the dish the brightness and crunch all great tacos have. If you can handle the heat, a drizzle of hot sauce goes a long way in making the flavors pop even more.
And, since the short ribs are truly the star of this limited time menu, what better way to let them shine than Peking Short Rib Skewers? In this dish, the short ribs are the simply skewered and garnished with green onion and served glazed carrot and red onion.
February 8 may have been weeks ago, but the best New Year's parties are the ones that last for months. Don't miss your chance to participate in the celebrations with this festive menu!