Are you surprised? Another heartbreaking season for Atlanta Braves fans coupled with a lack luster attempt to make the post season in September. The Braves were officially eliminated from any chance at the 2014 playoffs. The Braves September record, 4-16, six shutouts, and 14 of 20 games played this month with 2 or fewer runs displays an offense searching for an identity.
This season began with high expectations and a flurry of extensions for young talented Braves. We have our Ace in Julio Teheran, big bat in Freddie Freeman, the wizard at short, and the anchor in Craig Kimbrel all signed well into the future. Yes, I purposely left off the Chris Johnson extension, but we will discuss him later. The offseason also saw two savvy veterans depart to different teams with Tim Hudson signing a two-year deal with the San Francisco Giants, and Brian McCann signing a five-year deal with the Devils in pinstripes.  I wont address what these two long time Braves meant to the fans and this team, because it is obvious to anyone who follows this team. The spring training season started with the Braves losing Medlen and Beachy. Before the season even started we lost a good portion of our rotation and expectations fell just a tad. However, we are delusional braves fans and every year we believe this is our year! Well unfortunately this isn't our year, but 2015 is another years journey. I will list 7 steps I feel are needed for the Braves to contend in 2015 and take their rightful World Series crown.
1.Braves must correct strikeouts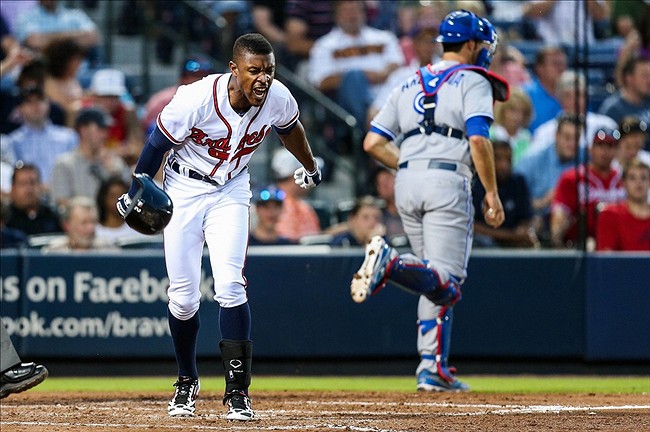 The Braves have 6 players: BJ Upton (170), Justin Upton (165), Chirs Johnson (153), Freddie Freeman (139), Jason Heyward (95), and Evan Gattis (95) who have/will reach 100 strikeouts by the end of the season. Side note, Chipper Jones played in the major leagues for 19 years and reached 100 strikeouts for a grand total of Zero times. BJ Upton leads the braves with 170 strikeouts missing on his three chances to hit the ball an overwhelming 33% of the time.  The Braves in 2014 missed on the playoffs and hitting the ball!
2. Who takes the blame?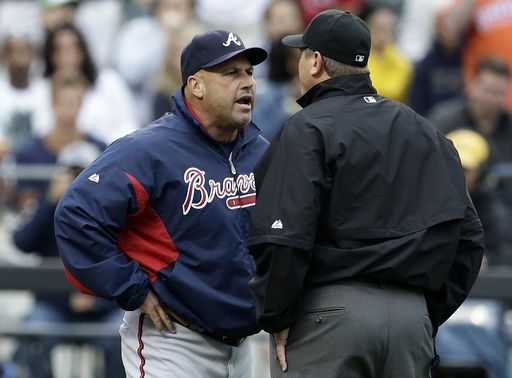 Lets just say I was shocked once my ESPN app alerted me that Frank Wren was immediately relived of his duties. Every GM has their flaws and Frank Wren had a minor gambling issue. Well I am happy for once this team didn't make the playoffs. Who wants to experience an infield fly rule, Brooks Conrad playing 3rd base, or David Carpenter giving up the go ahead home run to Juan Uribe while Craig Kimbrel chewed threw every finger nail he owned. This offense would've left us crying again so lets thank them for winning only a few games in September. My vote is Fredi Gonzalez! He must go if the Braves have any chance at a post season. His confusing lineups and batting the elder Upton in the leadoff spot for a significant amount of games gets a vote and a ticket out of Atlanta. I honestly wanted him gone after the first September collapse, and at some point Bobby Cox has to admit he got this one wrong.
3. Who will leadoff for the Braves?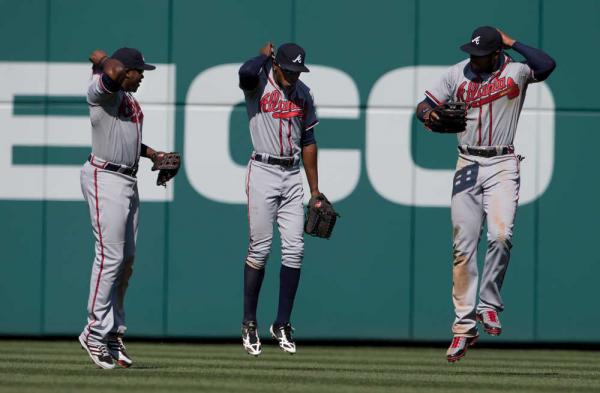 The Braves cycled just about every regular player through the leadoff spot in 2014. Jason Heyward and B.J. Upton earned the spot most of the year. B.J. Upton's 33% strikeout rate isn't a valid option for the Braves leadoff position, or any number on the lineup card. $45 million freaking dollars for three more years!!!!! My vote is simply Jason Heyward. His career OBP .352 is very pretty, and when Jason is hot, the Braves usually are the first to score. His 10 home runs, .270 batting avg, and .343 OBP needs to stay at the top. Can we have Michael Bourn in 2011 back? The Braves should and will consider other viable leadoff options in Gosselin, La Stella, and maybe a minor leaguer in Peraza. Peraza is fast and is being compared to a young Furcal! He is only 20, but we could really use his speed and OBP in the major leagues.
4. The new general manager MUST fix the mess Frank Wren created.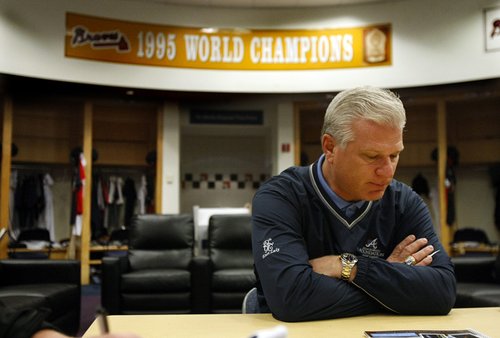 Quick recap of Wren's highs and extreme lows. Lets play a game! Quickly say Kenshin Kawakami 3 times really fast! Ahh, too late he is in the minor leagues making 8 million a year. The Dan Ugly trade seemed like a steal for the Braves, and in all honesty the extension of 5/62 million is what qualifies this move as a disaster. The Chris Johnson extension makes fans miss Chipper. Frank Wren put a winning ball club on the field every year and had the 3rd highest winning percentage over that time. Frank Wren or Fredi were bound to be the sacrificial lambs in this surprising end to the season (I wish it was Fredi). So long Frank and thanks for Justin Upton! The Braves will search for a new GM and I wouldn't be surprised if it was Dayton Moore or Hart gets the golden ticket.
5. The Braves will have to make unpopular trades.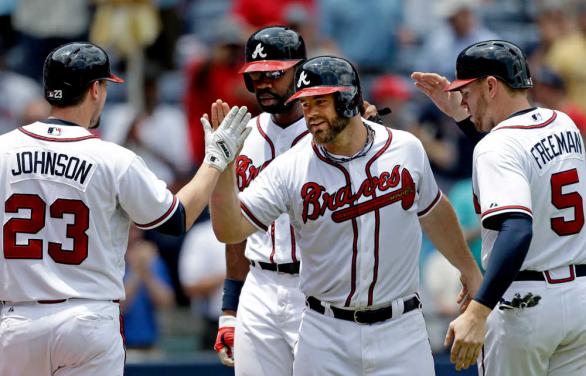 How can we get rid of B.J. Upton? Disclaimer I am not a professional GM, but I would package Evan Gattis with B.J. Upton. Evan Gattis is by far the most popular Brave amongst Braves fans, and it would be sad to see him go. He isn't young in age, but he is pre-arb eligible with a big right hand, powerful swing. He is bound to DH in the American league, and with Christian Bethancourt gaining the Braves trust and a stud defensively behind the plate the Braves should sell high on Evan now. We will chop strong and wildly for Choptober in 2015, but if the Braves fall short by the July 31st trade deadline we could see Jason or Upton find new homes. However, the Braves will somehow magically trade B.J. for Mike Trout and things will return to normal (wishful thinking)!
6. The Braves should upgrade at 3rd base immediately!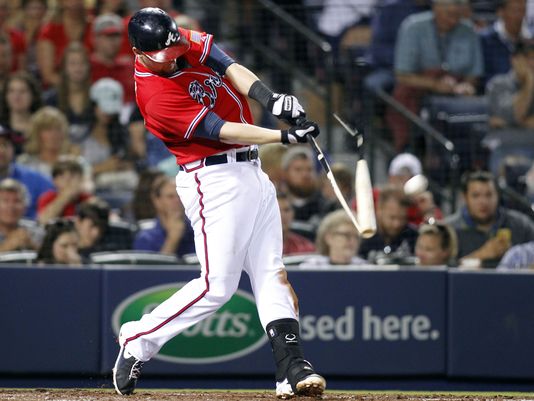 Chris Johnson is an average 3rd baseman. His .393 batting avg against LHP and .232 batting avg against RHP this year may suggest that he is a typical platoon player. However, he is the Braves starting 3rd basemen and he of course received one of those coveted extensions in the offseason. If the Braves are serious about winning in 2015 there has to be an upgrade here. I could go on and on about why he shouldn't be the Braves 3rd basemen but ill just post the link and let you be the judge http://atlanta.braves.mlb.com/team/player.jsp?player_id=453400#gameType='R'&sectionType=splitsCareer&statType=1&season=2014&level='ALL'.
 Click on splits and be amazed! I trust that the new GM will figure 3rd base out and put it at the top of his list.
7. Win in 2015 or build for the future.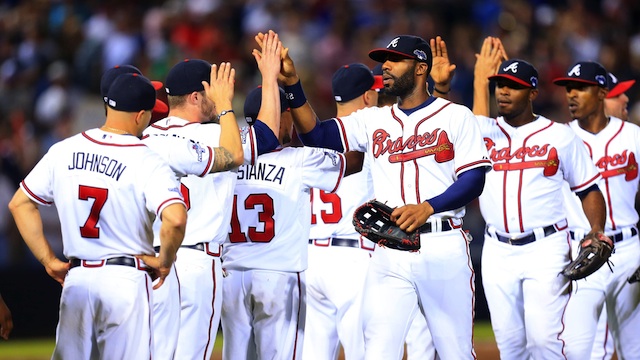 I'm going to assure Braves fans the Braves will resign either Justin Upton or Jason Heyward. After watching McCann and Huddy leave they just cant let them go right? Thanks to Dan Uggla's albatross of a contract being erased from our memories we can keep one of the dominant duo, and possibly both following 2015. The Braves have a solid young rotation signed for the future with Wood, Minor, and Teheran holding down the rotation, but the Braves will have to fill two spots here. Look for cheap options like Harang and Floyd. Ervin will leave and receive a big contract from a team needing a front line starter. So the Braves will have to piece together a solid rotation. The areas of improvement in 2015 will be 2nd, 3rd, CF, rotation, and the BP. I've already addressed the rotation, 3rd, and Gosselin should win 2nd. The Braves will need to revamp the BP if they want to compete next year. The BP needs a solid shut down lefty or two! Long gone are the days where the Braves could throw Venters and O'Flaherty at opponents.  Luis Avilin must go! The Braves will go all in for 2015, and I believe there is no need to build for the future just yet by trading some of our talented young players. Don't worry Braves, your fans support you through 162 games every year!
Give us your feedback on what you think about the new stadium and how it will benefit our favorite team.
Honorable mentions:
We have to fix the sad attendance at the Ted!
Forgive me if I spelled Uggla's name as Ugly, my computer does it automatically!