Few trades in the NBA, NFL and MLB, have changed the game the way some have. Every player an Atlanta sports team acquired is because managers and coaches really feel the players strengths and skills are needed to fill the team's weak spots. The only way a team can be successful in sports is through studying other players and trying their best to acquire them. From acquiring a pro-bowl quarterback to an all-star guard, Multi-million dollar deals don't happen overnight, only through hours of dedicated work from management determines who can represent Atlanta and who must move on. Trades happen every season, but only few have changed the Hawks, Falcons and Braves the way these top ten trades have.
1. On June 25, 2009, The Atlanta Hawks traded Acie Law and the often injured Speedy Claxton to the Golden State Warriors for Jamal Crawford. This trade tilted majorly for the Hawk's side in every way. Jamal Crawford averaged 19.7 points, 4.4 assists and 3.0 in his season with the Warriors before the trade while on the other hand Acie Law averaged 3.6 points in two seasons with the Hawks and Speedy Claxton was injured for the majority of his stay in Atlanta. After the trade, Jamal Crawford went on to win 6th man of the year for the Atlanta Hawks. Crawford was an electrifying part of the Atlanta Hawks bench for the next 3 years and quickly became a fan favorite. As an Atlanta Hawk, Jamal Crawford also broke the record for most 4 point plays by any NBA player during their entire career and played his first playoff game as an Atlanta Hawk.
Atlanta Hawks received: Jamal Crawford
Golden State Warriors received: Acie Law & Speedy Claxton
2. On Aug. 12, 1987, the Braves sent veteran starter Doyle Alexander to the Tigers in exchange for a 20-year-old minor-league hurler with control problems, by the name of John Smoltz. From then on, it all became history. In 1995, John Smoltz was a part of the pitching staff that helped win the 1995 World Series. John Smotlz ultimately became a Hall of Famer wearing a Braves uniform 20 of the 21 years in the Big League.
Atlanta Braves received: John Smoltz
Detroit Tigers received: Doyle Alexander
3. Before the Atlanta Hawks traded Joe Johnson for Boris Diaw in August 19,2005, they were known as the league's worse team. They finished off the 2004-2005 season with a 13-69 record. After the season had ended, the team had made tons of signings and trades, but none was thought of as highlight trades. At the time of the trade, Johnson wasn't an NBA star nor a player which teams feared when playing against. Slowly, after the trade, Joe Johnson leaped into an All-Star player and helped the Atlanta Hawks revive from their horrible last few seasons. Although the Hawks finished with a losing record in Johnson's first year, they managed to make the playoffs for the first time since 1999. The next year Joe Johnson led the Atlanta Hawks to their first 50-win season since 1997–98 and their first winning season since 1999. He also guided the Hawks to their first playoff series win since 1999 against the Miami Heat in the 2008-2009 season. He averaged as much as 20.9 points per game in his 7 seasons with the Atlanta Hawks
Atlanta Hawks received: Joe Johnson
Phoenix Suns received: Boris Diaw & two future first-round draft picks
4. On July 18, 1993, the Braves received first baseman Fred McGriff from the Padres for outfielders Vince Moore and Melvin Nieves, and right-handed Donnie Elliott. Playing 4 seasons in the city of Atlanta, he was a powerful first baseman that was one of the best hitters in the league. Of those 4 seasons that he played in Atlanta, he was named an All-Star selection 3 of those seasons.
Atlanta Braves received: Fred McGriff
San Diego Padres: Vince Moore, Melvin Nieves & Donnie Elliott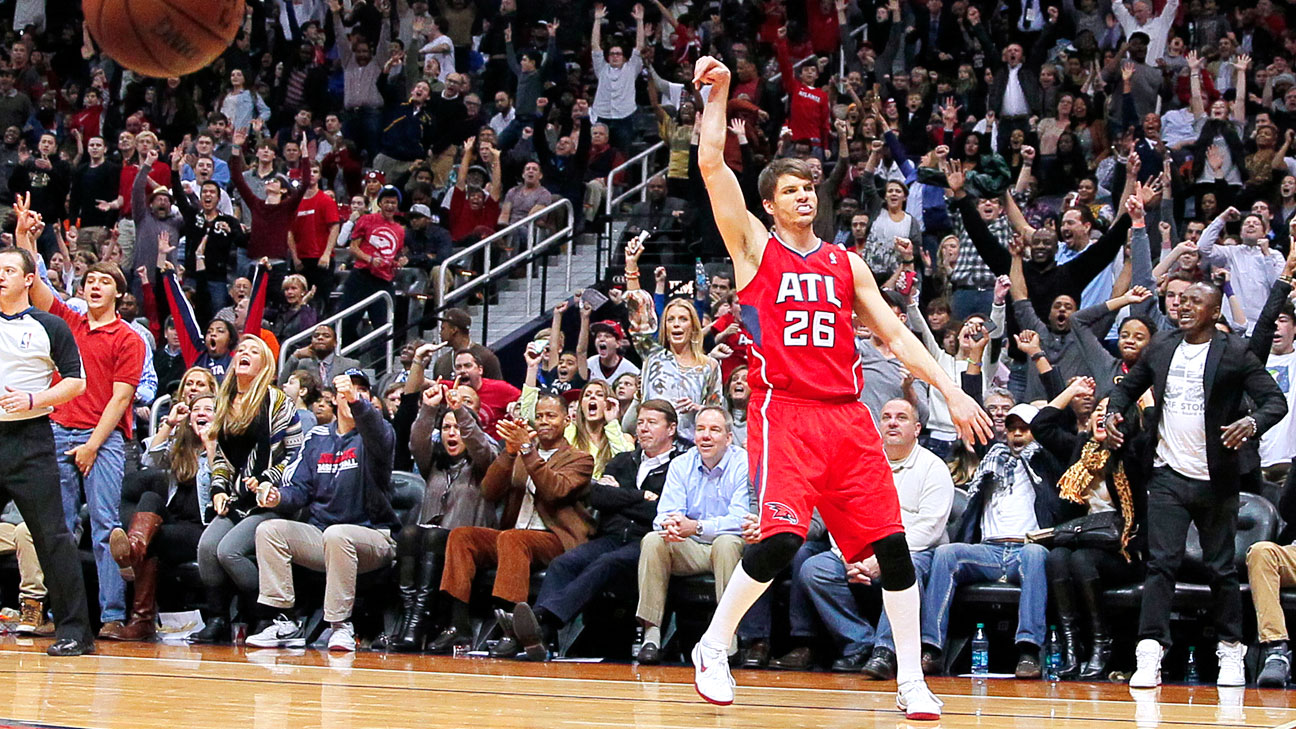 5. Trading for Kyle Korver has helped the Atlanta Hawks in every way possible, especially since the Hawks gave up a reserve guard for a starting shooting guard. As a Hawk, Korver has given the Hawks no reason whatsoever to regret trading for him. He has led the NBA in 3 point field goal percentage in 2 of his 3 and still going years with Atlanta. He has also set a remarkable NBA record for most consecutive games with at least one 3 point field goal in 127 games which will most likely never be broken. When Korver pulls up for a 3 pointer, the term offensive rebound doesn't exist. The stats say it all, Korver is also very near this year to set an NBA record which no player in the NBA has ever done which is going a flourishing 50-50-90 for a season (50 percent from inside and outside the arc, and 90 from the free throw line) Korver when traded to the Hawks stated "I think I'm a good fit for this system and I'm just trying to take advantage of it."
Atlanta Hawks received: Kyle Korver
Chicago Bulls received: Kirk Hinrich and cash considerations
6. Before the start of the season, The Atlanta Hawks made one of the biggest trades in franchise history sending John Drew and Freeman Williams to the Utah Jazz for rookie Dominique Wilkins. Dominique was a stud at the University of Georgia and brought an immediate impact to Atlanta his rookie year in which he got selected in the All-NBA rookie team. Wilkins than spent his next 12 years filling up every category in the stat sheet and earning 9 All-stars and a Slam Dunk champion. After Wilkin's legendary career had ended, he earned himself a statue outside of Philips Arena on March 6, 2015 and his jersey retired in the rafters. Along with all of that, He had been selected into the Basketball Hall Of Fame. To say the least, he is now referred to as the greatest player to play for the Atlanta Hawks. Who would've predicted how special this trade would be for this ball club when the trade had first been completed.
Atlanta Hawks received: Dominique Wilkins
Utah Jazz received: John Drew & Freeman Williams
7. Trading for Mike Vick on draft day gave the Falcons an outstanding quarterback for the next few years. Big time NFL players usually are drafted in the first 5 to 10 picks in the NFL Draft, so when the Falcons had the opportunity to trade for Mike Vick, they did not hesitate to pull the trigger on a trade with the San Diego Chargers. During his time in Atlanta, Vick took the Falcons to the playoffs twice and was selected to three Pro Bowls. Vick's best season as a Falcon was in 2002. That year, Vick threw for a career high 2936 yards with 16 TD passes. He also rushed for 777 yards and 8 rushing TDs that season
Atlanta Falcons received: Mike Vick
San Diego Chargers received: First & Third-round picks in the 2001 NFL Draft
8. In the 2011 NFL Draft, The Falcons traded five draft picks for the number 6 overall pick in which they drafted Julio Jones. Jones is evolving into one of the best receivers in the NFL. Although the Falcons had a pathetic season in 2014, Jones had a marvelous year. He was 3rd in the NFL in receiving yards and on November 30th, 2014, Jones set a new personal record in receiving yards with 189 yards on 10 pass receptions. The very next week on Monday Night Football he once again broke his single game receiving record, racking up 259 yards. Falcons owner Arthur Blank recently stated in an interview for NFL network "Julio's been a great player for us and a great talent, and he represents us on the field and off the field as well as anybody else." Fun fact: Julio Jones wears number 11 because that is the year he was drafted.
Atlanta Falcons received: Julio Jones
Cleveland Browns received: Five draft picks (the 27th, 59th, and 124th picks from the 2011 draft, and their first and fourth round picks from the 2012 draft)