Chipper Jones was a baseball sensation in his 19-season career, piling up 2,726 hits, 468 homers and a .303 career batting average.
But the former Braves third baseman became an internet sensation Thursday when word, and a photo, spread around the World Wide Web that Jones is dating a Playboy model.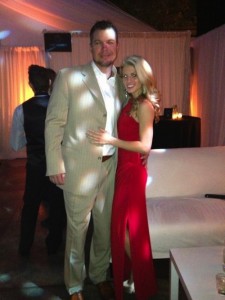 Jones, who tweeted on November 16 that his divorce from his second wife was final, has been spotted with Taylor Higgins, Bustedcoverage.com and several other websites reported. The sites also posted a photo of the couple posing for a photo at an unknown location.
Higgins is known professionally as Lexi Ray or Lexi Ray Taylor. Bustedcoverage.com says Higgins was once a Playboy coed of the week, and that she "specialized in naked shower videos and your run-of-the-mill naked photo shoots."
A 2010 bio on Higgins said she was studying nursing at the University of Kentucky and quoted Higgins as saying, "I'm surprisingly good at shooting a gun! I love to go deer hunting and just practice my shot during the off-season. It's a great way to get rid of stress."
Chipper Jones is known as an avid hunter himself.