Written & Interviewed by Tony Benson @tonyb89 of mtsportscorner.wordpress.com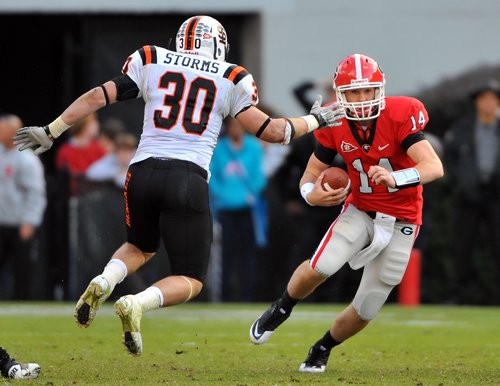 6'3, 203 lbs, we have backup UGA QB Hutson Mason. Mason was a high school star at Lassiter in Cobb County Georgia. Junior upcoming senior at UGA, he's looking to reach his goal on the Georgia Bulldogs Football team. I had an opportunity to interview Mr. Mason and get to know much more about him.
GAFollowers: Describe the feeling of being a QB of the Georgia Bulldogs.
Hutson Mason: There's nothing like being a Dawg on Saturday in Athens! The time and effort we put in year around is very emotionally and physically taxing. BUT there is no feeling like running through that banner in front of 95,000. I wish every Dawg fan could experience it.
GAFollowers: How has the game of football positively affected your life?
Hutson Mason: The game of football is more than a sport to guys like me who live and breathe it 365 days a year. It teaches us a lot of life lessons. The one characteristic that the game of football has taught me is how to deal with adversity! In football, many things can go wrong and it's about how you respond as a leader and how you set the example for everyone else is crucial for a team to overcome adversity. This also is intertwined with how you deal with adversity in real life. How do you respond when things go wrong?
GAFollowers: How big of an accomplishment was it to throw a Georgia State record of 4560 yards and 54 td's in your senior season at Lassiter High School?
Hutson Mason: My SR year at LHS was definitely a special one. I was blessed to have a group of guys around me that helped me put up some PlayStation like numbers and several state records. The greatest memory are the guys in the locker room who you went to battle with every night and to see that first ever region title and first ever undefeated regular season. Looking back, the people and that team will always be able to say we were the team that helped LHS gain back the respect as a great football in the state of Ga.
GAFollowers: What style of offense fits you best?
Hutson Mason: I feel whether it's the spread which I ran at LHS or the pro-style offense that we run at UGA, it's not a big deal. I just try to get the ball to the best play-makers; the offense has no effect in the big picture.
GAFollowers: What are some of your favorite plays?
Hutson Mason: My favorite plays include Touchdowns!
GAFollowers: Who is a QB that you idolize or mimic, past & present?
Hutson Mason: As a QB, I do not try to mimic or become exactly like a specific person. I study other great QBs to see what I can take from their game and how to apply it to mine, but I always just to play my own game. I do this only because of the saying "No one knows yourself better than you."
GAFollowers: What advice have you received from professionals that molded you into the athlete you are today?
Hutson Mason: I have had opportunities to speak and get to know many pro QBs who have spent many years in the NFL. Bobby Hebert, DJ Shockley, Dave Archer are a few. The things I took away from them was that as a QB you can't just dial 1800 and find a great QB, tt takes a work ethic that refuses to be average.
GAFollowers: What are some key goals for yourself this coming season?
Hutson Mason: I look forward to the goal that I have been working so hard to to obtain since I first stepped on campus at UGA in 2010, and that is to become the starting QB. I continue to work and prepare so when my moment comes I'll be ready. It's the main reason I decided to stay at UGA; to bring a championship to Athens!
Also, my goal this year is to excel when or if I get an opportunity to play in some big games.
GAFollowers: As a backup to Aaron Murray, what tips and advice have you received to improve your skills?
Hutson Mason: Being Murray's back up for 4 years, I have been there to see him grow from a young freshman who was playing off raw talent and seeing him mature into a senior. He is like the Offensive Coordinator on the field. The two things I have always taken away from Aaron are his work ethic and his dedication to watching film. He is what you call a gym rat. If you want to take your game to the next level, that's what you have to be. You must be the coach in the huddle and show your leadership.
GAFollowers: Anything about your game you want to improve?
Hutson Mason: Every area of my game needs improvement.I never want to settle or complacent because that's when you get beat and get passed up by someone else. At UGA, we talk about refusing to be average and being outwork and that's how I go about my lifestyle. Whether it's my faith in Christ or my relationship with my teammate,s we are all called to excel and be great.
GAFollowers: Vision of yourself in the next 5 years?
Hutson Mason: In the next 5 years, I see myself just using my talents in whatever way God pleases. It maybe coaching or still playing, I don't know that's part of the faith adventure.