One of the more recent polarizing moments in Atlanta sports history was 2013's announcement of the Braves moving to Cobb County. It seemed to be a 50/50 split down the middle. With Suntrust Park being almost halfway completed, the realization of the Braves relocating has sunk in to most people by now.
However, there was one lingering issue remaining with the Braves move to Cobb County. Who would keep the iconic statue of Hank Aaron's historic moment? Both the City of Atlanta and the Braves organization have staked their claims in ownership of the monument.
QUICK HISTORY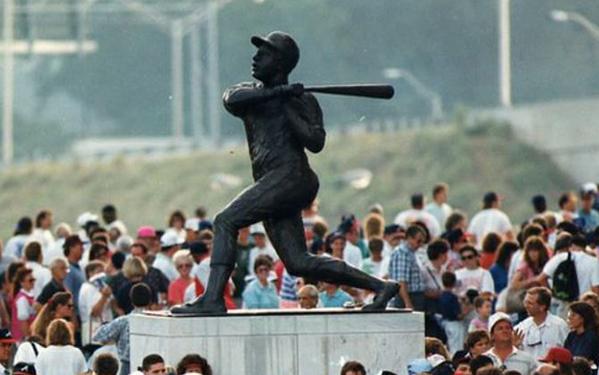 In 1982, the statue was dedicated at the old Atlanta-Fulton County Stadium. Bob Hope, the man who started the fundraising campaign, raised $130,000 to enshrine the historic moment. The statue was subsequently donated to the Atlanta-Fulton County Recreation Authority and not the Braves organization. Bob Hope has openly stated that he believes the Statue belongs to Hank Aaron himself and that he should decide its fate.
Fast forward to today when Keisha Lance Bottoms, executive director of the AFCRA, released a statement that the statue will remain at the Ted. "I am pleased to have worked with our team and the Braves to finalize this issue,'" said Bottoms. "While there are other matters that must be resolved before the Braves exit Turner Field, keeping the Hank Aaron statue at home is a major accomplishment. We can now move forward with the transition of the stadium knowing that a part of Mr. Aaron's incredible legacy will continue to be appropriately honored within the city. The statue of Hank Aaron rightfully belongs to the citizens of the city of Atlanta and Fulton County, and we have worked hard to ensure that this historic sports landmark and tribute to the great Hank Aaron will remain."
 The AFRCA claims to have conducted an internal review and found documents that state the residents of Atlanta and Fulton County own the statue.
It seems that this is now an open and shut case right? Not so fast. The Braves have JUST issued a statement saying that a deal has yet to be reached. "We believe the statue should be located wherever Hank Aaron would like it to go and we have stated this position to Ms. Bottoms," said the Braves. "We are in discussions with Hank and once he makes his intentions clear to us, we will make the appropriate arrangements."
I personally believe the statue should stay in Atlanta since the citizens of Atlanta paid for it. All I know is that this entire situation is messy. What do you believe should happen to the statue? Should it move to Suntrust Park or stay at The Ted? Let us know in the comments!