Rollin' on a college budget and can't afford a $1,000 plus ticket? Didn't ask off of work in time to go to Houston? Slammed with too much homework to go to Houston for the weekend?
Check out this list of our favorite Atlanta restaurants and bars you could hit to watch Super Bowl LI—and yes, you can bring your homework along. But seriously. You know you're not going to do it.
Fado's Irish Pub – 933 Peachtree St NE Atlanta, GA 30309 OR 273 Buckhead Ave NE Atlanta, GA
First of all, let's just say, happy hour is from 4 p.m.-7p.m. Need I say more? No really, Fado's is great if you're looking for amazing Irish food, a pub atmosphere and delicious drinks. Secondly, if you clear out all of your Sunday plans and begin your day at Fado's for brunch until the Super Bowl, you're in total luck! Fado's has an amazing brunch selection, $18 bottomless re sangrias and $15 bottomless mimosas- what more do you really need? Exactly, nothing. Well, actually, you could ask an employee if you can sample every single whiskey they have on display- think Irish! *TIP: Try anything that has the word "corned beef" in it and the Fado Irish Coffee. You'll thank me later. If you're hungry, don't click here, but it's too hard to resist so just do it – ** Fado's Irish Pub
Hudson Grille – 942 Peachtree St Atlanta, GA 30309 , 120 Marietta St Atlanta, GA 30303 and MANY more locations!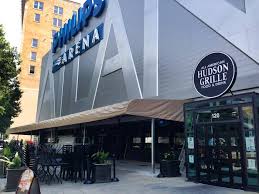 If you have a large group of friends going who are in the same college-student-predicament as you, well you guys are in luck! Hudson Grille is offering game day platters ranging from hot wings (for all of you hot wing lovers!), chips and queso (yes, please!) and sliders! Don't believe me? Take a look HERE- According to their PDF, these platters can feed up to 20 people and you know what that means? You guessed it! If you bring less than 20 people, it'll still be better than you paying for the platter on your own AND more food for the rest of ya! Like I said earlier, you'll thank me later. *TIP: If you're into traditional American food with a nice twist, then this is the place to be. For you beer enthusiasts, wait 'til you see their beer menu! Take a look at the rest of their menu and daily specials –  ** Hudson Grille
Tijuana Garage Taqueria & Cantina – 351 Moreland Ave NE Atlanta, GA 30307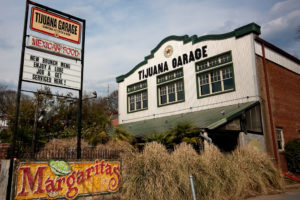 If you're feeling Mexican and margaritas for Super Bowl LI, you'll be in a little slice of heaven if you go to Tijuana Garage. The atmosphere of this place is great, the food is absolutely mouth-watering and the tequila flights are a great way to celebrate the Super Bowl AND Sunday funday, am I right? I know, I know, it's a fantastic idea. Their tacos are such a unique combination of flavors that your mouth will explode with intense flavor-fueled pleasure all while watching the Falcons kick the Patriots' butt. You'll be crying tears of joy when you bite into their food, drink their drinks and watch as the Falcon's finally win the Super Bowl. *TIP: Their taco baskets and South of the Border combo platters will leave you begging for more. Also, ask for a peach technicolor bus 😉 If you feel like torturing yourself by looking at their menu, by all means, go for it – ** Tijuana Garage Taqueria & Cantina
U Bar – 3515 Camp Creek Pkwy #50-70, East Point, GA 30344

Let's say you and your friends aren't wanting to fight through I-75/I-85 traffic of everyone doing the same thing you're doing Sunday afternoon—finding a good bar to watch the Super Bowl on Sunday funday. Then, I present to you, U Bar in Camp Creek. An additional plus besides good food, drinks and a ~lit~ environment, their menu and bar are football themed. What better way to spend the Super Bowl? Also, if you're one of those indecisive people when it comes to food, trust me, U Bar has more than enough options available for the indecisive crowd. You may want to call and make sure they aren't 100 percent packed when you plan on going to U Bar because they are always filled with party people looking for a good time. *TIP: Is it a coincidence that they have NFL Day Party Sunday's.. on the day of the Super Bowl.. with wing and beer specials? I think not! Take a look for yourself – ** U Bar





Republic Social House – 437-C Memorial Dr SE, Atlanta, GA 30312
The great thing about this place? They have TV's in every corner AND a large screen projector for the Super Bowl to be played on, so you have nothing to worry about as far as being able to see the game. Want to have a lavish start to your day before the Super bowl airs? Republic Social house offers $10 carafes of mimosas on their updated brunch menu. You heard me right- Updated. Brunch. Menu! They also have a bar inside and upstairs on their outside patio ready for your game day requests. *TIP: They've also updated their lunch/dinner menu, and you know what that means! More variety for you and your friends! Mmm, mmm, mmm, just look at it! – ** The Republic Social House
Six Feet Under Pub & Fish House – 685 11th St NW Atlanta, GA 30318 OR 437 Memorial Dr SE Atlanta, GA 30312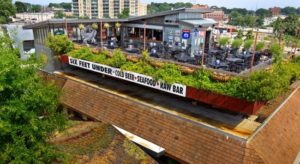 Trying to satisfy your cravings for seafood? Well check out Six Feet Under Pub & Fish House. When I tell you that this place is so deliciously fulfilling, there is no exaggerating in that statement. No lie, this is seafood galore that ranges from gator bites, shrimp boils, snow crab legs, and so much more! But don't fret, they have your classic buffalo chicken wings, salads, wraps and steaks! Another thing to note, their bartenders don't tell you no and can make anything for you- dare you to go try it out for yourself. What else is amazing about this place you ask? Their rooftop view is spectacular, whether it be during the day or at night; overlooking the city is the best way to enjoy the Super Bowl while eating delectable food and outstanding drinks. You want more good news? *TIP: Six Feet Under has partnered with Uber and Lyft to get you codes for discounted rides to this incredible venue! Seafood lovers, have self-control before you click! – ** Six Feet Under Pub & Fish House
656 Sports Bar – 656 Pryor St SW, Atlanta, GA 30312
This place is the epitome of turnt.  I have never seen this place empty- never! If you want more TV's than Republic Social House, then this is where you want to be. Trust me, I've counted and it's more than you can count on your two hands. Good food and countless amounts of pure TV glory, but everyone in there knows how to fully represent their team regardless of who is in there with them. Drinks, you ask? You shouldn't have. This place knows how to get you to 100 after a few drinks, and by then you'll be cheering for the Falcons louder than all of the Falcons' fans in the room. But don't worry, cause 656 will be roaring with excited fans from the moment the game starts until late after the game- when the after parties begin within the city. *TIP: Your best bet is to Lyft to 656 due to limited parking, but if you're looking for a crazy good time, you won't regret it! If you love cocktails and football, take a tiny peek – ** 656 Sports Bar
The Nook – 1144 Piedmont Ave NE, Atlanta, GA 30309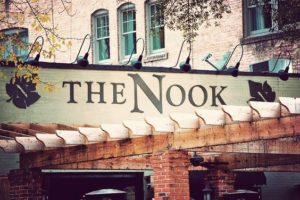 You want to know what two words perfectly describe The Nook? Tots and fishbowls. The Nook offers stuffed-freaking-burgers, the most perfectly seasoned sweet potato fries, mountains of tots covered in pico de gallo and queso, and fish bowls! If you've been to The Nook before, you know how mind-blowing this place is. Their outdoor seating is just as great as their indoor seating because- you guessed it, there are TVs everywhere for you to watch the game comfortably. *TIP: Did I mention that their stuffed burgers are award winners? Along with their Bloody Mary's (Google it now!). AND on Sunday's, to go along with your Sunday funday theme, they have $3 mimosas. It's a dream come true. Fishbowl drinkin', tater-tot lovin' enthusiasts, try not to cry while reading the descriptions to everything on their menu – ** The Nook
Obviously, there are plenty of more bars to choose from in the city and even on the city's outskirts; but if you and your friends are looking for a budget-friendly, football-loving environment, these are some of the hottest spots within the city to catch the game. And plus, after the Falcons win, you can be minutes (or less) from an after party! There is nothing wrong with partying the night before a Monday- might make your school day more tolerable, who knows!
*Kickoff for Super Bowl LI will air on Fox Sports at 6:30 p.m. on Sunday, Feb. 5, 2017.*