Beautiful food is a tall order. It's not all about the Gram. It has to taste incredible, too. These 10 Metro Atlanta desserts will create a deep internal struggle about whether you should photograph them endlessly or dig in fork (or face) first.
And that is the point. Enjoy.
1. I-CE-NY Atlanta
As though we could start this list with anything besides rolled ice cream. Originating in Thailand in 2011 (the early golden days of rolled ice cream) and opening Stateside in 2015, I-CE-NY serves their fabulous chilled treats off Buford Highway in Doraville.
Their summer special is mocktails — lychee mojito and piña colada, complete with paper umbrella — but their most popular menu item is the mango sticky rice ice cream. The rice is warm and glutted with sweet coconutty goodness, the mango is surprisingly sweet, and the rolls of ice cream don't turn into soup as soon as you walk outside into a Georgia summer. Bliss.
2. Douceur de France
It's common knowledge: the French do it better. When it comes to pastries, there's a je ne sais quoi that seems to elevate their art.
Located in Roswell and Marietta, Douceur de France is the crème de la crème of French sweets. They have all the classics — Napoleons, éclairs, croissants and tarts — plus creative new confections designed by pastry chef and owner Luc Beaudet to keep you coming back. This summer, their Mango Paradise has been a hit. It's a mango mousse with a center of raspberry cremeux piled onto an almond biscuit. Each layer is exquisite, and the French cafe vibe makes it even better. The next best thing to being in France.
3. Beard Papa's
I've had a cream puff. You've had a cream puff. We've all had cream puffs.
Not like this.
Born in Japan, Beard Papa's has just one outpost in Georgia, and it's in Peachtree Corners, though they're opening a new location in Sandy Springs soon. The name comes from the original creator who likened the airy pastries to his fluffy, white beard.
Fortunately, a beard isn't what you think of when you bite into one of these oversized puffs. The choux pastry is wonderfully light and the cream is lighter still, sweet but not too sweet so the vanilla bean flavor shines through. They pipe in the cream after you order, so you can pick your filling. Get at least three.
4. Mango Mango Dessert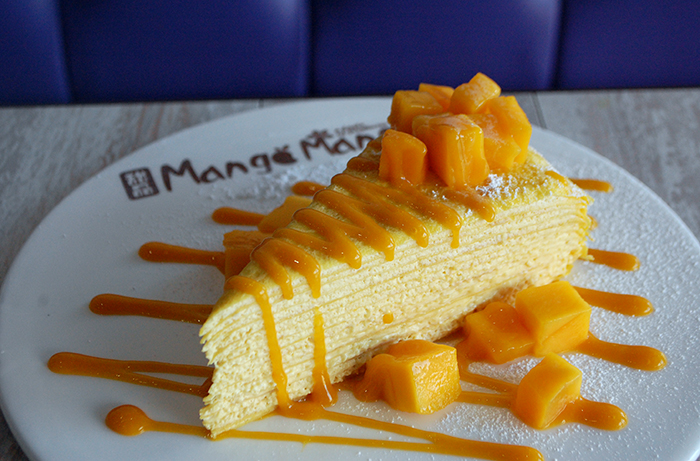 It's the summer of mango, officially the Summer of Mango. This tropical fruit shows up on the menu of nearly every place on this list, but at Mango Mango Dessert, a Hong Kong style sweet shop in Doraville, it's the star. They have fruity ice cream bowls, pancakes, panna cotta, shaved ice, waffles, mochi and more, and in each of these, mango is a flavor option.
The most complicated dessert is the mille crêpe cake, 20 layers of cream between 20 layers of crêpes, which takes nearly an hour to make. But the bowls are just as beautiful, and they taste like summer. If that sounds stupid, go try one and you'll see what I mean.
5. Sweet Hut Bakery & Cafe
"Enough is not enough." That's the slogan behind Sweet Hut, a bakery with hundreds of desserts and drinks so you can mix and match to your heart's content. They have adorable tiny tarts under $2 and custom-made cakes, filled if you want with $100 dollar bills.
Try one of their new cheese foam teas for an unusual twist on your drink. The foam is made with real cream cheese, giving a nice savory touch. It comes layered so it's pretty, but swirl your boba straw a bit to mix the flavors. But if you only try one thing, make it the Lychee Mascarpone, a mousse bursting with lychee flavor and even a lychee fruit at the center. What does lychee taste like? A bit like a pear to me. Others say grape. It might be the best item on this list.
6. Four Fat Cows
You could argue an ice cream cone is always beautiful, but make it a puffle cone and you've got Instagram gold. Four Fat Cows (named for the owner's four kids in case you wondered) has four locations across Georgia, including Athens and the new Marietta Square Market, plus a spot in Buckhead opening next week and another on the BeltLine next year.
Their unusual, fresh flavors make them stand out from other ice cream shops. From mango sorbet to huckleberry cobbler to olive oil lemon, they're all good, but they rotate flavors out twice a year, so go now if you want something summery. The word is gingerbread, pumpkin and sweet potato will be here soon.
The true beauty of the puffle cone isn't just it's puffy shape. The waffle is fresh and toasty, so your last bites of ice cream at the bottom will be gooey, sweet and perfect.
7. Callie's Hot Little Biscuit
There's something about a homemade biscuit that's just beautiful. It's a Southern thing.
Callie's Hot Little Biscuit hails from Charleston, but luckily, we have our own counter-service spot in Virginia-Highland. Along with a selection of savory biscuits, they make sweet ones to finish your meal off right. Choose from cinnamon, blackberry or peach, the latter available only in Atlanta.
The quick-moving line is your first hint of how amazing these biscuits are. The cinnamon butter and jams are made in house. The buttermilk is sourced from a South Carolina farm. And the finished product sums up what a Southern biscuit should be: buttery but not too much, flaky but not dry. They're petite, snackable and inexpensive, so you'll want to try one of each.
8. CheeseCaked
The original dessert made for Instagram: over-the-top milkshakes designed to test your calorie stamina and dazzle your tastebuds. In their new location (with free parking!) off Miami Circle in Atlanta, CheeseCaked will make your milkshake dreams come true.
Their craziest one so far? A milkshake decked out with a cheesecake, churro, caramel, chocolate and … a fried chicken wing. If you're looking for something more modest, try the Unicorn. All it has on top is rainbow candy, cotton candy, a giant marshmallow, lollipop and cheesecake bar. And a chocolate unicorn head. Or try their cookie jar milkshake, which Food Network named one of the most extraordinary desserts in the country.
On top of all this whipped cream and candy, the creative genius behind CheeseCaked, Shawn Brown, has a tear-jerker success story. She's a baker, too, so if you don't feel like a milkshake, the cheesecakes are superb.
9. Amorino Gelato
When you want gelato but can't hop a plane to Rome, Amorino Gelato is here in Georgia at The Shops Buckhead and Lenox Mall. They're famous for the Amorino rose, an artistic creation formed from as many colorful flavors as you want. Order one topped with a gelato-stuffed macaron and you, too, can know what happiness is.
It's hard to choose a favorite, but I'd recommend combining no more than four flavors in your cone, so you can enjoy the taste without over-mixing. The rose is pretty, sure, but the draw here is the authentic gelato, creamier and denser than its American ice cream cousin. Or try one of their new gelato burgers. You know there's already a hashtag for this trend on Instagram.
10. Matcha Cafe Maiko
This soft-serve ice cream shop off Buford Highway is airy and bright, a great place to meet friends and hang out for a while as you try a classic Japanese treat: matcha.
At Matcha Cafe Maiko, tea is an option, as are frappes and floats, but go for the parfait, and bring your camera. The Maiko Special comes with matcha chiffon from Japanese imported matcha, chestnuts, shiratama mochi, kokuto gelatin and azuki beans. The latter are popular in Asian desserts but are an acquired taste, so have them held if you're not feeling adventurous.
Or you could just have your ice cream covered in gold. Because that's an option. Powder-fine 23.75K gold dusts the new Golden Shogun cone, weighing in at just under $10.
Still hungry?
These are some of the most delicious Instagrammable desserts in Atlanta, but there are plenty more.
Did we miss any of your favorites? Express your culinary outrage in the comments.