Why are the Braves even moving to Cobb County? Yes, it sucks but here are 11 reason why the Braves SHOULDN'T move. Understand this article is opinionated and the facts that lie within….are real.
1. Cumberland on game day. Can you even imagine how how crazy it's going to be around that area on a Saturday? Forreal? Like, it's already hard enough to find a parking space around Cumberland, having a game on the same day is death in a car.
2. For people who enjoyed riding the MARTA to games you will not have access anymore, the nearest train station will be 10 miles away. But the Braves do plan on making a shuttle route that will circulate fans back and forth. Another nightmare….
3.  Taking away the legacy that Hank Aaron built. I mean Ted is located at 755 Hank Aaron Dr, how can you beat that? Freddie Freeman freeway? Let's just erase the history of one of the greatest baseball players to ever play. No problem.

4. The Braves & Mayor Reed didn't even let people know ahead of time. The Atlanta City council didn't even know. They just expected everyone to be alright with the move. Very unfair to the people who live around and hate commuting in that area. Around 80% were against the move.
5. The new location isn't event in Atlanta, it's OTP (outside the perimeter). The Smyrna Braves? Cumberland Braves?

6. Piggybacking off the last point, the travel from Turner Field to the new stadium will be about a 20 minute drive. Including traffic? Lets estimate around 45minutes to a 1 hour. Lets not even mention the fact that there's already traffic in this area EVERYDAY! At least when there's no game going on at Turner Field you can still travel through Atlanta smoothly.

7. The new stadium will be smaller than Turner Field. Turner Field seats around 50,000 people and the new stadium can seat roughly around 42,000. This might be a good thing though because the Braves have a hard time packing the stadium. Also the new stadium won't have as many parking spaces as Ted does.
8. You can't beat this view in Cobb County.

9. Cobb County will help fund the move by dropping over $400 million with the Braves pitching in about $200 million. This is the same Cobb County that cut 182 teachers because they couldn't pay them.
10. Everything will be MORE expensive in the new stadium. The new stadium cost $400 million more to construct than it did to build Turner Field in 1996. You honestly believe pricing will be the same?
11. We all know that Turner Field has a terrible TV deal and this is apart of the reasoning for moving. Albeit, the old stadiums is in perfect condition, it's only 16 years old. Fenway Park, home of the Boston Red Sox have played in the same stadium since 1912. Wrigly Field, since 1914, that's 100 years!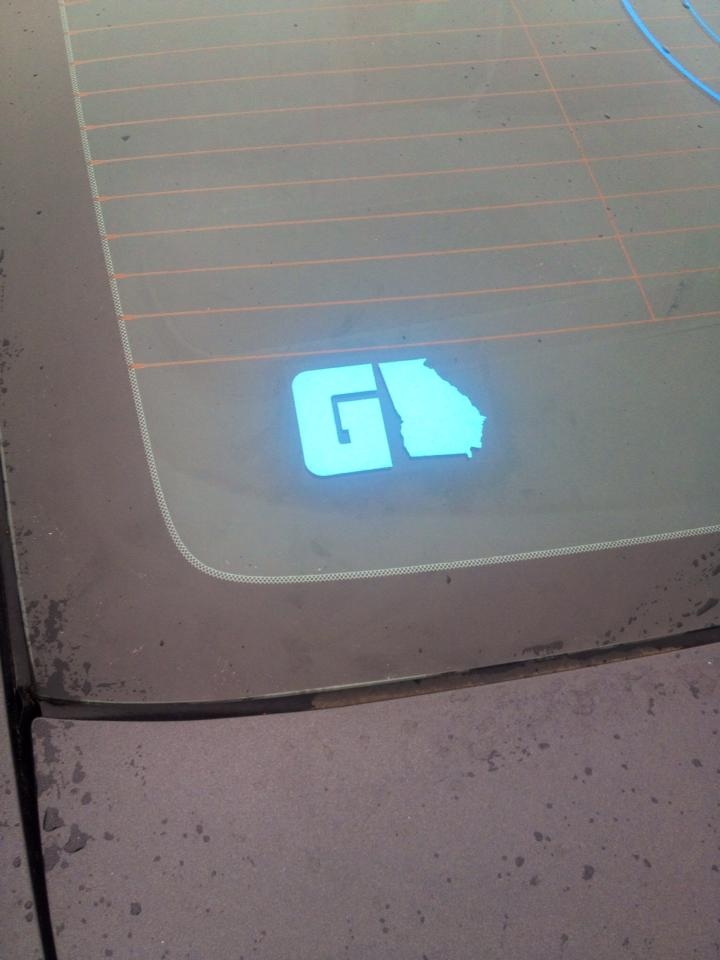 Get your 'Metallic Baby Blue' GA stickers here!