Jeeps are the Michael Bay movies of the car industry. They're radical, patriotic, and fun, but by industry standards, they haven't exactly been very good.
Problem is, Jeeps tend to plague die-hard owners with reliability issues and generally fall behind segment competitors in most areas except off-road prowess. Jeeps, especially the Wrangler, only reign king when they're slinging mud; there are better options for commuting to Whole Foods.
This Jeep, however, aims to change that, targeting the most competitive segment out there: the budget crossover. It has the huevos to take on the Mazda CX-5 while still maintaining a sub-$30k price point and being off-road-ready. Good friggin' luck, Jeep! I scoffed.
Yet the Cherokee mightily impressed. I'm still not a fan of Chrysler's clunky 9-speed auto, but the powerful V6 it's paired to devoured hills with ease. Inside it's essentially a raised Chrysler 200, with slick dashboard electronics and Chrysler's effortless infotainment system gracing an otherwise simple, yet utilitarian cabin.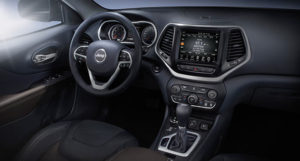 The Overland trim of my tester gives the Cherokee a semi-luxe makeover, with leather seats and a booming Alpine stereo; look for it on the used market, but new is a hard sell since it catapults the Cherokee's cost to nearly $40,000; almost into Mercedes GLC territory.
But the sport and limited trims down the line are excellent economical crossover options, especially with the family-friendly technology package, which Chrysler really nailed this generation. Parking assists, lane departure warnings, and blind-spot monitors are perfectly prominent and helpful without being intrusive.
Overall, the 2016 Cherokee signals a step in the right direction for the Jeep brand. I'm sure y'all will join me in eager anticipation of a modernized Wrangler.