Although the Bulldogs will not be in Pasadena on Monday for the Vizio BCS National Championship, there is no denying the fact that the state of Georgia will still have a major impact on the game.
Between Auburn and Florida State, 35 players on the two teams call the peach state their home.
FSU quarterback Jameis Winston cemented his name in college football history this year by winning the highest individual award in the sport, the Heisman Trophy. While Winston does not hail from Georgia, his Heisman campaign was successful because of three players that do.
Left tackle Cameron Erving, a 6-6 320 lbs. junior, comes from Moultrie, Ga. and played high school ball at Colquitt Co. Without the long, athletic tackle taking care of Winston's blindside there is no telling where this Seminole team would be today. He was awarded the 2013 ACC Jacobs Blocking Trophy.
Joining Erving on the line is right guard Tre' Jackson. Jackson measures 6-4, 330lbs. and went to FSU from Wayne County High School in Jesup, Ga.
Wide receiver Rashad Greene, who racked up 981 receiving yards and 14 touchdowns, played football in Albany, Ga. at St. Thomas Aquinas.
All three players are first-team All-ACC selections and were integral parts in the most prolific offense in conference history. FSU broke ACC records for total touchdowns (84) and points (644) while thumping its opponents by 42+ ppg.
Starting linebackers Terrance Smith and Telvin Smith are the only starters on the Seminoles defense from Georgia. Terrance is from Decatur, Ga. where he played at Southwest Dekalb and Telvin played for Lowndes Co. in Valdosta, Ga.
As for the Tigers, there is no doubt that running back Tre Mason is the life-blood of that team. But without Georgia-born quarterback Nick Marshall, Auburn would have most likely played a bowl game in December rather than in January…if they even made it to one.
The 6-1 210 lbs. signal-caller comes from Pineview, Ga. and played at Wilcox Co., where he was named the Class A Offensive Player of the Year. He spent the 2011 season at cornerback for the Georgia Bulldogs before being kicked off of the team. Marshall transferred to Garden City Community College in Kansas when Auburn gave him a second chance to play with the big boys.
He has racked up 2782 total offensive yards and 23 TD's this season en route to leading the Tigers to their second BCS title game in four years.
6-4, 258 lbs. junior tight end CJ Uzomah played at North Gwinett in Suwanee, Ga. and averages 16.2 yards per catch this season while adding 3 touchdowns. Junior wide receiver Quan Bray also caught three balls for TD's this year. He comes from Troup Co. High School in LaGrange, Ga.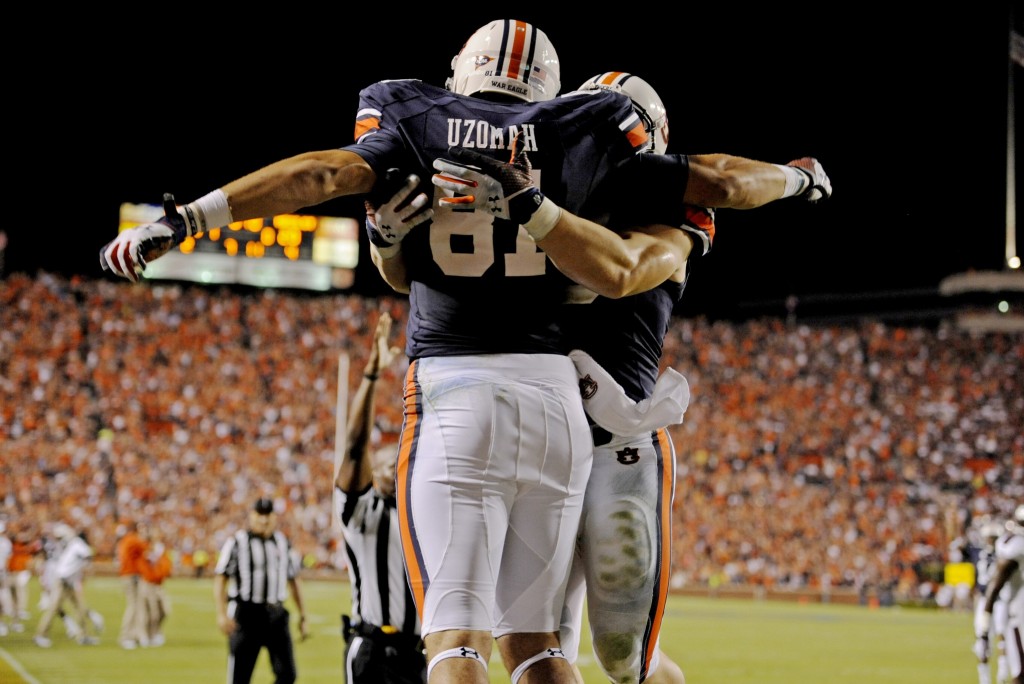 The last-ever BCS game is setting up to be one of the highest-scoring games in history. And just like you can bet on Georgia's weather being unpredictable, or just like you can bet on bumper-to-bumper traffic from 4 p.m. to 6p.m. on I-85, or just like you can bet on Chick-Fil-A being closed on Sunday – you can bet on these players from Georgia having a major impact on the outcome of this game.