Ah, spring break. A week of no classes, sunshine, alcohol, and everything that comes along with it. Students start planning their spring break before they start fall semester, then spend all of that time waiting for it to come. Spring break has become a legendary time in many college students' lives.
The question is: where do you want to spend your spring break? Here are a few of the expected places as well as a couple of alternative choices for those that want to go a different route.
1. Cancun, Mexico
With pool and beach parties all day, every day, EDM festivals, Inception Music festivals, and a plethora of incredible bars makes Cancun the number one international spot for American college students. If money isn't much of an object, Cancun may be THE spot, whether international or local, to go for spring break.
2. Panama City Beach, FL
The above picture was posted by Luke Bryan yesterday on his twitter feed. It's pictures like this, with many other celebrities doing similar, that help make PCB possibly the most well-known party spot in the United States. Concerts fill the air with music as all-day beach parties will rage on the entire time you're there. Follow that up with an awesome night life, and its obvious why so many college students, including so many from the state of Georgia, make it their spring break destination.
3. Tybee Island, GA
A nice alternative choice for Georgia students that can't afford the trip to Cancun and don't want to head to Florida, Tybee Island offers up another beach scene at a closer spot for many. Tybee Island offers a more laid back spot when compared to the two above, but sometimes all you need is a great group of friends to have a good time. That isn't to say that there isn't a party at Tybee, as Orange Crush brings thousands of college students there every year, it's just not quite to the extent of Cancun or PCB.
4. Savannah, GA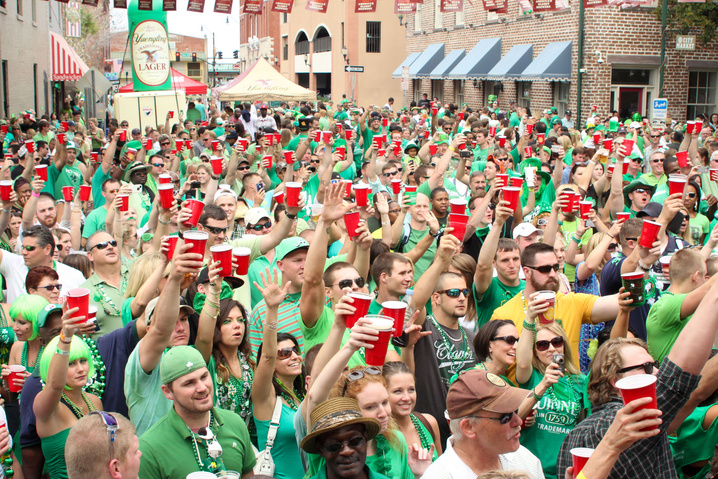 Savannah becomes even more enticing if your spring break is next week, as St Patrick's Day will keep the streets filled with other tourists, concerts, and all around good times. If there's one weekend a year to be in Savannah, it would be this one. The festivities kick off this weekend and will continue through Tuesday. From there, you can then spend the rest of your spring break just a short drive down the road to Tybee Island and get the beach scene as well.
5. Spring Break Cruise
A choice that seems to get passed on too much, in my opinion, is the choice to go on a cruise for spring break. Cruises are another chance to get away and yet is a completely different experience from any others on this list. Regular cruises are an absolute blast when you go with friends but one filled with other college students ready to let loose before returning back to class? The party would be incredible. This is definitely an option that all college students should consider.
As always, be sure to drink responsibly with whatever you choose to do for your spring break!
"Like" us on Facebook for more!