The A3C, "All 3 Coasts", is a highlighted Hip-hop festival and conference event in Atlanta, that provides a platform for artists, executives, media organizations and all-around music lovers to come together, learn and network. It started off a small regional showcase and has now grown into a national and international focus.

This year, A3C showcased over 1000 artist over 5 days. Providing artist the ability to be noticed by industry executives and organizations. The conference aspect featured over 150 industry top influencers who engaged  through mixers, panels and workshops. It was a clear opportunity to put your best foot forward and touch hands with some of the best representatives in the music business.
As an A3C first-timer, I was completely taken by surprise. The entire 5-day week was packed with events and showcases. There was never a dull moment as I watched hundreds of artists swarm the city with their street teams, managers and biggest fans.  Each artist that attended A3C had one central goal in mind; to get noticed. This was their moment to ignite a buzz within the industry, so it wasn't just a time for play, it was time for work.
 ( Cam'Ron at the BET Music Matters Showcase )
I did not know what to expect when arriving to A3C on Friday. But I was greeted by the most energetic-fueled artists and festival goers. I observed many artist with street teams, displaying their logos and brands. Handing out mixtapes and contact information to whomever who would receive it. The highlight of the day would be the "BET Music Matters Stage," that showcased upcoming artist. To top it off would be the infamous performance of Dipset's own, Cam'ron, joined by Beanie Siegel, of Jay Z's camp, Roc-a-Fella. Both artist are vultures of our time and well respected. The crowd was locked in and grabbed any footage they could to remember the historic moment of the New-Yorkers.
    (Women in Hip Hop Panel : Shanti Das, Akim Vann, Janee Bolden, Mali Hunter, Karen Civil, and Julia Beverly)
As an enthusiast of the Hip-Hop culture, I was overly impressed by the line-up; from unknowns to major players in the music industry. Underground artists are known to erupt in Atlanta before making it into the limelight and their was no shortcoming this year. On Saturday, the conference portion of the week featured some of the most pivotal speakers and panels. Twelve & AllHipHop.Com Presented: The Dynamic Duo Panel, featuring Revolt TV executive, Kenny Barns and super-producers, Sean Garrett and Bangladesh.  For the women, major blog "Bossip" sponsored Woman in Hip Hop, a panel discussion that featured behind-the-scenes controller, Karen Civil. She has been linked to branding artist such as YG, Nipsey Hussle and Young Jeezy .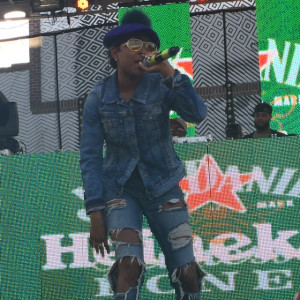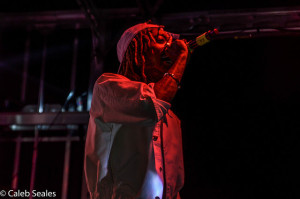 ( Dej Loaf at Hot 107.9's "Next 2 Go" Showcase)                          ( Wiz Khalifa at the Street Execs Show )
To conclude the week festivities on Sunday, Atlanta's Hot 107.9 Hip Hop Station showcased their "Next 2 Go" artists, who are upcoming in the game. Chilly Chills, ScottyATL, and Nick Grant had everyone's attention during their performances. The crowd highly anticipated Detroit's own, Dej Loaf, as she blessed the stage with a performance of her billboard Hot 100 track "Try Me." Over the next few hours, the crowd didn't budge, as we all knew there was more in-store for performances and guest appearances. As the sun went down, everyone was buzzing the grounds for preparation of the Street Execs showcase. Curren$y, Wiz Khalifa and his "Taylor Gang" were the headliners of the show, which featured guest performances by Ty Dolla Sign. It was a true finale to the one of the most-influential, creative, and vision forward events I've ever attended. As for those who did not get to attend.. Keep your eyes out for #A3C15 and the official A3C blog for highlights. Shout out to the several sponsors; MyMixtapez, Swisher Sweets, Jack Daniel's and Heineken to name a few, who made the event possible.
If you are an upcoming artist, blogger, music executive or overall music lover.. Mark your calendars and keep your ears open. They will be back next year to present more influential information and entertainment at a higher level.