The NAACP chapter in Atlanta is calling for football fans across the country to stop watching the NFL until a team is willing to sign Colin Kaepernick.
Gerald Griggs, the vice president of the NAACP's Atlanta chapter, said this week that his group is planning a boycott of all things NFL and will continue to boycott the league as long as Kaepernick remains a free agent.
"There will be no football in the state of Georgia if Colin Kaepernick is not on a training camp roster and given an opportunity to pursue his career," Griggs recently told Fox 5 in Atlanta. "This is not a simple request. This is a statement. This is a demand."




According to Griggs, the NAACP is planning to hold a rally at Mercedes-Benz Stadium on Sept. 17, which just happens to be the same day the Falcons will be playing their home opener at their new $1.5 billion stadium.
Find out how the power of certainty can drive success on the golf course.
More and more companies are switching their finance and HR systems to Workday. Our cloud-based system helps you see the truth in all aspects of your business more clearly.
"If Mr. Kaepernick is not allowed to pursue his career, then on September the 17th, at 5 o'clock, we are going to have the world's largest tailgate, and that tailgate will not go into Mercedes-Benz Stadium," Griggs said. "We will take a knee, and we will continue to take a knee on the NFL until they act with one voice."
Falcons owner Arthur Blank doesn't sound too thrilled that his team is being dragged into the Kaepernick situation.
"I have a long record of active opposition to any symbol or behavior that represents exclusion or discrimination, both personally and in keeping with the core values of our businesses," Blank said in a statement, via Fox 5. "I, along with our Family Foundation, the Atlanta Falcons and Atlanta United, have never and will never waver from that stance."
Atlanta won't be the only city where the NAACP will be rallying behind Kaepernick. Griggs also said that his group will be holding a demonstration at NFL headquarters in New York on the same day.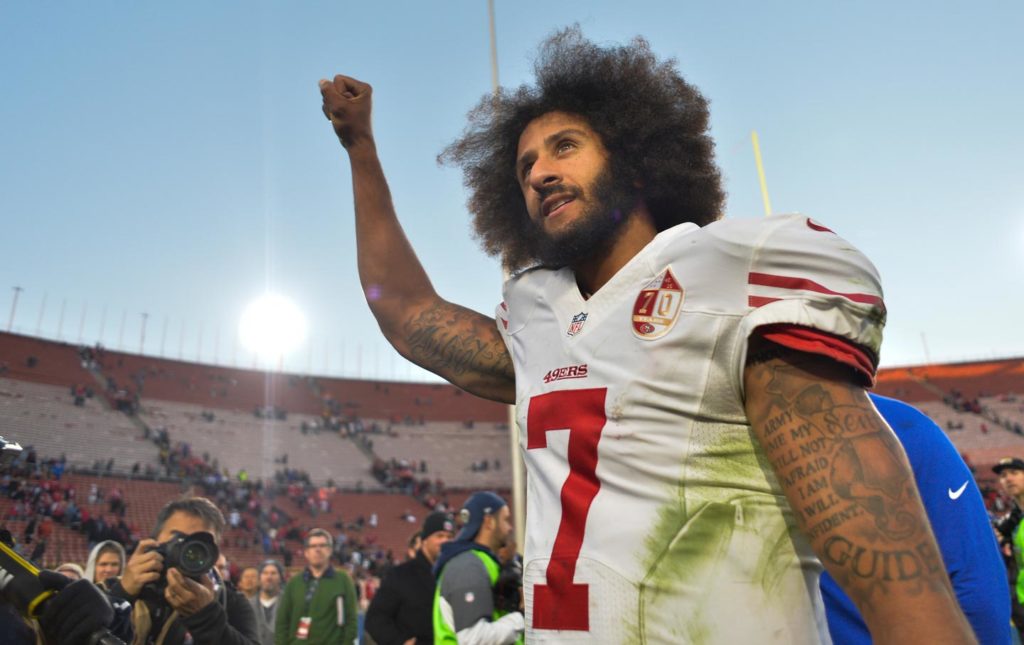 The NAACP has been vocal about its support of Kaepernick. Back in September, when Kaepernick's protest first started, NAACP president Cornell Williams Brooks compared the quarterback to Rosa Parks.
The fact that Kaepernick has gone five months without even getting a contract offer has slowly turned into a black eye for the NFL. Besides the NAACP, there's also an online petition calling for an NFL boycott that has garnered over 170,000 signatures since it started in late July.




A group of black pastors is also calling for an NFL boycott. Pastor Debleaire Snell would like to see fans #Blackout the NFL in 2017.
"Since the end of last season, as a result of this protest, Colin Kaepernick has been unable to find employment in the NFL," Sneel said in a YouTube video. "I find that strange seeing that the NFL has employed individuals that have been convicted of sexual assault, domestic violence, cruelty to animals, along with driving while under the influence."
From marching and saluting to flying and boxing, life as a Marine is full of excitement. Read about his wish experience at Camp Pendleton.
Snell's group wants to see fans do four things: 1. Boycott the NFL. 2. Engage in community service by committing one to two hours every NFL Sunday to mentor young boys and girls. 3. Spread the word to others. 4. Follow Kaepernick's lead by taking a knee. In this case, that means taking a knee in prayer every morning at 6 a.m.
Kaepernick has been a free agent since March 1 when he opted out of his contract with the 49ers, and no, staying in San Francisco wasn't an option. New 49ers general manager John Lynch has already said that the team would've cut him if he hadn't opted out.
Since becoming a free agent, Kaepernick has only taken one official visit during his five months of free agency (with the Seahawks). In that same period, several quarterbacks have signed free agent contracts, including Mark Sanchez, Josh McCown, Brian Hoyer, Matt Barkley, Ryan Fitzpatrick, Blaine Gabbert and Case Keenum.
Right now, Kaepernick's running out of options. If a team hasn't brought him in yet, there's a good chance they don't plan to bring him in. Ideally, you want to bring in a quarterback before training camp so they can learn your system.
Unless the Jaguars or Ravens get desperate, there's a good chance the Kaepernick won't be playing this year, which means there could be a large number of people out there who end up boycotting the NFL in 2017.
via CBS SPORTS