If you don't have anything to do this weekend, consider your plans made: NASCAR returns to Atlanta, and a race weekend is quite possibly the most fun you can have, period, end of sentence. In the world, there are few experiences that rival a NASCAR race in terms of value, accessibility, friendliness and pure adrenaline. If you've never been to a race before, that's all the more reason to go – this is a bucket list item if there ever was one. If you still need convincing, here are a few more reasons to check out the action.
It's Inexpensive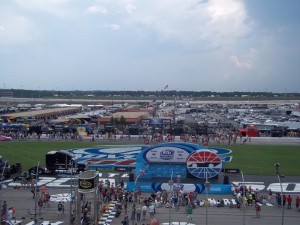 NASCAR is many things, but snobby is not one of them. Student tickets for the Folds of Honor QuikTrip 500, the big Sunday race, start at $22.50, while full-priced adult tickets start at $38. Deals can be had on StubHub as well, and the Friday and Saturday events are even cheaper. Before you start listing off all the things you can do for less than $20, remember that this is a dawn-to-dusk cultural experience and sporting event. Plus, you'll save money by bringing food and drinks with you, instead of purchasing that stuff at the track. Sure, you can get general admission Braves tickets for $10, but you'll spend another $30 inside of the stadium. At a NASCAR race, you can literally tote in a cooler full of beer, or anything else that's not in a glass bottle, and not spend a dime on drinks.
People are Welcoming
NASCAR crowds are pinned with a very specific stereotype, and I don't think I need to go into detail for most people to know what I mean. But if you've ever been to the actual event, you know that there's only one thing everyone in the crowd has in common – they're in the race to have a good time. NASCAR is one of those rare communities that truly wants the new people to like their "thing." You can't be too rich or too poor, too smart or too dumb, too educated or too uneducated to appreciate and participate in a NASCAR race. It's a truly egalitarian event where people will be excited that you are there, no matter what your circumstances. Leave your preconceptions at the security gate, wear some comfortable shoes and get ready to mingle with anybody and everybody.
Honor the Military
Atlanta's race is the Folds of Honor QuikTrip 500, meaning that QuikTrip is helping the 501(C)(3) non-profit organization, Folds of Honor, get exposure and publicity that they could never pay for on their own. Folds of Honor provides scholarships and educational assistance to the families of fallen and disabled veterans, and there will be plenty of opportunity for the attendees of the race to get involved. During the thirteenth lap of the race, the entire crowd will raise replicas of the folded American flag to honor veterans. The thirteenth lap is significant because the flag is folded 13 times, and each fold represents a meaningful tribute to the fallen soldier. There will also be a Fan Zone, where drivers like Danica Patrick and Ryan Newman will make appearances, you can see a show version of the legendary #3 car and you'll have the opportunity to give to the cause. Basically, you can support veterans and their families by partying your face off all day at Atlanta Motor Speedway. There are definitely worse ways to do good.
Witness a True Marvel of American Engineering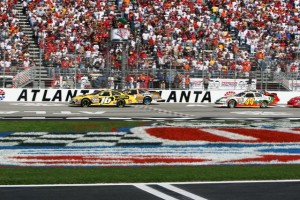 Okay, I know Toyota is Japanese and they are one of NASCAR's car manufacturers nowadays, but trust me, every car on the track is 100% made in America. And you cannot believe how fast and loud these things are. 200 miles per hour and louder than a jet engine can't convey the feeling to you; watching a NASCAR race is breathtaking, mind-bending, utterly consuming. You can't think or talk when the race starts because your mind has been melted by the awesome speed and sounds. The best part is that Atlanta is a non-restrictor plate race, which is getting a little technical, but basically it means that the cars are able to go full speed around the track. If you watched the Daytona 500 last week, you may have noticed that the cars were all bunched up for most of the race. Not so in Atlanta – the cars string out around the length of the track, the slower cars are constantly lapped by the leaders and anything can happen as the best and the worst of the race constantly intermesh with one another. Atlanta is actually known as one of the fastest tracks in NASCAR, so you're seeing something special.
If you're free this weekend, set Hampton, Georgia in your sights and go have the time of your life. I firmly believe that a NASCAR race is something every American needs to experience at least once, and if you're young and fun, what the hell do you have to lose?