I discovered Audible about a year ago and I can tell you with full confidence that it changed my life. Not on a profound level, but as far as making routine, mundane tasks a bit more barable, yes, it changed my life. Audible follows me everywhere now: when I'm folding laundry, if I'm walking the dog, doing yardwork, cleaning the house – literally everywhere. I sync it up to my Bluetooth headphones and it's basically like having a personal story teller at your constant beck and call. The place where my Audible obsession has had the most effect, however, is in my car.
I used to get extremely bored in Atlanta traffic and dreaded my rides to and from work, or anywhere for that matter. I hate to admit it, but this boredom used to also lead me to browse my phone during those bumper to bumper days. With Audible, I don't even touch my phone. My imagination is so far gone into the story that my commute is now a blissful journey to wherever the virtual pages take me. So, without further ado, here are my top audiobooks to listen to in Atlanta traffic:
For the Child in You….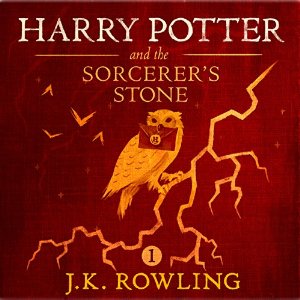 The Harry Potter Series by J.K. Rowling
Now, I assure you I didn't choose this as my first pick just because I'm English. This series of audiobooks is simply and truly badass. Harry Potter and the Sorcerer's Stone was my first listen on an audiobook and the reason I chose to use Audible as my media source. The narrator, Jim Dale, blew my mind. I felt like I was in the movies. His voices for each character were so on point and it was kind of magical (see what I did there?) to revisit the series that I hadn't read for many years. Each audiobook is also really long, just like the books, so you certainly get your money's worth. You cannot call yourself a Harry Potter fan until you've experienced J.K. Rowling's masterpiece through page, screen, and headphones!
For the Adventurer…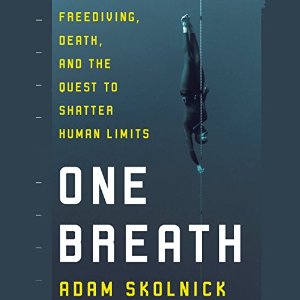 One Breath: Freediving, Death, and the Quest to Shatter Human Limits by Adam Skolnick
OK, I know if you're not into the ocean this book may sound a bit weird to you, but hear me out. Think Into the Wild, but the water version instead of snow and mountains. This book details the life of Nicolas Mevoli, a freediver who pushed the limits of the sport of breath hold diving. This book contains a full spectrum of emotion covering the story of Nick's ambition, unrequited love, and eventually, untimely death. Did I mention it's a true story?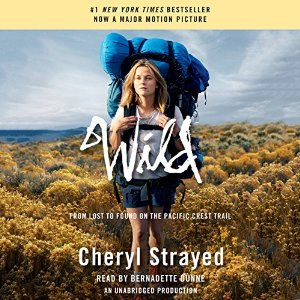 Wild: From Lost to Found on the Pacific West Trail by Cheryl Strayed
Cheryl Strayed's true account of her journey across the Pacific West Trail is incredible. It's a beautifully honest perspective of how one woman's journey into nature helped her overcome her inner demons from the experiences of her past. Wildly inspiring, Strayed's personal narrative proves to the listener that you can truly do anything you put your mind to. Product warning: this audiobook will have you running to your nearest REI to buy hiking boots and other outdoor gear ASAP.
For the Girl Power Advocate….
Pretty Much Any of the Female Celebrity-Written Books that are Narrated by the Author:
Pretty Happy by Kate Hudson
Bossypants by Tina Fey
Yes Please by Amy Poehler
Not that Kind of Girl: A Young Woman Tells You What She's 'Learned' by Lena Dunham
The Girl with the Lower Back Tattoo by Amy Schumer
Year of Yes: How to Dance it Out, Stand in the Sun, and Be Your Own Person by Shonda Rhimes
My Inappropriate Life: Some Material Not Suitable for Small Children, Nuns, or Mature Adults by Heather McDonald
Has Anyone Seen My Pants? by Sarah Colonna
I Know What I'm Doing – and Other Lies I Tell Myself by Jen Kirkman
#GIRLBOSS by Sofia Amoruso (every girl on the planet should read this book)
For the Dog Lover…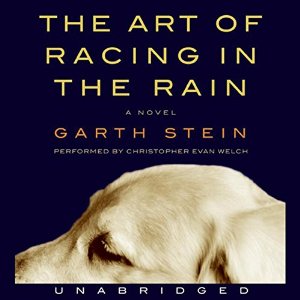 The Art of Racing in the Rain by Garth Stein
Any book that's told from the dog's perspective is bound (haha) to be awesome, and The Art of Racing in the Rain does not disappoint. This book tells Enzo the dog's account of a lifetime with his owner, racecar driver Denny Swift. Heartbreaking at times, but with a truly chilling ending, you simply can't miss listening to this one.
For the Realist…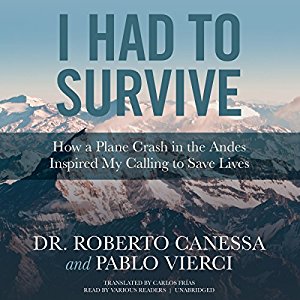 I Had to Survive: How a Plane Crash in the Andes Inspired My Calling to Save Lives by Roberto Canessa & Pablo Vieri 
In October of 1972, a Uruguayan plane carrying members of a rugby team, their friends, and family crashed into the Andes Mountains. This story is an edge-of-your seat description of how one man, Roberto Canessa, and a few others, survived the crash and what he chose to do with his miracle of a life after the traumatic experience. If you are a human being, this book is a must-listen as it provides you with a new perspective of life that will unveil to you what really matters. Disclaimer: Some parts of this audiobook might be disturbing to some listeners.
For the Person who Believes the Book is ALWAYS Better Than the Movie…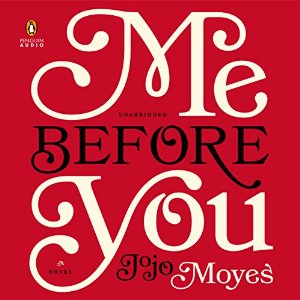 Me Before You by Jojo Moyes
If you've seen the movie to this one, unfortunately, you already know how it ends. It's still worth a listen though because, as usual, the book provides details that the movie does not even touch upon. If you have not seen the movie, Moye's book tells the story of Louisa Clark, a loveable weirdo who gets laid off from her job at the village café. While browsing the job center, Louisa comes across a listing to be a caregiver for a wealthy, well-known family in town. She goes to the job interview and gets the position, assuming it's for an older person. Louisa is caught by surprise when she realizes the man she will be caring for is the young, attractive son, Will Turner, who is a quadriplegic. The book details Lousia and Will's relationship as they are forced to spend their days together. Disclaimer: don't listen to the last two chapters while driving, it's not safe to sob hysterically at the wheel.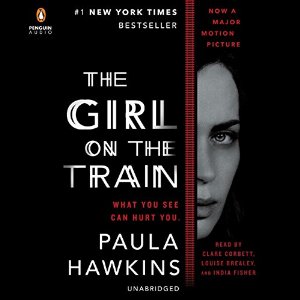 The Girl on the Train by Paula Hawkins
This book is so cool to listen to on audio book because they had different narrators do the voices for the many different character storylines in this book. If you've seen the movie, you know that they did a great job portraying this thrilling story, but the audiobook is a different perspective and definitely worth a listen. If you haven't seen the movie, prepare for a suspenseful story that will keep you guessing and reguessing all the way till the end. I can't even begin to try to explain the overall plot without giving away important details. Just take my word for it, OK?