ATLANTA — A bill by an Atlanta legislator would put together a team and give it the authority to do everything it needs to set up passenger rail between Atlanta and Macon. But it would take both leadership and money to get the project on track.
When the Nancy Hanks II pulled out of Atlanta's Terminal Station on April 30, 1971, passenger rail between Atlanta, Macon and Savannah disappeared with her. A year later Atlanta razed its downtown train station.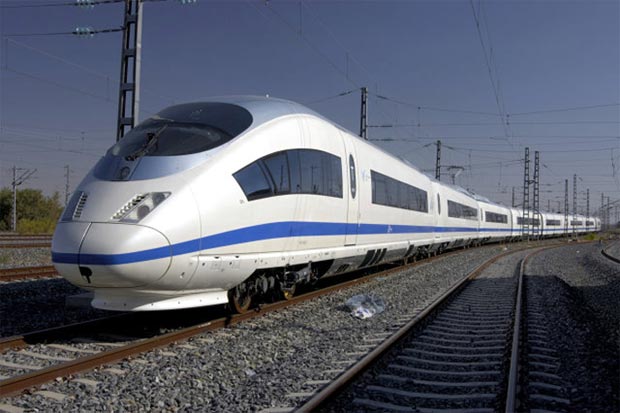 "To me, it seems the right thing to do and the right time" to restart passenger rail, said state Rep. Keisha Waites, D-Atlanta, author of House Bill 306. The community has "had conversations since I was in high school."
Her bill would set up a Piedmont Altamaha Rail Authority, a government body that would be responsible for all aspects of owning, operating and maintaining a rail system running between Bibb and Clayton counties.
The vision for the authority is very wide and calls for a higher speed inter-city and urban rail and tram system along the route and in its counties.
Such a rail would put Macon and Hartsfield-Jackson Atlanta International Airport 35 minutes from each other, she said. The link, Waites added, would be a partial solution to pollution, transportation and unemployment and have positive impacts all along the line.
Getting on track
"I would love to see a transit type rail, a passenger rail," between Atlanta and Macon, said Jay Shaw, State Transportation Board member for the 8th Congressional District, which includes Macon.
But "we're strapped trying to deal with what we have," he said. The board oversees the Georgia Department of Transportation, which is in charge of building and maintaining state roads, bridges and some freight rail lines. Most of its cash for roads and bridges comes from a gasoline tax that is buying less and less as Georgia fuel use levels off.
Hopes for the rail peaked in 2008, when then-Gov. Sonny Perdue announced his support. Plans for a route are focused on a Norfolk Southern line that connects the two cities, and the company was open to passenger traffic. Private freight lines regularly rent access to their rails to passenger trains such as Amtrak or smaller operators.
But it's not as simple as merely loading a passenger train on an existing Macon-to-Atlanta track.
There would need to be some right-of-way acquisitions, as well as construction of terminals and sidings, and short stretches of parallel track for trains to pass each other, Shaw said.
The state made its last comprehensive review of passenger prospects in a 2009 rail report. In a list of policy priorities, passenger rail from Atlanta to Macon came third, after maintaining the freight system in good repair and finding more money to bring the worse parts up to that standard.
The review put the cost of track and signal improvements alone for passenger-standard rail at $235 million, plus an annual operating subsidy of $3.7 million, though a further extension to Savannah would make enough money to knock that subsidy down to just more than $1 million.
But the Georgia Department of Transportation also forecast that passenger rail between Atlanta and Macon would mean 10 million round trips annually by 2020.
The department is set to start work on an updated review in May.
Payment, please
The total capital cost would be more like $400 million for a service that stops in Atlanta, Hapeville, Morrow, Hampton, Griffin, Forsyth and Macon, according to a 2010 report by the Brookings Institution, a Washington think tank.
It conducted the study at the request of Georgians for Passenger Rail, a nonprofit headquartered in downtown Macon just steps from the newly restored Terminal Station.
"The way we're going to be able to fund these kind of improvements locally is value capture strategy," said CEO Gordon Kenna of the passenger rail group.
He explained "value capture strategy" with an example. More than 100 years ago, the developer of Atlanta's Inman Park neighborhood paid to have a trolley line connect the neighborhood to downtown, a couple of miles away. The investment was worth it to him, because it made his neighborhood more attractive to commuting buyers.
In the case of rail today under the value capture strategy, public or private money from along the railroad would underwrite the updates and reap the rewards of being in a new economic network.
Waites, the state representative from Atlanta, is looking at a model with high-speed trains, which would require new land and the highest quality tracks. Her vision is "100 percent privately funded," from international investors. "The reality is, we can't subsidize every single thing."
Besides money, the rail link also needs leadership at the state level to coalesce around the idea, Kenna said.
"We know the parts, but how to knit them together?" he said.
Waites' bill does some knitting. She's collecting the signatures of all the representatives from the counties of Clayton to Bibb.
"I need my colleagues to join me," she said. "Why not this year?"
The legislature's annual session is set to end in April.