DEKALB COUNTY, Ga. — A large bull invaded a DeKalb County neighborhood over the weekend.
Neighbors say it's eating its way through their yards along south Deshon Road near Lithonia.
Dave Brown was driving through his DeKalb County neighborhood Sunday morning when he first saw the animal.
"I wouldn't approach it. I wasn't going anywhere near it. The guy was huge," he told Channel 2's Berndt Petersen.
No one seems to know why the big brown bull was on their quiet block or where he came from.
Brown says it was first spotted last Friday.
Neighbors say they called police and animal control but so far the bull has eluded the authorities. Brown doesn't know of a farm anywhere nearby.
Brown shot video of the bull through his car window but says he had no intention of trying to lasso him.
"His nose was flaring. He did a snort. He was ready," Brown said.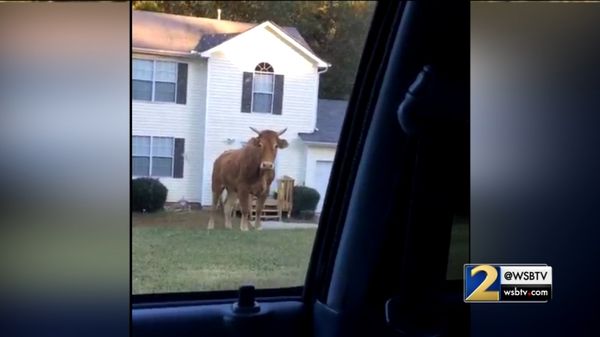 Neighbors really want that bull corralled because there are a lot of kids in the area.
One county over, neighbors found cows roaming near their homes on Monday.
People in the Farmbrook neighborhood in Rex, in Clayton County, found six cows eating their grass. They say at the rate the cows are going, their grass won't last much longer.
Neighbor Mario Irvin says he thinks they've figured out who the cows belong to, and now just need to get them back home.
"There's a farm behind this house right here, and they broke down a fence. I've been told they escaped and here it is. They're here," he said.