Cupid's Undie Run returns to Atlanta Saturday, February 13th at Big Sky Buckhead. Join us, GAFollowers, for a party before and after a mile-ish run in your undies in efforts to advance peer-reviewed research to develop treatments and cures for neurofibromatosis (NF). Seriously, what better way is there to celebrate Valentines weekend than participating in an original fun-run and charity event that has become an international fundraising phenomenon!
This will be GAFollowers first year partaking in the event. After a unique graphic design caught our attention, we looked further into the story behind Cupid's Undie Run and were moved to help make a difference. Hannah Thompson, Co-Directors of the Atlanta Race, sat down and shared more insight into the initiative and how she's helping continue the legacy of her dear friend that passed in 2015 due to NF.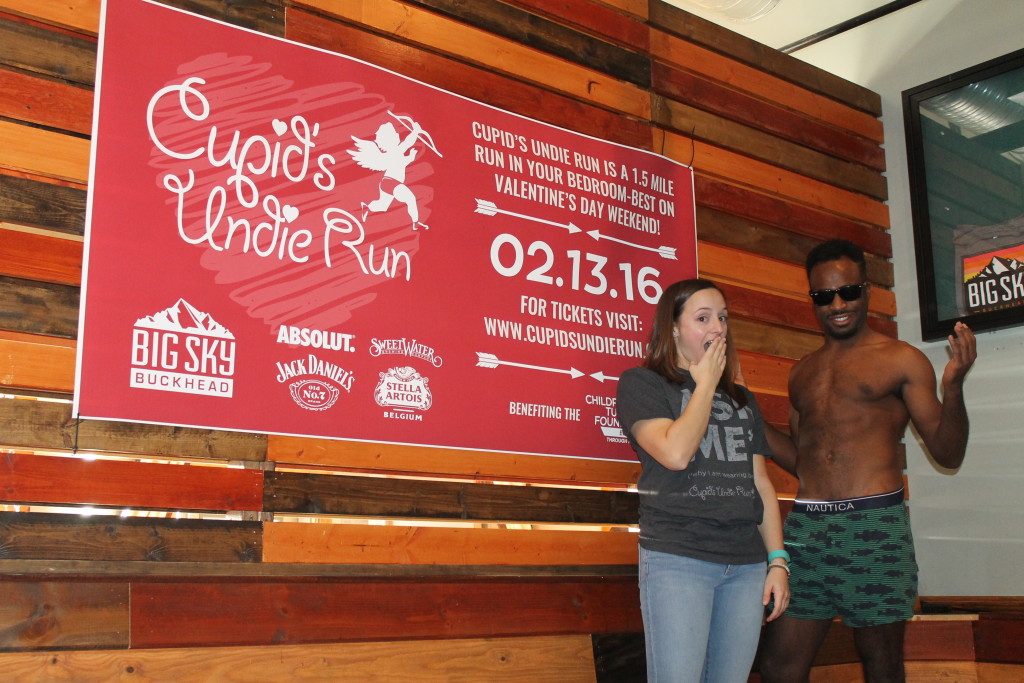 Growing up, Hannah's family and the Leathers family were close. Chad Leathers, the eldest, founded Cupid's Undie Run. Ben, the middle brother, is Hannah's age and works for Cupid's full time. Drew Leathers, the youngest, was diagnosed with NF while Hannah was a freshman in college. The disease affected not only Drew's life but those close to him.
"It became pretty obvious something was wrong with Drew. He was having back pains playing football. So he went in for an MRI on his spine and his back was riddled with tumors. That's kind of when we knew something was wrong but we didn't know how bad it was." – Hannah Thompson.
Drew was 16 years old when he was diagnosed with NF. An athlete with hobbies such as fishing and sky diving. In the beginning, Drew's positive outlook led him to believe NF wasn't that serious. In an interview, Drew jokingly admits his initial thought was that "[he] could get the sympathy from the ladies." But, "it became a real battle for him to understand what his life was going to be about. A lot of how he defined himself, was in his physical capabilities. And those were being taken from him."
Neurofibromatosis is a genetic disorder of the nervous system affecting 1 in 3,000 worldwide. NF is more common than cystic fibrosis, Huntington's disease and muscular dystrophy combined. It can cause weakness of the muscles, dizziness, cataracts, learning disabilities, paralysis, and worst of all, pain.
Drew's conditioned worsened from making frequent visits to the hospital to practically living there. Seeing his brother in the hospital, Chad, along with a group of friends, decided to start up the Cupid's Undie Run in Washington DC. 650 people attended and they raised $10,000 their first year. Cupid's is now in 30 cities across the world, has raised over $8,000,000 for CTF research and Hannah, along with her partner Griff, lead the initiative right here in Atlanta, GA.
"When (we) started there were only a handful of trials going on. Last year, there were thirty and that is due to fundraising. When you see kids going through what they're going through, you realize how bad it is. And it sucks it's a disease that people haven't even heard of. Watching what neurofibromatosis can do to somebody was really hard. We have to find a cure so that's what we're trying to do" – Hannah Thompson.
This slideshow requires JavaScript.
Cupid's Undie Run gets bigger and better every year and we hope to break 5 millionths year. "There will be a bit of liquid courage, a live band, awards, and Q100 will be there. Also, if you fundraise 250 it's an open bar for the entire event. Cupid's has a guy who's a professional driver, Ryan Eversley, racing in the Daytona 24 Hour Challenge. And every year, whoever donates the most for him ends up picking his undies. Last year, he wore a pair of pink briefs that said Bacon Bitch across the back of them."
Register or donate with our team. It's not a competition, so feel free to start your own team or donate to others. But, for further incentive, know that we've partnered up with PSD Underwear for the event and are giving away free pairs to several lucky winners. PSD Underwear is super official and has a line for athletes such as Marshan Lynch, Kyrie Irving, Derrick Rose and more. They'll be running in other cities too!
Drew passed on in August of 2015 and this year's run is dedicated to him.