The door clicks shut. You have 60 minutes to escape. You scan the room. A strange statue in the corner. A jumble of letters on the wall. Five locked boxes. What does it all mean? You don't know, but as your team scrambles across the room, you glance back up at the timer.
59 minutes left.
Sound intense? It is. Escape games are the latest entertainment craze sweeping America. In Georgia alone, we have over a dozen locations to choose from, most popping up within the last year in places like Athens, Savannah, Valdosta and, of course, Atlanta.
Not Your Ordinary Game
The premise is simple. You and your team solve puzzles to escape from a room in one hour. As the minutes count down, you race from one clue to the next — shouting lock combinations across the room, discovering hidden messages behind a photo or lining up objects until you hear a click and a trapdoor opens. It's adrenaline-pumping, team-building, out-of-the-box fun.
"It's an experience," said Caitlin Downing of Ultimate Escape Game, which opened about a year ago in Vinings. "People are looking for something different to do, not just going out to dinner and a movie with friends on a Saturday night."
You can play with just two, but more people means a better chance of escaping. Most rooms have around six to eight slots while possibly the largest in Georgia, Ultimate Escape Game's Atlanta room, can hold up to 12 people.
So who plays? Pretty much everyone. They've had bachelor and bachelorette parties, date nights, families, corporate groups, birthdays, tourists… you name it. Bottom line: You don't have to be a puzzle nerd to feel the thrill.
Is it a clue?
The puzzles are different — words, numbers, spatial tricks, illusions. It could be an old-fashioned cypher or high-tech special effect that unlocks the next clue. When it does, you get a rush.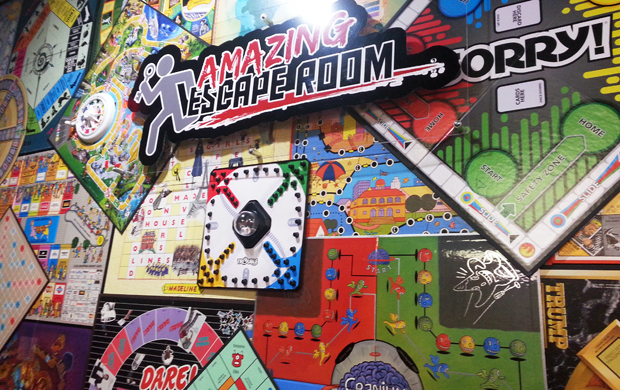 That's what happened time and again in The Sorcerer's Secret, a popular game at Amazing Escape Room, which just opened its doors in Sandy Springs last month. When I played, we were paired with two other families who had signed up for the same time slot. Some of the clues we figured out by ourselves. Other times, we got stumped. But the game master watches on a closed circuit camera and can help with a limited number of hints.
We made it out of the evil magician's lair with less than three minutes to spare. It was one of the easier rooms, though still challenging, with a 40% escape rate. Most games in Georgia have an escape rate between 30% and 40%, meaning nearly two thirds of players won't get out.
Totally Immersed
Part of the fun of escape rooms is the elaborate setup. You might be trying to stop a computer virus or decipher a secret World War II code if you visit Ultimate Escape Game. Or you might take a cue from Ocean's Eleven or James Bond with the Museum Heist and Casino Royale rooms at Breakout Atlanta.
"The games are developed by a team of engineers and creatives who design these themes based on popular cultural icons," said Jake Lacy of Breakout Atlanta in Peachtree Corners, where they've been locking up would-be detectives since Labor Day weekend. "Every detail is designed to immerse players in the room."
Depending on where you go, the themes vary from silly to mysterious to just plain weird, but it's all in good fun.
In Casino Royale, the mood is definitely glitzy. There's blackjack and roulette and you almost feel like an MI6 agent. Breakout Atlanta's Kidnapping room, meanwhile, is a shade darker with an immersion technique at the beginning that sets the tone for this fabulously eerie game.
How to win
Once you find all the clues, you'll get a code to open the door.
So are you actually locked in?
"No."
That's Urban Escape Games' marketing director, Ellis Edwards. He said the locked room games aren't really locked — for obvious safety reasons.
You won't need to move heavy furniture, dismantle outlets or lift ceiling tiles. That's the type of thing people try to do, Ellis said, but it's not necessary. All your clues are within reach.
And even if you don't win, you'll be talking about your adventure for the rest of the night. When I played Urban Escape Games' Jewel Heist room in Alpharetta, we were so close when time ran out. Luckily, our game master gave us closure by walking us through the final clues we would have needed.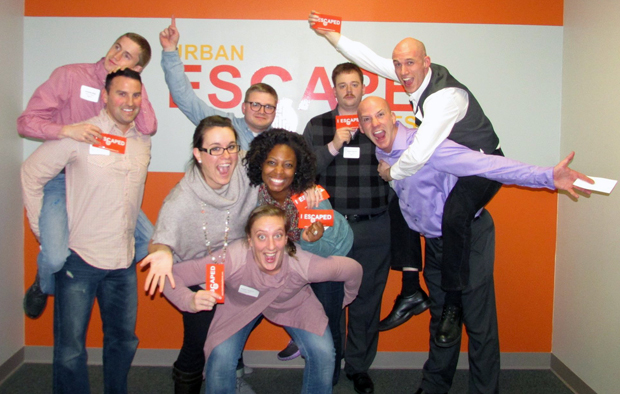 Plus, you still get to pose for a group photo afterward and the "almost" on your "I escaped" sticker barely shows up.
But wait, there's more
Escape game companies are always adding new rooms to keep players coming back, and new locations open up all the time.
The latest arrival on the metro Atlanta scene is Three Keys: The Escape Game. They're set to open Jan. 14 with Finding Sherlock Holmes, a puzzle hunt across Victorian England as you (Watson) search for the missing detective. There are a few red herrings so look sharp. It's definitely not elementary.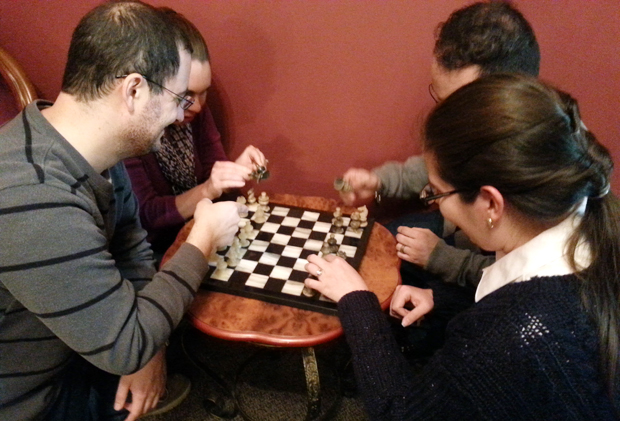 The owners brought it to Suwanee because they fell in love with the concept behind escape games. They're set to open a second room, The Pharaoh's Chamber, Jan. 21, with a third planned for later this year.
Also coming soon are two new games for Amazing Escape Room: Superhero Training Facility and The Spy Who Got Away. They'll be opening another location in Peachtree City later this month with different game themes.
Trying to decide where to go?
Biggest Surprise: Jewel Heist at Urban Escape Games. When you walk in, the room looks… pleasant, maybe even a trifle tame, but it's no such thing. We were gasping in amazement again and again.
Most Immersive: Kidnapping at Breakout Atlanta. From clever props to sound effects to something else I can't even mention without spoiling the game, it puts you right in the story.
Most Team-Building: Finding Sherlock Holmes at Three Keys: The Escape Game. Not just any team will succeed. You have to think and work together to make it out in time.
Best for Beginners: The Sorcerer's Secret at Amazing Escape Room. We had up to eight hints we could use, which really keeps things moving where otherwise the game might flag.
Most Challenging: Amnesia at Ultimate Escape Game. It has only a 20% escape rate where most people — myself included — never completely solve the puzzle. It's mind-bending.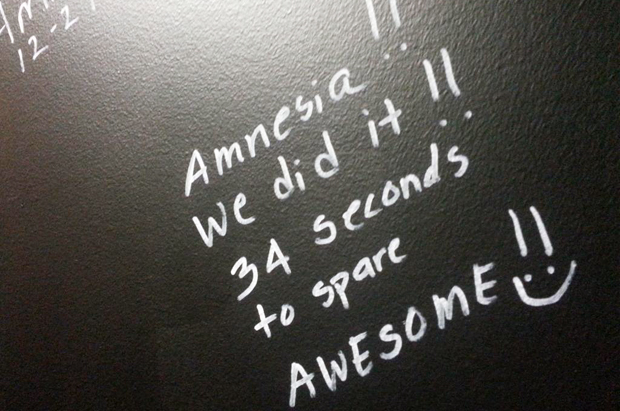 There are dozens of other escape room themes — get trapped in a jail, in outer space or with a zombie. It's up to you, but here's some final advice before you go:
Pro tips
"Work as a team. Different people with different personalities could see something you would miss." — Karen Dougherty, Three Keys Escape
"Communication. Blurt out ideas. Think out loud. Get all the ideas out in the open." — Ellis Edwards, Urban Escape Games
"Investigate everything. Look up, down, around, everywhere." — Jake Lacy, Breakout Atlanta
"It's not necessarily about being smart. It's about being able to look at a situation from different angles. Anything in the room could be a clue." — Caitlin Downing, Ultimate Escape Game
"Go in with an open mind. The person next to you might know something you don't know." — Michael Cook, Amazing Escape Room
Feature photo of Ultimate Escape Game by Jeremy Hill.